An off-duty cop in Texas pulled up to a Shell gas station in Houston and was about to pump when he saw an armed robbery going on inside the convenience store and jumped into action.
A witness to the scene Saturday night captured some of the incident on cellphone video.
According to KHOU-TV, Zain Jangda was about to walk into the store himself, when he saw the officer —who works for a department in Tomball, Texas, and was not in uniform at the time — try to stop the robbers who were coming out of the convenience mart.
The news station reported that the officer identified himself as a cop to robbers and when they started shooting, he returned fire.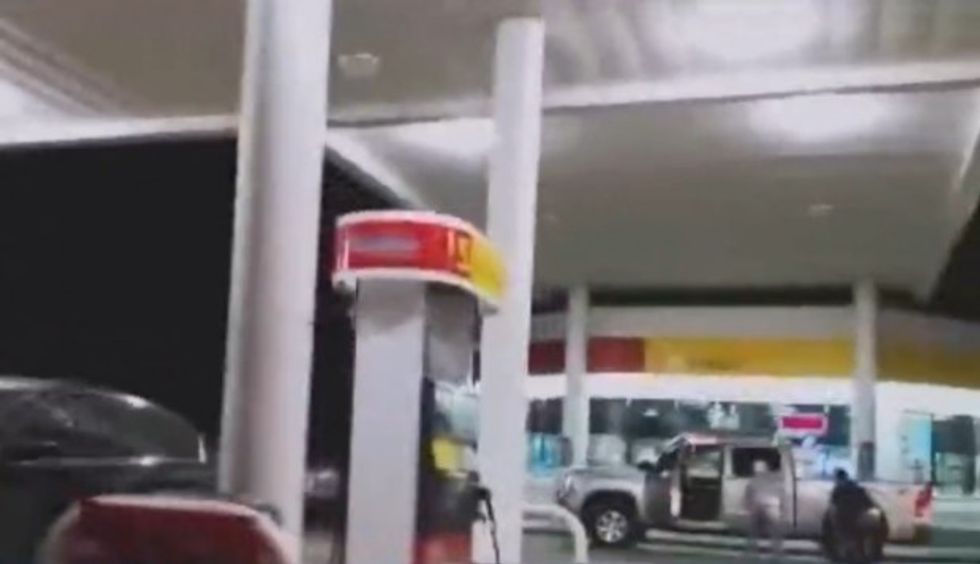 One of the man crouched behind this truck is an off-duty police officer who engaged in a shooting with robbery suspects when they initiated fire outside a Shell gas station in Texas. (Image source: KHOU-TV)
Jangda took video of the incident and captured the officer yelling for someone to "call 911" followed by the audio of about two dozen gunshots.
Watch the footage in KHOU's report:
The robbers managed to get away in a stolen car with more than $1,000 cash from the gas station and the wallets from two customers inside the store, KHOU reported. KPRC-TV elaborated that the suspects drove to a nearby apartment complex and took off on foot. No one was injured in the incident.
"I'm thankful for a lot of things. One of them is I get to see my mom again and see my friends are OK. I don't know, it's just, it's never really quite the same until you're right next to the whole thing happening," Jangda told KHOU. "Part of me wanted to get out and help but I'm not trained for that, and the officer, off-duty, sure enough had it covered pretty much."
Harris County Sheriff's Office is still looking for the suspects, who wore masks over their faces at the time of the robbery.