Sunday's baseball game between the Toronto Blue Jays and the Seattle Mariners featured one of baseball's rarest happenings: the triple play. Fewer than 10 are recorded in a typical season — but the manner in which this triple play was executed has not happened since 2000.
A triple play happens when three outs are made on a single play. The team at bat must have at least two players on base, and no outs against them.
In the fourth inning, the Blue Jays had runners on first and third base with no outs. A ground ball hit sharply to first base was fielded by Mark Trumbo, who stepped on the base for the first out. He then turned to see his options.
Trumbo fired the ball to Mariners shortstop Brad Miller covering second, who instead of stepping on the bag first attempted to run down runner Kevin Pillar before throwing the ball to catcher Mike Zunino.
Zunino chased Toronto's Ezekiel Carrera back to third, where Pillar was by then standing on the base. Because it was the lead runner's base according to the rules, Zunino tagged the trailing runner for the second out — until Carrera inexplicably fell off the base and was also tagged by Zunino for a (very confusing) third out.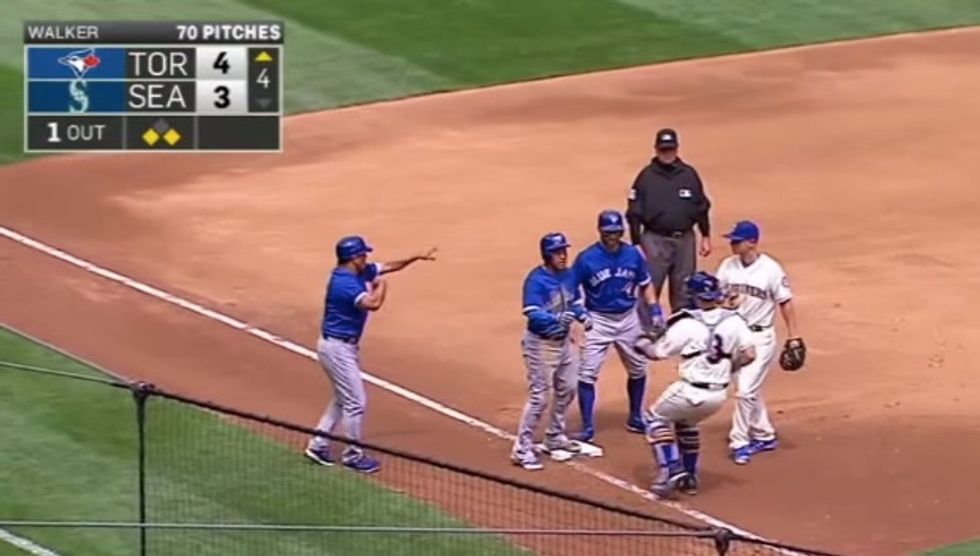 Image source: YouTube
In official baseball scorecard parlance, the play was a 3-6-2 — first baseman to second baseman to catcher.
Watch it go down:
—
Follow Mike Opelka (@Stuntbrain) on Twitter