Daily Beast Reporter Tim Mak found no allies on MSNBC's "Morning Joe" on Wednesday as the hosts and panelists took shots at his recent reporting on Donald Trump and comments made by his wife years ago in divorce proceedings.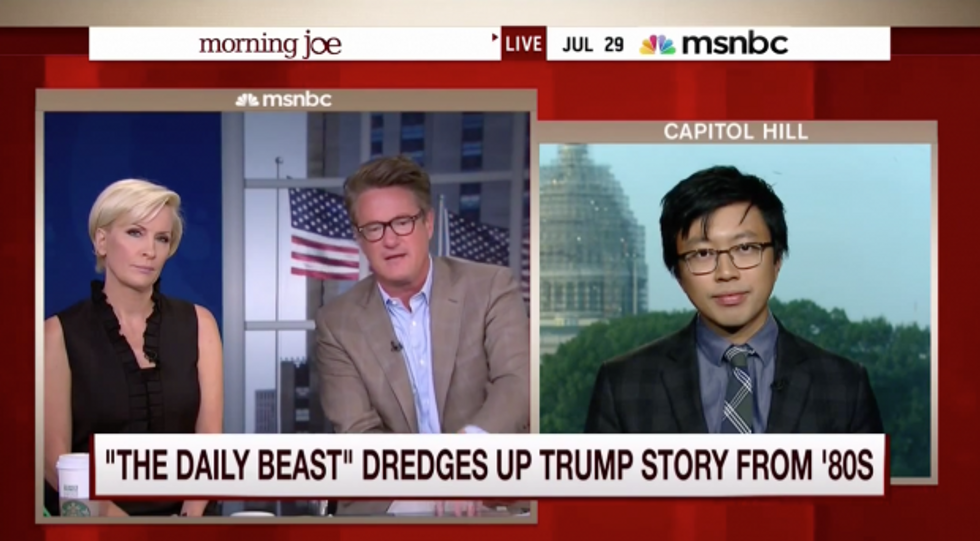 MSNBC
Co-host Joe Scarborough, who recently went through a divorce himself, argued that divorces are generally "ugly" and questioned the reporter on why digging up old dirt on Trump is relevant to the 2016 race.
Mak defended his reporting, saying it reveals parts of "Donald Trump's personality" and the kinds of people he associates himself with.
"Morning Joe" co-host Mika Brzezinski, visibly annoyed, replied, "You guys all let me know when you're actually going to uncover something new."
Scarborough then generously ended the interview before things got ugly.
"He walked right into a buzzsaw," he added.
Watch the segment below via MSNBC below:
Trump was seemingly pleased with the MSNBC hosts' handling of the segment:
Thank you @Morning_Joe for throwing the pathetic reporter from the failing and money losing Daily Beast off the air. Really cool!

— Donald J. Trump (@realDonaldTrump) July 29, 2015
(H/T: Washington Examiner)
---