Tom Brady took his deflategate fight Wednesday morning to Facebook, expressing displeasure with NFL Commissioner Roger Goodell's decision Tuesday to uphold the New England Patriot's star quarterback's four-game suspension for using underinflated footballs in last season's AFC Championship game.
"I am very disappointed," Brady wrote of Goodell's ruling. He added, "I did nothing wrong, and no one in the Patriots organization did, either."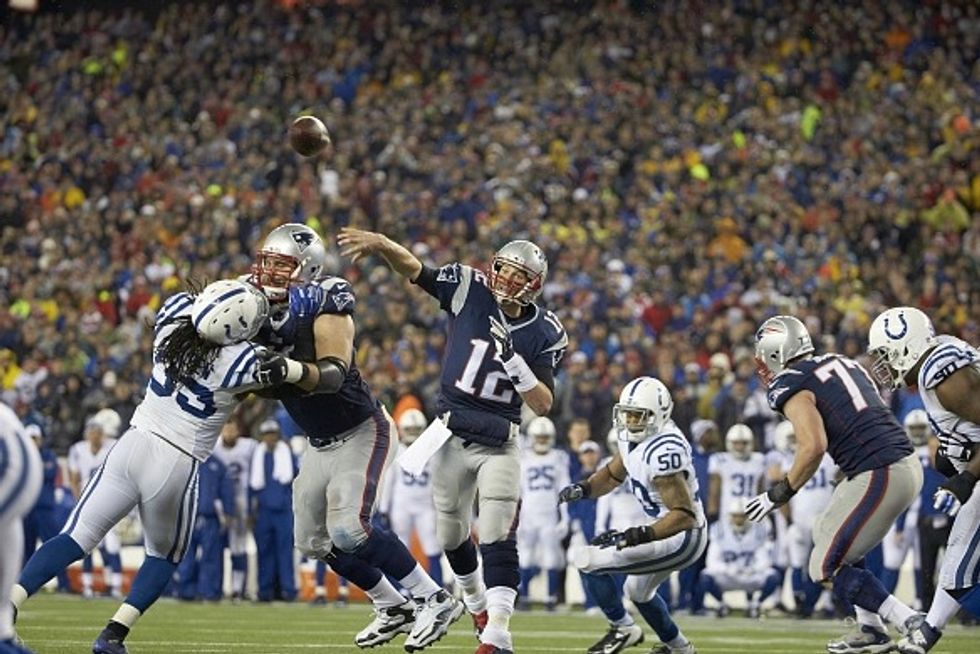 New England Patriots QB Tom Brady (12) passing against the Indianapolis Colts during the AFC Championship Game at Gillette Stadium in Foxborough, Massachusetts, Jan. 18, 2015. (Image source: Winslow Townson/Sports Illustrated/Getty Images)
Team owner Robert Kraft said in a Wednesday morning press conference that he continues "to believe and unequivocally support Tom Brady," adding that the "league's handling of this entire process has been extremely frustrating and disconcerting."
HAPPENING NOW: @Patriots owner Robert Kraft on NFL "deflategate" penalty "I unconditionally support" #TomBrady http://t.co/uGpg6VjCR8

— Carol Costello (@CarolCNN) July 29, 2015
Kraft also said he was wrong to trust the NFL to exonerate Brady and that he should have appealed the penalties against the Patriots, the Associated Press reported.
In addition to Brady's suspension, the Patriots were fined $1 million and denied two draft picks. The NFL Players Association has threatened to challenge Brady's suspension in court. The NFL's position is that underinflated footballs are easier to grip and throw.
Goodell also said Brady told an assistant to destroy the quarterback's cellphone on or just before March 6 — the day Brady met with independent investigator Ted Wells.
"He did so even though he was aware that the investigators had requested access to text messages and other electronic information that had been stored on that phone," Goodell said in his decision, adding that Brady "had exchanged nearly 10,000 text messages, none of which can now be retrieved from that device." The text messages may have shown communication involving football deflation, Goodell said.
But Brady said Wednesday he replaced his "broken Samsung phone with a new iPhone 6 AFTER my attorneys made it clear to the NFL that my actual phone device would not be subjected to investigation under ANY circumstances. As a member of a union, I was under no obligation to set a new precedent going forward, nor was I made aware at any time during Mr. Wells investigation, that failing to subject my cell phone to investigation would result in ANY discipline."
Additionally Brady insisted he's "never written, texted, emailed to anybody at anytime [sic], anything related to football air pressure before this issue was raised at the AFC Championship game in January. To suggest that I destroyed a phone to avoid giving the NFL information it requested is completely wrong." Brady added that investigators had "detailed pages of cell phone records and all of the emails" Wells wanted.
"We even contacted the phone company to see if there was any possible way we could retrieve any/all of the actual text messages from my old phone," Brady added. "In short, we exhausted every possibility to give the NFL everything we could and offered to go thru the identity for every text and phone call during the relevant time."
Brady concluded by insisting there is no "smoking gun," called the controversy known as deflategate "manufactured" and "inconsequential" and promised to "fight" so his "unfair discipline" won't become a precedent for other NFL players.
The Patroits handily beat the Indianapolis Colts in the AFC Championship game before going on to win the Super Bowl over Seattle — Brady's fourth NFL title.
This story has been updated.
—
Follow Dave Urbanski (@DaveVUrbanski) on Twitter