Worried passersby gathered around the locked minivan in a New Jersey Costco parking lot with one goal in mind: To free the crying toddler inside, strapped in her car seat, on what was a hot and humid Thursday afternoon.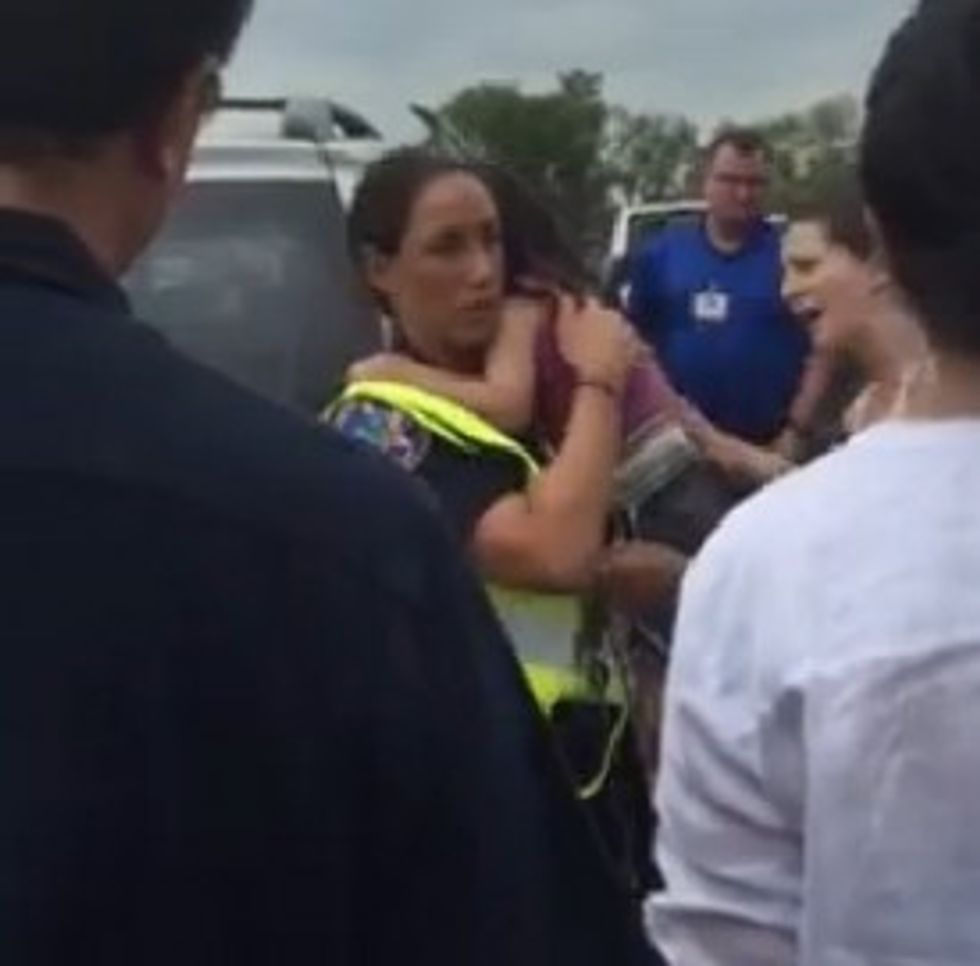 Image source: Facebook
"I'm telling the girl, 'Don't cry, we're gonna get you out,'" Rafael Rodriguez, who was trying to get through the windows cracked open just a few inches, told WNBC-TV. "She was drenched in sweat and crying constantly."
Soon an observer turned on a cellphone camera and caught the moment a Bergen County Sheriff's officer smashed a window, allowing another officer to grab the 2-year-old girl and pull her out. They were called by the manager of the Hackensack store, WPIX-TV reported.
"She's soaking wet," the female officer was heard saying on camera as she held the crying toddler in her arms and rubbed her back.
"Sweat was just coming down, almost as if someone threw a bucket of water on her," Rodriguez told WNBC, "that's how bad it was." Video of the incident has been viewed more than 3 million times since it was posted to Facebook Thursday.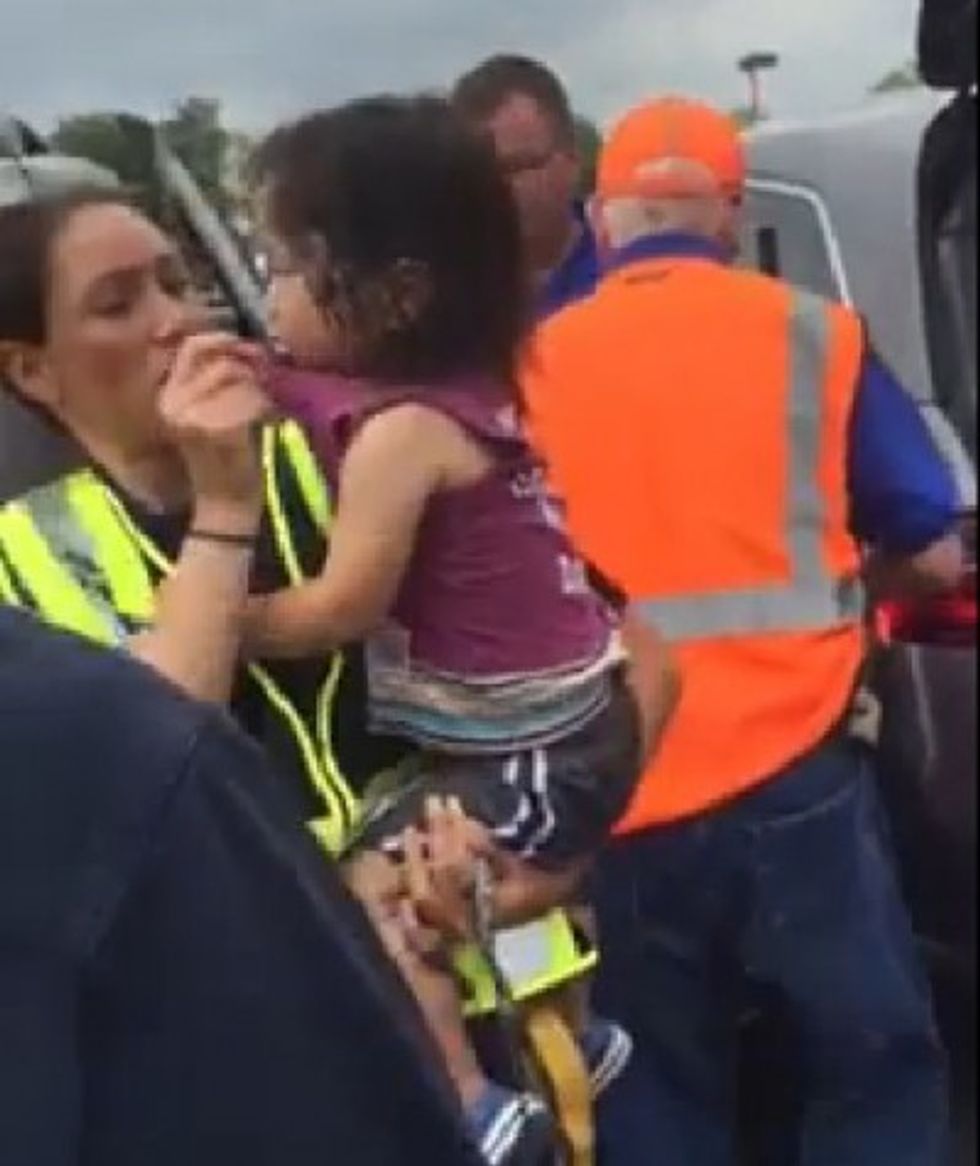 Image source: Facebook
When the male officer was told the driver might still be shopping, he replied, "What are you kidding me?"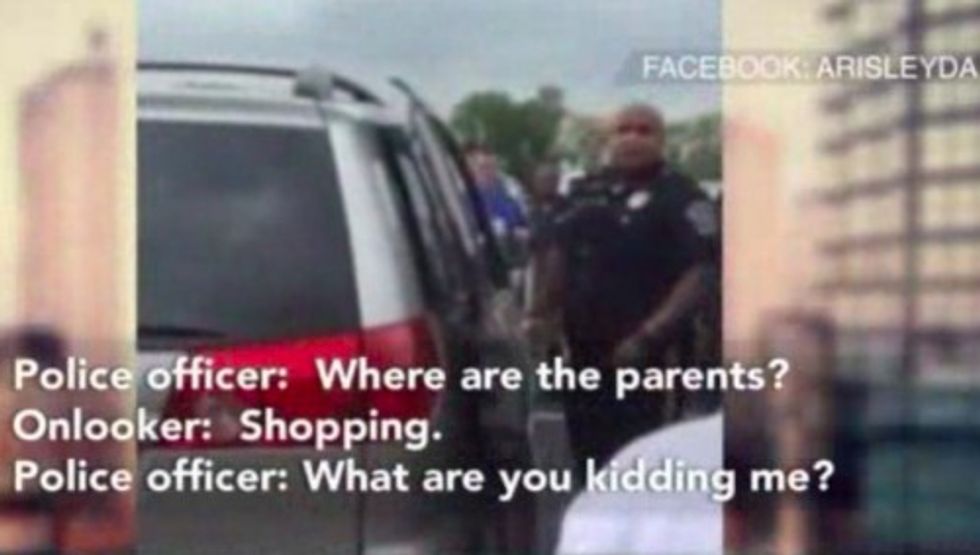 Image source: WPIX-TV
But things really heated up when the mother — Chaeyoung Lim-Kim, WPIX reported — returned to the scene with another child and a full shopping cart.
The officer holding the sweat-soaked girl was heard yelling at the mother: "Is this your kid?" 
After she replied with "sorry," the officer was unmoved: "No 'sorry!' She could have died!"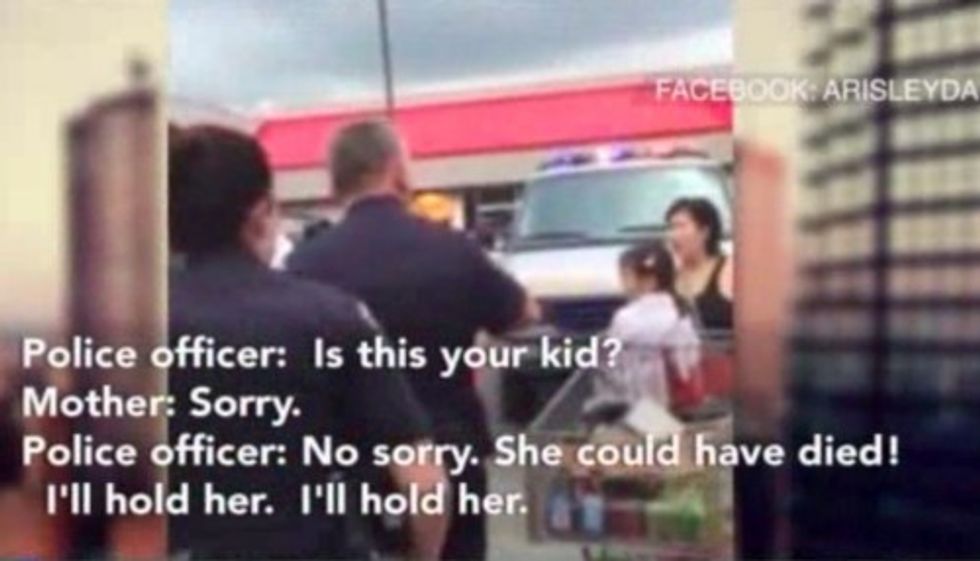 Image source: WPIX-TV
It isn't clear how long the mother was gone, but Rodriguez figured it wasn't just a couple of minutes.
"I thought maybe she forgot something that she was gonna grab," he told WNBC. "I was surprised to see the shopping cart was full."
The girl was taken to a hospital and released to her father, the sheriff's office told WNBC, adding that the mother was arrested for child endangerment and released with a desk ticket.
This story has been updated.
—
Follow Dave Urbanski (@DaveVUrbanski) on Twitter