Vice President Joe Biden is "actively" exploring a 2016 presidential run, according to the New York Times.
The Times cites several people who have spoken with Biden and his adivsers.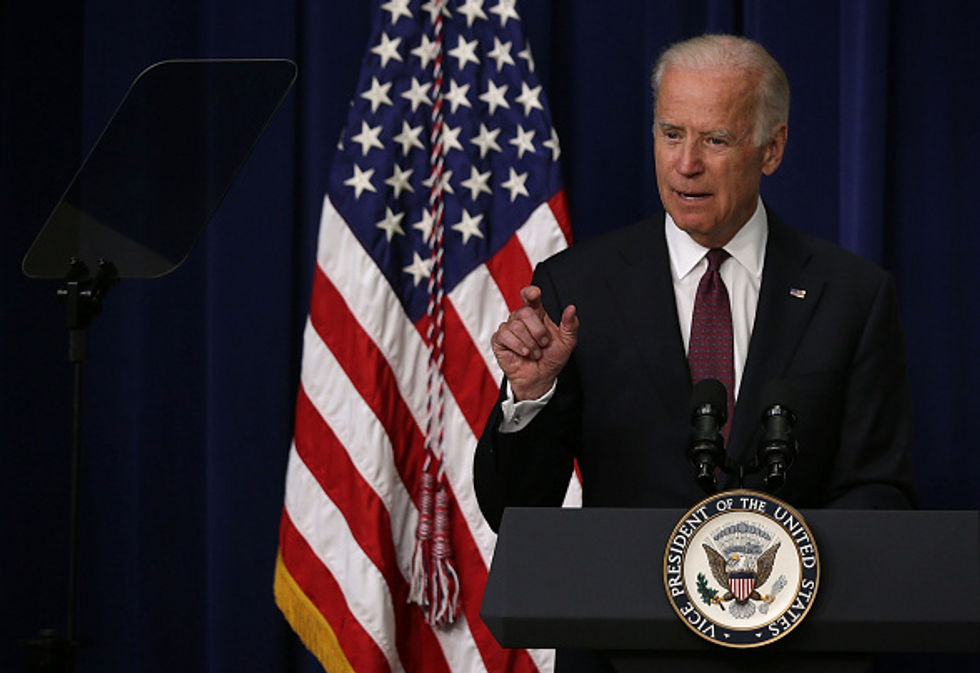 WASHINGTON, DC - JUNE 16: U.S. Vice President Joseph Biden speaks during a White House Clean Energy Investment Summit June 16, 2015 in the Eisenhower Executive Office Building in Washington, DC. The White House held the summit to announce commitments from organizations to fight climate change and new executive actions to encourage private-sector investments in clean energy innovation. (Photo by Alex Wong/Getty Images)
From the Times:
Mr. Biden's advisers have started to reach out to Democratic leaders and donors who have not yet committed to Mrs. Clinton or who have grown concerned about what they see as her increasingly visible vulnerabilities as a candidate.

The conversations, often fielded by Mr. Biden's chief of staff, Steve Ricchetti, have taken place in hushed phone calls and over quiet lunches. In most cases they have grown out of an outpouring of sympathy for the vice president since the death of his 46-year-old son, Beau, in May.
In a Times column, Maureen Dowd repeated the reasoning, even relaying a conversation Joe and Beau had before Beau's recent death:
Joe Biden is also talking to friends, family and donors about jumping in. The 72-year-old vice president has been having meetings at his Washington residence to explore the idea of taking on Hillary in Iowa and New Hampshire.

[...]

But going through the crucible of the loss of his oldest son, Beau, to brain cancer made the vice president consider the quest again.

As a little boy, Beau helped get his father through the tragedy of losing his beautiful first wife and 13-month-old daughter in the car crash that injured Beau and his brother, Hunter.

When Beau realized he was not going to make it, he asked his father if he had a minute to sit down and talk.

"Of course, honey," the vice president replied.

At the table, Beau told his dad he was worried about him.

My kid's dying, an anguished Joe Biden thought to himself, and he's making sure I'm O.K. 

"Dad, I know you don't give a damn about money," Beau told him, dismissing the idea that his father would take some sort of cushy job after the vice presidency to cash in.

Beau was losing his nouns and the right side of his face was partially paralyzed. But he had a mission: He tried to make his father promise to run, arguing that the White House should not revert to the Clintons and that the country would be better off with Biden values.
"He was so close to Beau and it was so heartbreaking that, frankly, I thought initially he wouldn't have the heart," Boston lawyer and Biden supporter Michael Thornton told the Times. "But I've had indications that maybe he does want to — and 'that's what Beau would have wanted me to do.'"