The most competitive governor's race in the country is a second act for two candidates who each lost Senate races in the last five years.
Kentucky, Louisiana and Mississippi will each elect a chief executive one year out from the 2016 presidential contest, giving political junkies something to watch in an off year with no federal races.
This weekend marks the unofficial kickoff for the Kentucky race, when candidates will face a crowd of rabble-rousers at the annual Fancy Farm political picnic.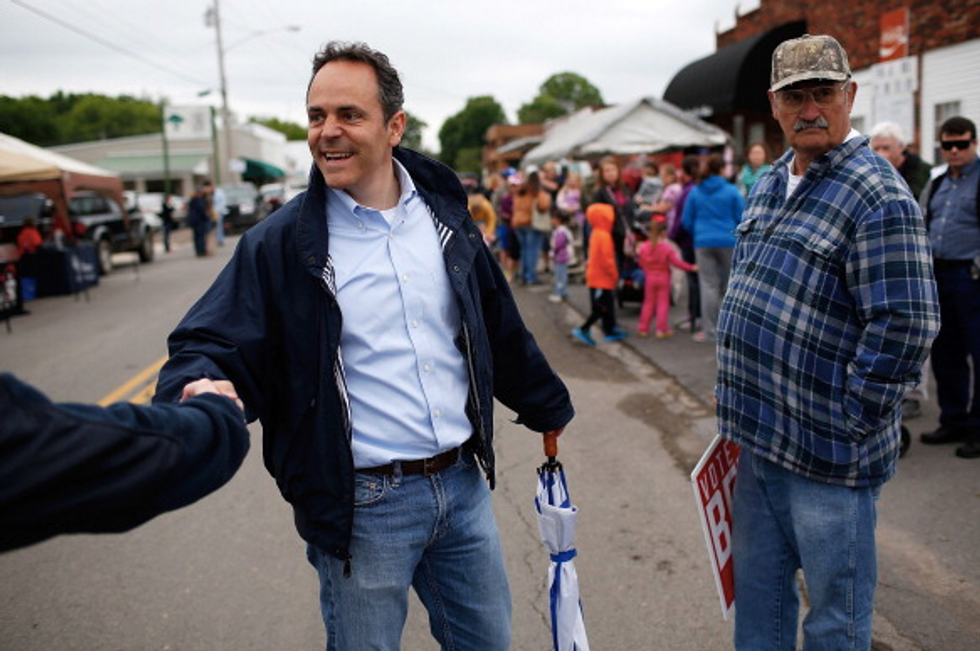 Kentucky Republican candidate for governor Matt Bevin. (Win McNamee/Getty Images)
Sen. Mitch McConnell trounced Matt Bevin, a Tea Party favorite, in the Republican Senate primary last year. State Attorney General Jack Conway lost to Sen. Rand Paul in 2010. Now, Bevin and Conway hope to find redemption facing one another in the governor's race, and polls show they are close.
While both Louisiana and Mississippi lean heavily Republican, Louisiana – with its so-called "jungle primary" – could produce an unusual result, with three Republicans and one Democrats battling in a single contest. And the outgoing Republican Gov. Bobby Jindal – a 2016 GOP presidential contender – is unpopular in the state, which could harm the GOP brand there.
Mississippi is the only state with an incumbent, Republican Gov. Phil Bryant, leading by double-digits over all potential competitors in Tuesday's Democratic primary.
"All three are good opportunities for Republican wins," said Republican Governors Association spokesman Jon Thompson. He said Kentucky is the only state the RGA is putting resources in now. "We are going to focus on Jack Conway's support for Barack Obama and support for cap and trade."
The three red states are almost certain to go Republican in 2016, but Kentucky has a long history of electing Democratic governors. The Cook Political Report scores Kentucky as "leaning Democrat," Louisiana "likely Republican" and Mississippi "solid Republican" for 2015.
"Historically, the governors races in these three states don't tell us much about the presidential race the following year," Jennifer Duffy, senior editor at Cook Political Report, told TheBlaze. "If anything, a Bevin win in Kentucky could make it solidly red, particularly if Democrats don't fare well in the down ballot statewide races."
A Republican sweep would mark the first time a party has won all three elections since Democrats were victorious in all three states in 1999.
A recent Bluegrass Poll found Conway leading by three points, 45-42. A Public Policy Polling survey showed Bevin leading slightly last month.
Bevin is sparking more excitement from his base, said Al Cross, a former veteran political reporter for the Courier-Journal and now a journalism professor at the University of Kentucky.
"If the election were held today, Bevin would win because Conway stirs little excitement among Dems, and Bevin is our [Donald] Trump, roiling the fever swamps," Cross told TheBlaze. "He's got a three-legged stool to stand on: Obama's been bad for the Democratic brand; voters are angry about social issues that cut against their values and beliefs; and Conway didn't appeal one of the gay-marriage rulings that Supreme Court upheld."
It took Democratic Gov. Steve Beshear to appeal the ruling for Kentucky when Conway wouldn't bring the case. Beshear became a national figure for Democrats for successfully implementing Obamacare in the state, and was recognized by Obama at the 2014 State of the Union address. Bevin has vowed to roll back Obamacare if elected. That might actually be a problem for him, Cross said, among Republican legislative leaders such as Senate President Robert Stivers who take issues with halting the Medicaid expansion.
A spokesman from the Democratic Governors Association did not respond to inquiries for this story, but its chairman, Montana Gov. Steve Bullock, noted in May that the Kentucky Democratic party is unified, referencing the divisive Republican primary that month.
Bevin won a four-man race, edging out the state's Agriculture Commissioner by just 83 votes statewide.
Republicans are perhaps correct to try to tie Conway with Obama, said Duffy of the Cook Political Report.
"Bevin is a very weak candidate yet is competitive in this race largely because Obama remains extremely unpopular in the state," Duffy told TheBlaze. "If Republicans can effectively tie Conway to Obama, then Bevin probably wins. For the moment, the presidential race is not a factor."
Duffy said Louisiana would likely go Republican, despite a fractured party and Jindal's unpopularity.
In the Oct. 24 primary, three Republicans and one Democrat — state Rep. John Bel Edwards — face off in a single contest "jungle primary," rather than separate nominating contests as most states do. If no candidate gets a majority of the vote, the top two vote-getters will face off in a Nov. 21 runoff.
Edwards called his three Republican opponents — U.S. Sen. David Vitter, Lt. Gov. Jay Darlene and Public Service Commissioner Scott Angelle — Jindal's "cheerleaders and enablers."
"Given Louisiana's system, it's possible to have a runoff with two Republicans, but the presence of at least three credible Republicans and only one Democrat increases the odds that if there is a runoff, it could well be between Vitter and Edwards," Duffy told TheBlaze. "There is no love lost between Vitter and Jindal, so Jindal doesn't hurt him. It is difficult for Edwards to tie Vitter to Jindal. Angelle and Darlene are also putting distance between themselves and Jindal."
Attorney Vicki Slater is the leading candidate going into the August 4 Mississippi Democratic gubernatorial primary. Her opponents are Dr. Valerie Short and Robert Gray.
After a divisive Senate Republican primary clash last year, there doesn't seem to be any wounds carrying into 2015, said Connor Dowling, a political science professor at the University of Mississippi.
"It doesn't appear to be the case that last year's Senate election is having too much of an impact on this year's Republican primary," he said. "Governor Bryant should win easily; he's not facing any serious Tea Party challenge."
Bryant, the incumbent governor, has token opposition in the Republican primary.
"State level races do tend to be somewhat more competitive than congressional races in Mississippi. Republican governors have won recent elections by a margin of roughly 60-40 in recent years, but some have been closer," Dowling said. "And Democrats, current Attorney General Jim Hood, who is running for re-election, for example, do win from time to time."