POCOMOKE CITY, Md. (TheBlaze/AP) -- A small Maryland town that bills itself as the "friendliest town on the Eastern Shore" is having a having a hard time living up to that name these days after the controversial firing of its first black police chief created racial tension.
The leaders of Pocomoke City this week defended their decision to fire former police Chief Kelvin Sewell and called for healing of the divide.
"You're looking for answers. ... I've been wanting to bust loose and say what I want to say, but I can't," Pocomoke City Mayor Bruce Morrison told representatives of a group called Citizens for a Better Pocomoke, which on Monday evening asked the mayor and council members to work with them to reinstate Sewell.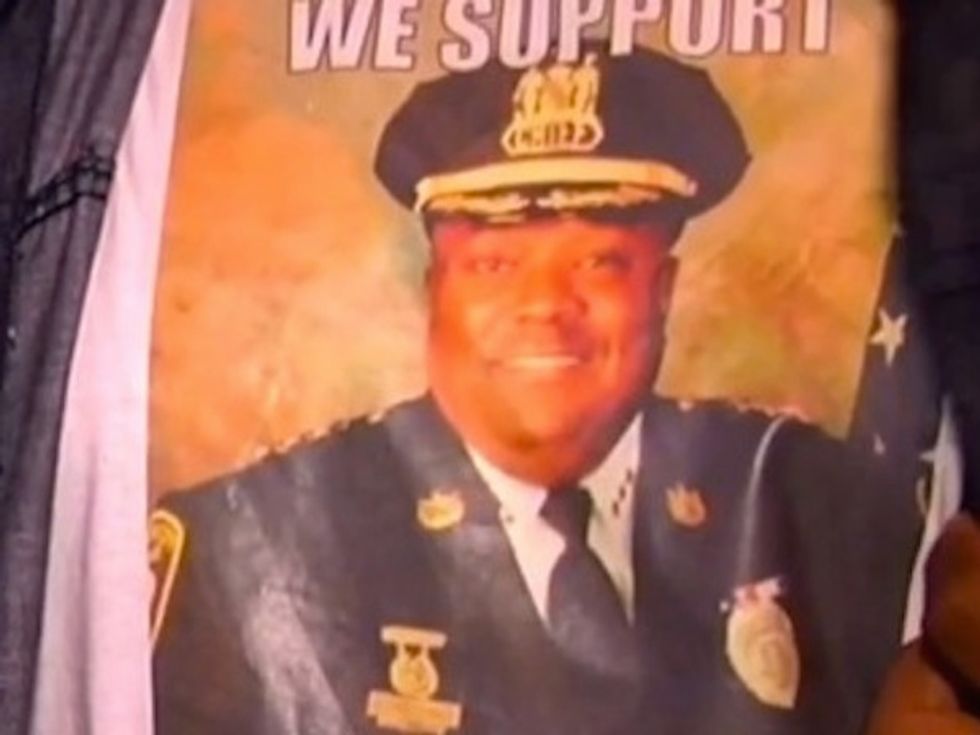 Some townspeople wore shirts supporting the former police chief. (Image source: WMAR-TV)
"This act has destabilized our community and now brought about division," the Rev. Ronnie White of the House of Love Christian Center said.
Morrison, who is white, said he was willing to work with the group.
"I think we are both on the same page. ... We have let our town be torn apart," he said, but added that Sewell would likely not get his job back.
"I don't see that happening," Morrison said.
Watch WMAR-TV's report on the situation:
Although the group has withdrawn a petition calling for Morrison's ouster, the Rev. James Jones of New Macedonia Baptist Church said reinstating Sewell would help heal the rift within the community.
"If you feel you did something in error, change it. Change it. Make the wrong right," Jones said.
Jones and fellow pastor Ronnie White of The House of Love Christian Outreach Center called for Morrison's resignation.
"We saw what damage was being done to our community, our home," Jones said, according to DelMarVa Now.
Sewell did not attend Monday's council meeting, which began on a cordial note that turned into sharp exchanges between audience members, the mayor and Councilman George Tasker, who was accused of referring to supporters of Sewell as "you people."
Tasker said he prayed for two weeks before last month's vote to fire Sewell.
"It's got nothing to do with race, color," he said. "... He was a good man, there's no doubt about it. We were friends, ... but I had to put friendship aside because I had to do what the people of Pocomoke City elected me to do."
Sewell says he was dismissed for refusing city officials' demands that he fire two fellow black officers who filed complaints saying they had been treated unfairly.
"I didn't do anything wrong," Sewell told The Associated Press last month, adding that officials told him he was fired because of incompetence.
According to WMAR, Morrison would not comment on why Sewell was fired, citing potential lawsuits.
"The truth will come out one day, it will come out," Morrison said.
After Sewell's firing, some residents of the town, which bills itself as "The Friendliest Town on the Eastern Shore," began a petition to have him reinstated and called for Morrison's ouster. The Justice Department sent community affairs representatives to a church gathering to listen to residents' concerns.
Sewell was hired by Pocomoke City in 2010 after retiring from the Baltimore Police Department and was promoted to chief in 2011. He filed a complaint earlier this year with the Equal Employment Opportunity Commission claiming he was not given a contract and was paid less than his white predecessors. He is now amending the complaint to add that he was fired for refusing to fire Officers Franklin L. Savage and Lynell Green.
Andrew McBride, a lawyer for the three men, said city officials viewed Savage and Green as "troublemakers."
City officials deny the allegations, but their ability to address the issue publicly has been limited because of pending litigation and privacy rules regarding personnel issues.
"I believe that when all of the facts are in, the actions of the council will be vindicated," City Attorney William Hudson said.
"We emphatically deny the allegation that the chief's separation resulted from a refusal on his part to terminate the officers," Hudson added.
The allegations of discrimination stem from Savage's two-year stint on the Worcester County Criminal Enforcement Team, a multijurisdictional drug unit. Savage, the only black officer on the task force, filed an EEOC complaint last year saying he was repeatedly subjected to racial slurs and harassment.
"It was extensive, and no discipline was imposed on the two leaders of the task force," McBride said.
Maryland State Police, however, informed Savage in a letter that it would penalize one of its officers for "unbecoming conduct."
Green says he was harassed and his overtime hours were restricted after he attended an EEOC mediation session with Savage.
Diane Downing, the lone black member of the five-person council and sole vote against firing Sewell, said city officials and outside authorities wanted Savage fired because he could not be trusted after filing his EEOC complaint and would not be allowed to testify in court cases.
The role Sewell's relationships with other local law enforcement agencies may have played in his firing is unclear. On at least two occasions, most recently in June, representatives of outside agencies have come into Pocomoke City to make drug arrests without Sewell's prior knowledge or participation.
"Everybody was concerned about why the other agencies were in town," Downing said.