Glenn Beck on Wednesday compared Americans who turn a blind eye to Planned Parenthood to Germans who turned a blind eye to the atrocities of the Nazis during World War II.
"May I ask what the difference is between us?" Beck demanded on his radio program. "What is the difference between the German people and those of us who are alive today here in America with the slaughterhouses that are Planned Parenthood?"
Beck said most Germans rationalized their inaction during World War II by saying: "It's just Jews and ... it's none of my business."
"But once the crime was ended and justice came, then they all said they didn't know," Beck continued. "And when they were handed something to teach their children of the crime ... they took it and they threw it in the fire. 'I don't want this in the house! I don't need to see this...' What is the difference between all of us saying that and the Germans saying that?"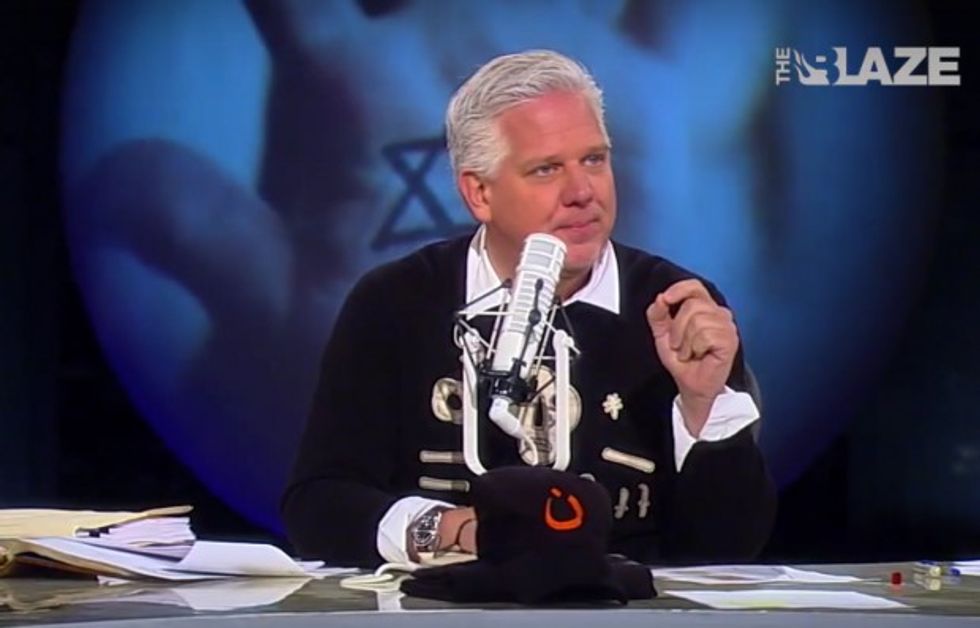 Glenn Beck speaks on his radio program August 5, 2015. (Photo: TheBlaze TV)
Beck said with the fifth undercover video exposing Planned Parenthood being released -- most of the videos focusing on the organization's apparent harvesting and selling of aborted infants' organs -- many Americans are saying, "I don't want to see this."
"If you can't look at those Planned Parenthood videos, that should tell you something," Beck said. "Something is happening, and you are not standing against it. I'm telling you right now, here's test number one [of whether America's going to drive off the cliff]. ... You want to get out of the car? You start standing against Planned Parenthood."
Beck said he believes America has driven past countless warning signs, and it is getting to the point where it is too late to turn the car around.
"I believe God is giving us one last chance," Beck said. "Do you want to pay for babies being chopped up and then sold to the highest bidder? What! Of course not. But we're still debating it! ... I cannot tell you how the warning bells in me go off and say, this is really kind of a last chance kind of thing. This is a test of the emergency 'I'm going to destroy you' system."
Beck has called abortion the most "sugar-coated and socially-accepted genocide in the history of the planet," and said Wednesday that "justice is coming."
"When justice comes, which side of the ledger will you be on?" he concluded. "It's time to choose. ... Our protection will be withdrawn. We are headed for trouble. Now, who is going to stand?"
The full episode of The Glenn Beck Program, along with many other live-streaming shows and thousands of hours of on-demand content, is available on just about any digital device. Click here to watch every Glenn Beck episode from the past 30 days for just $1!