Senate Majority Leader Mitch McConnell excoriated President Barack Obama over a comment he made comparing Republicans who oppose his Iran deal to those chanting "death to America."
"Just because Iranian hardliners chant 'death to America' doesn't mean that's what all Iranians believe," Obama said in a speech, adding that they also oppose the deal. "Those hardliners are most comfortable with the status quo … they are making common cause with the Republican caucus."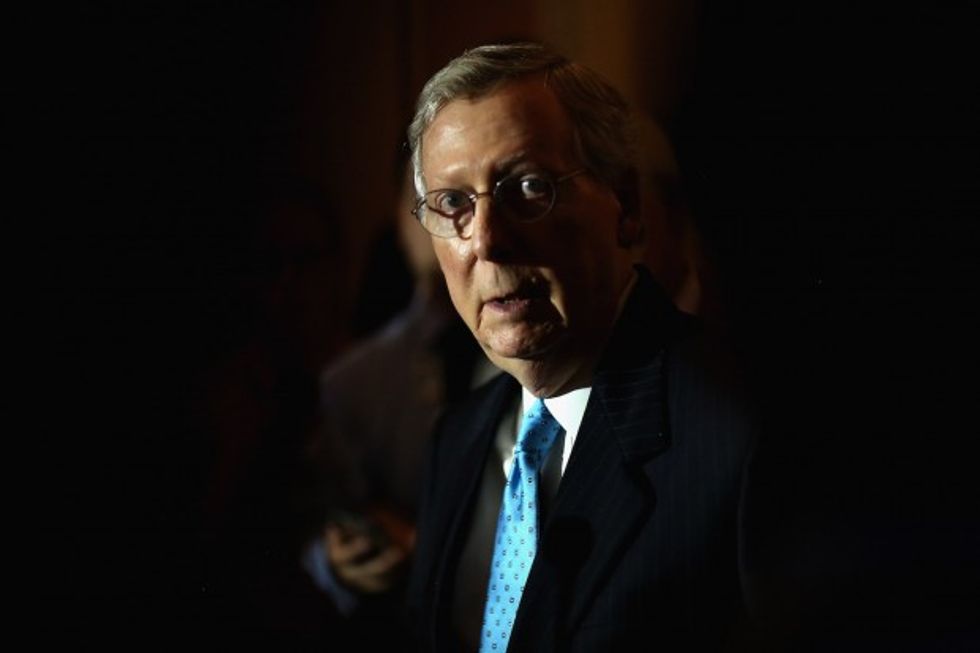 (Photo by Chip Somodevilla/Getty Images)
McConnell (R-Ky.) said in a statement that he had called on Obama to approach the matter "with the reverence and respect it clearly deserves."
[sharequote align="right"]"The President needs to retract his bizarre and preposterous comments..."[/sharequote]
"Members of both parties have serious and heartfelt concerns about the Iran deal. These Democrats and Republicans deserved serious answers today, not some outrageous attempt to equate their search for answers with supporting chants of 'Death to America,'" he said.
"I imagine the Democrats who've already come out against this agreement will be especially insulted by it," McConnell continued. "This goes way over the line of civil discourse. Let me repeat my call for the President to shelve these talking points no one believes and resist these insults no one deserves so we can all aim higher —and rise to the moment together."
The Kentucky senator concluded asking Obama to take back his remarks.
"The President needs to retract his bizarre and preposterous comments, and both supporters and defenders of the President's deal with Iran should reject this offensive rhetoric," he said.
McConnell said Wednesday that the Senate will take up the Iran nuclear agreement on September 8 when members return from August recess.
—
Follow the author of this story on Twitter and Facebook: