In his hardest sell yet for the Iranian nuclear deal, President Barack Obama said that every country is for the agreement, except for the one that perhaps faces the biggest risk.
"This is the strongest nonproliferation agreement ever negotiated and because this is such a strong deal every nation in the world that has commented publicly – with the exception of the Israeli government – has expressed support," Obama said Wednesday at American University in Washington. "The United Nations Security Council has unanimously supported it."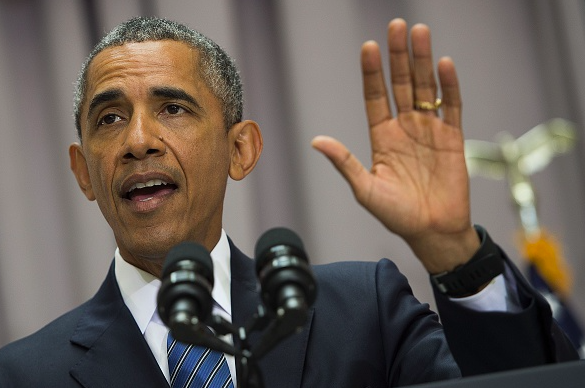 President Barack Obama speaks on the nuclear deal reached with Iran at American University in Washington, DC, August 5, 2015. (JIM WATSON/AFP/Getty Images)
Obama delivered a stern warning to Congress against rejecting the P5+1-negotiated deal with Iran, invoking Presidents John F. Kennedy and Ronald Reagan diplomacy with the Soviet Union, juxtaposed with a rapid move to go to war in Iraq.
"Walk away and you will get a better deal — for Iran — because more sanctions won't produce the result that critics want," Obama said, stating that Iran would be able to build a nuclear bomb without the agreement.
As most Republicans, and some Democrats, have voiced opposition to the agreement, Obama warned there is only one alternative to the deal.
"Let's not mince words," Obama said. "The choice we face is ultimately between diplomacy or some form of war, maybe not tomorrow, maybe not three months from now, but soon."
And he said the same people who supported going to war in Iraq oppose the Iran deal.
"The same mindset in many cases offered by the same people who seem to have no compunction with being repeatedly wrong led us to a war that did more to strengthen Iran, more to isolate the United States than anything we have done in the decades before or since," Obama said. "It's a mindset out of step with the traditions of American foreign-policy, where we exhaust diplomacy before war."
Obama said of Israeli Prime Minister Benjamin Netanyahu concerns, "I do not doubt his sincerity. I believe he is wrong."
"No one can blame Israelis for having a deep skepticism about any dealings with the government like Iran. which includes leaders who deny the Holocaust, embrace and ideology of anti-Semitism, facilitate the flow of rockets that are rained on Israel's borders," Obama said.
But he went on to say the facts support the deal.
"It would be the obligation of my constitutional duty to act against my best judgment simply because it causes temporary friction with a dear friend and ally," Obama said. "I do not believe it would be the right thing to do for the United States or the right thing to do for Israel."
But Obama said he is convinced that "walking away would not be the right thing to do for the United States and would not to be right thing to do for Israel."
Obama also seemed to almost taunt Republican opponents of the deal.
"Just because Iranian hardliners chant 'death to America' doesn't mean that's what all Iranians believe," Obama said, adding that they also oppose the deal. "Those hardliners are most comfortable with the status quo … they are making common cause with the Republican caucus."
The president used intense rhetoric without addressing many questions, said Cory Fritz, spokesman for House Speaker John Boehner (R-Ohio).
"As Congress and the American people review this deal, President Obama's rhetoric is raising far more questions than answers. Instead of offering facts and proving this deal will make America safer, the president is relying on partisan attacks, false claims, and fear," Fritz said in a statement.
The venue of American University was chosen because Kennedy delivered a presidential address there about negotiations with the Soviet Union.
"The agreements pursued by Kennedy and Reagan with the Soviet Union, those agreements and treaties involved America accepting significant constraints on our arsenal," Obama said. "As such, they were riskier. This agreement involves no such constraints. the defense budget of the United States is more than $600 billion. To repeat, Iran's is about $15 billion."
Obama also warned about the economic consequences if Congress rejected the deal.
"We would have to cut off countries like China from the American financial system," Obama said. "Since they happen to be major purchasers of our debt, such actions could trigger severe disruptions in our own economy, and raise questions dollars role as the world's internationally about the reserve currency."