Internet-media mogul Matt Drudge reacted on Twitter to a report Wednesday night that the FBI is investigating Hillary Clinton's email conduct as a "criminal probe."
Matt Drudge (file)

The Drudge Report founder predicted that Attorney General Loretta Lynch would never bring criminal charges against Clinton — and the tone of his tweet indicated he was quite certain about this.
"Never in a zillion years will AG Loretta Lynch prosecute Hillary," Drudge tweeted, linking to the New York Post's article. "NEVER EVER EVER... EVER!!"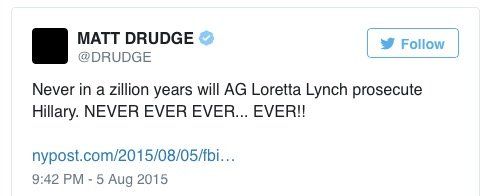 Image source: Twitter
Drudge rarely so brazenly comments on current events. In fact, it's not rare to see his Twitter page blank as he normally deletes his tweets shortly after posting them.
Earlier this year, however, Drudge went on a Twitter tirade against Republican leadership after the GOP-led Senate approved enhanced trade negotiating authority for President Barack Obama.
—
Follow the author of this story on Twitter and Facebook: