Leonard Bullock sits on his front porch and waves.
Across from the main tracks of the Union Pacific Rail Road running through Pendleton, Oregon, for four years, the 75-year-old carried on the silent ritual with Josh Cyganik, 35, when he showed up for work each morning.
"He sits on that front porch all day long," Cyganik told UPRR's Community Ties. "I never talked to him. Not until I heard what those two kids said."
Last month, Cyganik heard two teenagers saying the house — a mottled mix of paint colors ranging from white to sea foam green to a shade of blue reminiscent of ScotchBlue Painter's Tape — was in such poor shape that it should be burned down.
More specifically, Cyganik wrote on Facebook, they said, "look at this crappy house they just need to burn it down."
"I saw the look on Leonard's face. I could tell the comment bothered him," Cyganik told UPRR. "I don't think any elderly person should have to endure what I heard from those two kids' mouths. I kind of stewed about it for a couple days before I decided to do something."
Some of Cyganik's fellow railroad workers agreed to help and another friend, who was a manager at a hardware store, said he'd donate paint.
"After we had it all figured out, I went and asked Leonard if it would be all right if we painted his house. He was ecstatic," Cyganik said.
On Facebook, Cyganik invited anyone else who wanted to volunteer to show up on Saturday, July 18. The post was shared more than 6,000 times, and when the day came, up to 60 people turned out, according to the East Oregonian.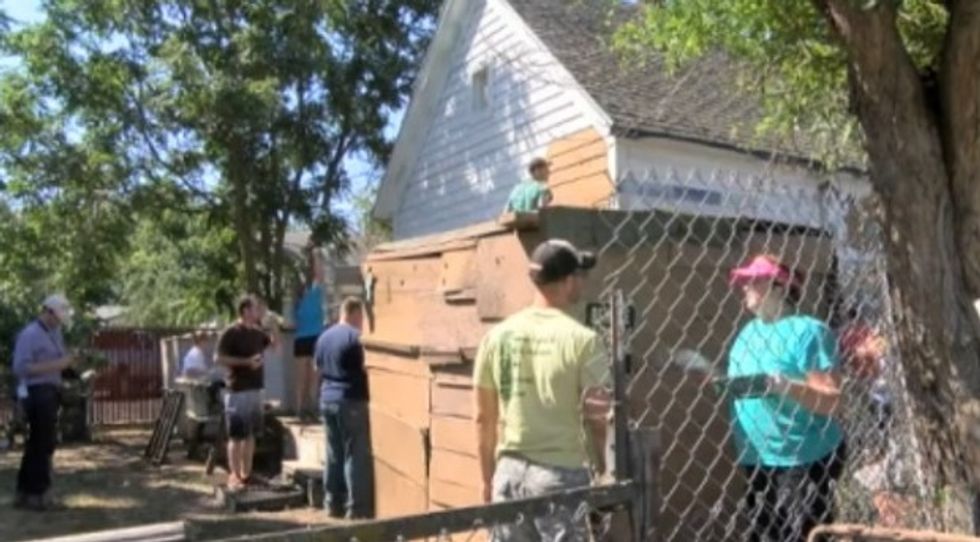 Dozens of volunteers showed up to help and even more donated supplies and money to make repairs and cosmetic fixes to the home. (Image source: KEPR-TV)
The newspaper reported that Bullock moved into the house in 1982, but since retiring and living off of social security, he didn't have the money to put into major cosmetic repairs.
As it would turn out, Bullock told the East Oregonian he didn't actually hear what the teens said, but was shocked when the words were recounted to him. As for his house and all the help, Bullock told KEPR-TV, "I love every minute of it."
Now Bullock is back to waving from the porch of a home with a consistent brown exterior and many other safety upgrades.
"Yeah, it was a random act of kindness, but to me it's more about respect," Cyganik told UPRR. "I was raised to respect the people who came before you, to help others out who don't have much. Leonard can now sit on his front porch for the rest of his years while feeling good about his home."
Watch KPER-TV's report:
Cyganik did not immediately respond to TheBlaze's request for comment.
(H/T: Reddit)