MSNBC's Joe Scarborough let it drop on Friday morning that after watching the GOP debate, his liberal "Morning Joe" co-host Mika Brzezinski admited that, while she doesn't generally like Republicans, Carly Fiorina "really inspires" her.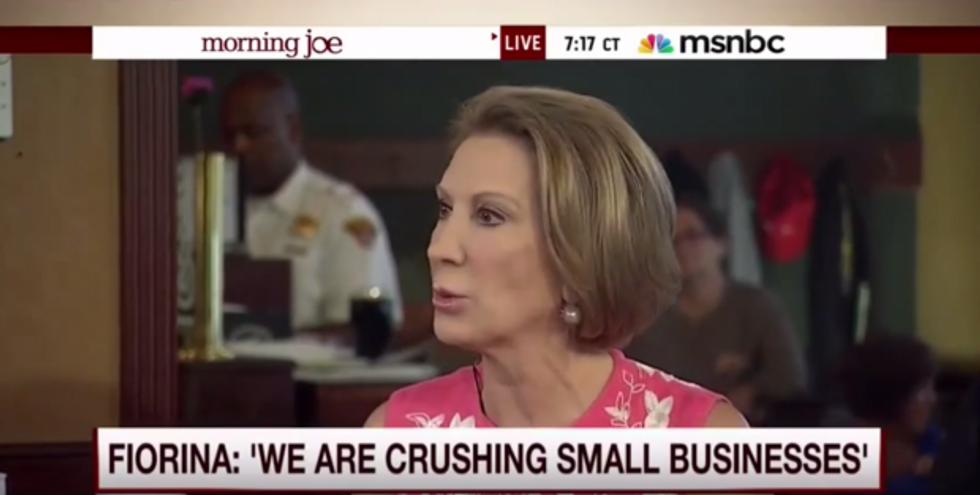 MSNBC
The "self-made woman" continued to impress during an interview on the MSNBC morning show Friday, even getting applause from a live audience for her plan to reinvigorate the U.S. economy.
"We have to know what the engine of economic growth is. You know what it is? Small businesses, new businesses, family-owned businesses," she said to applause.
Fiorina then explained how she started out as a secretary at a real estate firm with nine people before going on to conquer the business world. The experience, she said, allowed her to see first-hand how business works.
"Small businesses create two-thirds of the new jobs, they employ half the people," she said, lamenting the complicated U.S. tax code and burdensome regulations. "When we crush small business, we're now destroying more than we are creating."
The Republican candidate pointed to states where liberal policies have been in place for a long time, like California.
"Government has gotten bigger and bigger, more powerful, for 50 years under Republicans and Democrats alike," she said. "It's why people are tired of it. Let's quit talking and actually solve some of this."
That's why, Fiorina said the U.S. needs a president who understands how the economy, bureaucracy and technology works.
Watch the interview below:
---