SEATTLE (TheBlaze/AP) — Democratic presidential candidate Bernie Sanders was shoved aside by several Black Lives Matter activists and eventually left a Saturday afternoon event in Seattle without giving his speech.
Sanders was just starting to address several thousand people gathered shoulder to shoulder at Westlake Park when two women took over the microphone.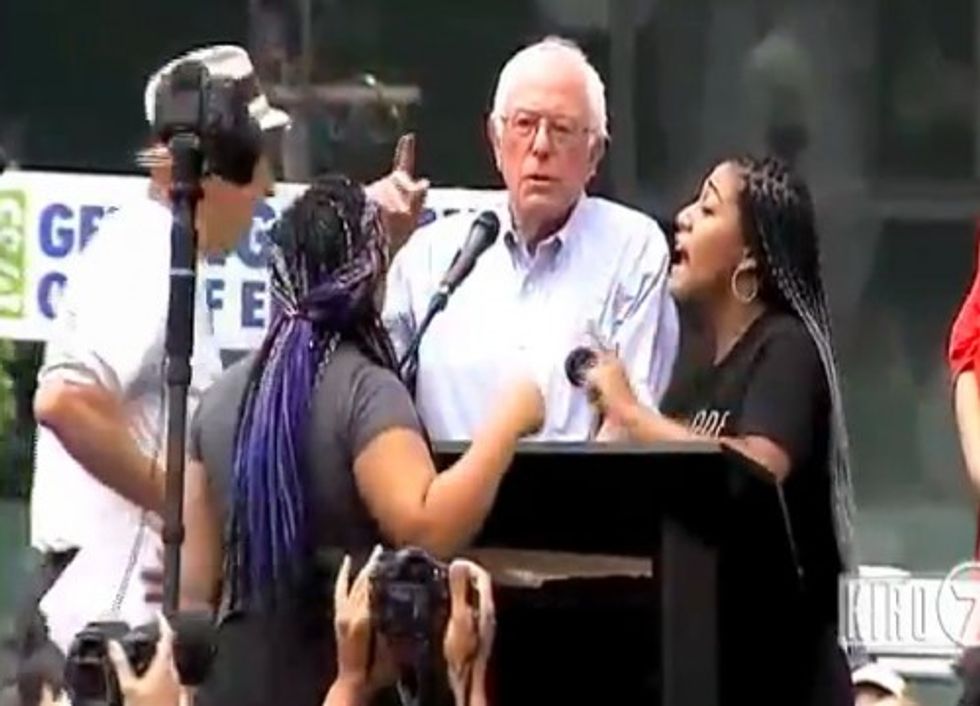 Image source: KIRO-TV
"If you do not listen to her, your event will be shut down right now!" one woman yelled at Sanders before he stepped back.
Organizers couldn't persuade the two to wait and agreed to give them a few minutes — after getting quite the earful.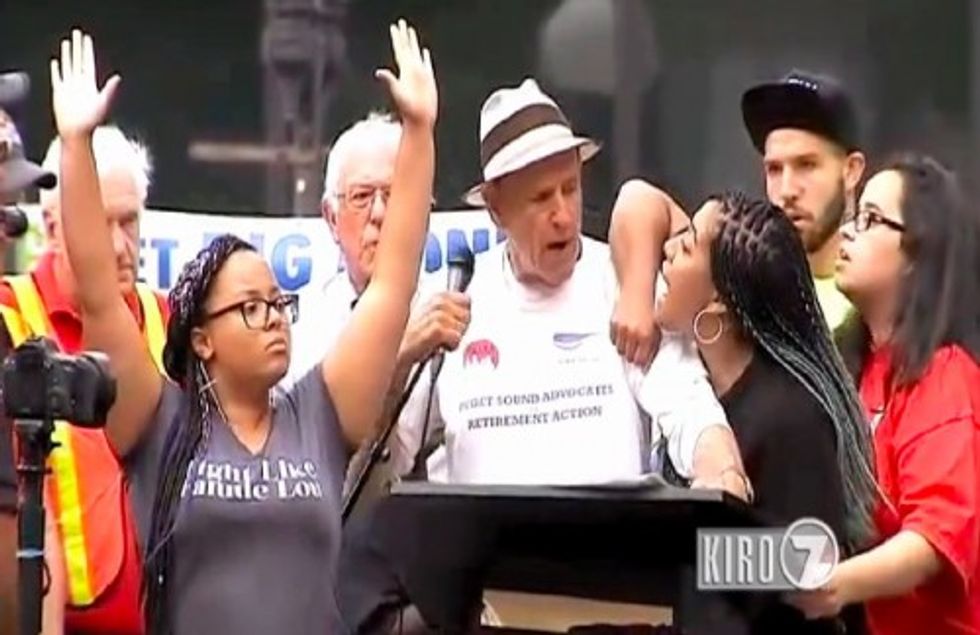 Image source: KIRO-TV
"Let her speak or we shut it down!" one activist yelled.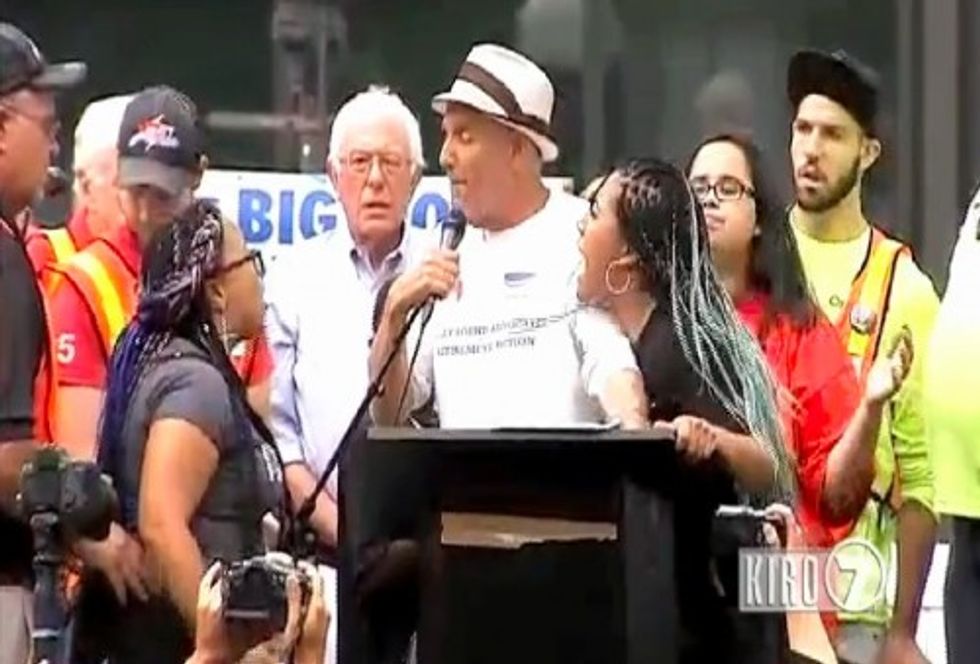 Image source: KIRO-TV
"Stop asking questions and let her speak now!" she hollered
Bernie waits while BLM reps speak pic.twitter.com/PDwUhVQaZz

— Rich Smith (@goodeveningmaam) August 8, 2015
The women spoke about Ferguson and the killing of Michael Brown and held a four minute moment of silence.
The protestors just won a 4 ½ minute moment of silence. Sanders stood off stage for the entire time.

— Dan Merica (@danmericaCNN) August 8, 2015
Bernie observes the moment of silence to mourn death of Michael Brown. #BlackLivesMatter pic.twitter.com/AbFAb0EzGk

— Rich Smith (@goodeveningmaam) August 8, 2015
When the crowd asked the activists to allow Sanders to speak, one activist called the crowd "white supremacist liberals," according to event participants.
After waiting about 20 minutes, Sanders himself was pushed away when he tried to take the microphone back.
Reps from #BlackLivesMatter shutting down @BernieSanders at #BernieinSeattle he's denying the mic pic.twitter.com/UgTkKDdH3P

— Rich Smith (@goodeveningmaam) August 8, 2015
Instead, he waved goodbye, left the stage with a raised fist salute and waded into the crowd. He shook hands and posed for photos with supporters for about 15 minutes, and then left.
The rally at Westlake Park was organized as a birthday celebration for Social security, Medicare and Medicaid.
It's not the first time that Black Lives Matter activists disrupt the Vermont senator's event. At a town hall for Democratic presidential candidates in Phoenix last month, protesters affiliated with the Black Lives Matter movement took over the stage and disrupted an interview with Sanders and former Maryland Gov. Martin O'Malley.
—
Follow Dave Urbanski (@DaveVUrbanski) on Twitter