UPDATE 6:25 a.m. ET: According to St. Louis Post-Dispatch, the gunshot victim who was shot by police after he allegedly opened fire during a protest in Ferguson, Missouri, was identified by his father as 18-year-old Tyrone Harris Jr.
The suspect, who has not yet been identified publicly by authorities, was in critical condition and underwent surgery early this morning.
Tyrone Harris told the St. Louis Post-Dispatch his son and Michael Brown Jr. "were real close."
"We think there's a lot more to this than what's being said," Harris Sr. told the newspaper of the situation.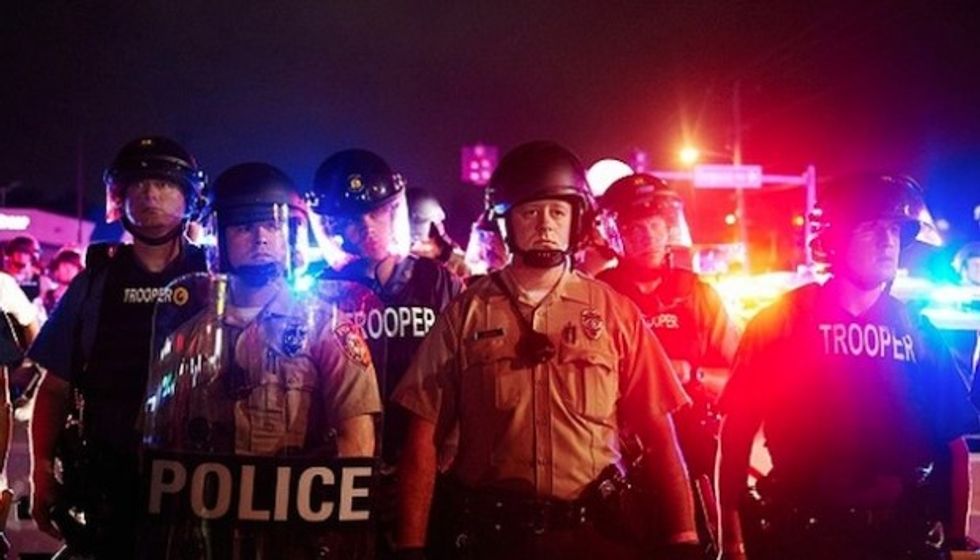 St. Louis County Police and Missouri State Highway Patrol troopers stand guard as protesters march on West Florissant Avenue in Ferguson, Missouri on August 9, 2015. A day of peaceful remembrance marking the anniversary of 18-year-old black teen Michael Brown's killing by police in the US city of Ferguson came to a violent end on August 9 as gunfire left at least one protester injured. (Michael B. Thomas/AFP/Getty Images)
None of the four officers involved in returning gunfire were injured but all were placed on standard administrative leave.
—
UPDATE 4:00 a.m. ET - Chief Belmar of St. Louis County Police held a brief, pre-dawn press conference updating reporters with new details from a shootout between four plain-clothes officers and a man suspected of involvement in the earlier shooting.
Shooting suspect shot at responding officers. Suspect is in surgery. 4 officers on admin. leave. pic.twitter.com/ZlEuHEPCvJ

— St. Louis County PD (@stlcountypd) August 10, 2015
Belmar told reporters the officers' unmarked SUV was hit several times and they returned fire, wounding the suspect. Police arrested the man, transported him to a local hospital where he is in "critical, unstable condition," according to the chief.
Ferguson protester Tony Rice reportedly captured video showing the alleged shooter on the ground. As he was recording the scene, police attempted to stop him, claiming the scene was unsecured. Rice was reportedly arrested.
Video: Ferguson, Mo., protester Tony Rice arrested while filming person that appears to have been shot [Warning: I… pic.twitter.com/wBzo2I0E6G

— News Junkie (@newsjunkieswmo) August 10, 2015
UPDATE 1:28 a.m. ET (AP) — St. Louis County Police say an officer who came under heavy gunfire returned shots amid a protest in Ferguson.
The department confirmed the shooting in a statement on Sunday night, less than an hour after shots rang out as hundreds had gathered to mark the anniversary of the death of Michael Brown. The police department tweeted that at least two unmarked cars were hit by gunfire.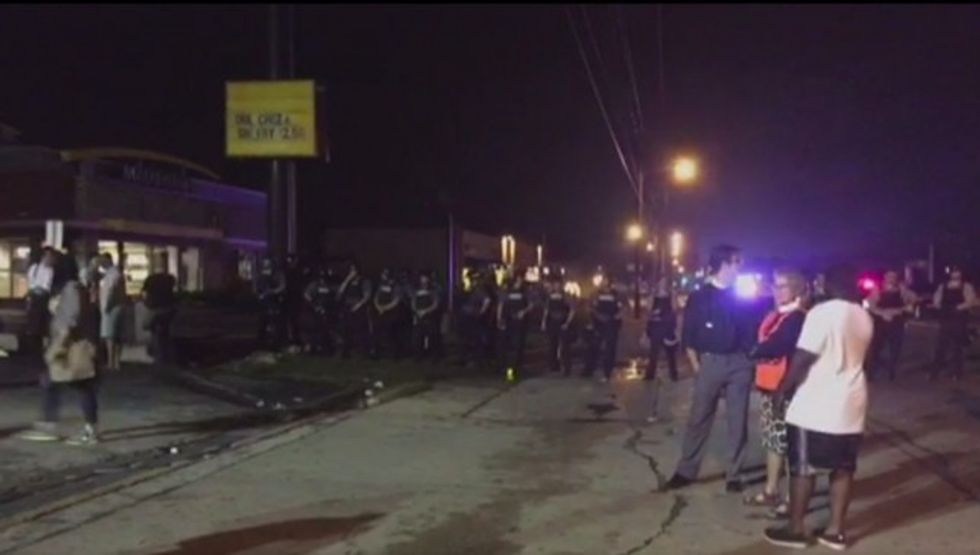 Image source: Grasswire
It wasn't immediately clear whether any one was injured in the shooting, but minutes after the shots were heard, an Associated Press photographer saw a man lying face down, covered in blood, behind a boarded-up restaurant. It wasn't immediately clear how badly the man was injured.
Later, an AP reporter saw a woman overcome with grief. Friends were consoling her. She screamed: "Why did they do it?" Another woman nearby fainted.
A man nearby said, "They killed my brother."
—
(TheBlaze/AP) — A demonstration along West Florissant Avenue in Ferguson, Missouri, has been disrupted by gunfire.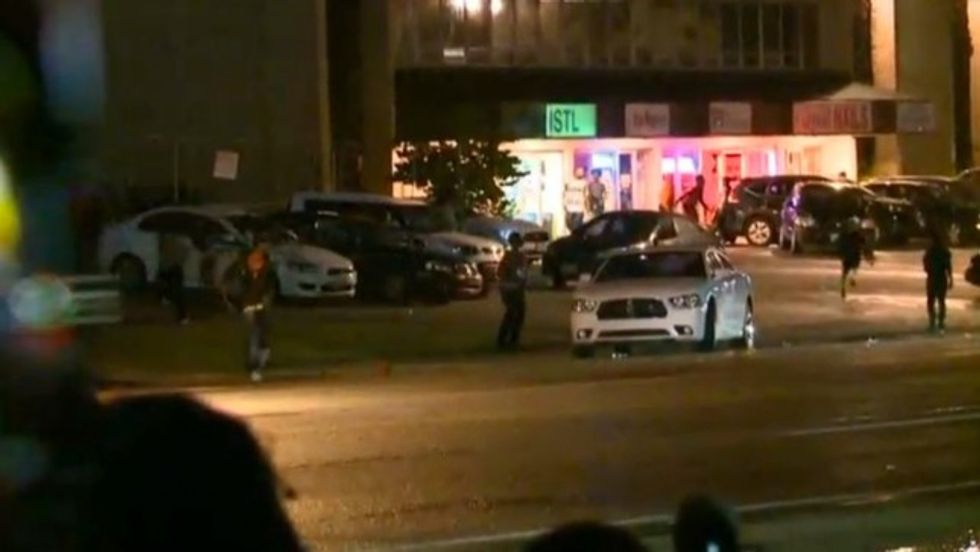 Image source: KTVI-TV
Shots rang out just after 11:15 p.m. Sunday. It was unclear where the shots came from. It wasn't immediately clear whether anyone was hit.
St. Louis County Police posted on Twitter that multiple shots were fired and asked people to leave the area. A spokesman for the department didn't immediately respond to a request for comment.
(1/2) A St. Louis County officer was involved in an officer-involved shooting after comin g under heavy gunfire. pic.twitter.com/L4PqopaEF1

— St. Louis County PD (@stlcountypd) August 10, 2015
Hella gun fire pic.twitter.com/pAg4D6R2az

— Search4Swag (@search4swag) August 10, 2015
Protesters who had gathered in the street fled in multiple directions, hiding behind cars and taking cover in buildings.
A police helicopter appeared overhead, shining a spotlight down on the street. Dozens of police cars and an armored vehicle converged on the area.
RIGHT NOW: HEAVY ARMORED VEHICLES ON THE MOVE IN FERGUSON. LIVE FEED: http://t.co/hU0YcsxPw8 pic.twitter.com/tWY1hm3fYk

— Breaking News Feed (@PzFeed) August 10, 2015
Earlier several hundred protesters who had gathered to mark the anniversary of the death of 18-year-old Michael Brown blocked traffic. An officer said through a bullhorn they would be arrested if they did not move.
Someone threw a glass bottle at officers but missed. Others cursed at officers.
For the first time in three nights of protests, some officers were dressed in riot gear, including bullet-proof vests and helmets with shields.
A grand jury and the U.S. Department of Justice declined to prosecute Ferguson Police officer Darren Wilson, who shot Brown, but the shooting touched off a national "Black Lives Matter" movement.
Here's live coverage of what's happening in Ferguson. (Content warning: Live video may contain language and images that are disturbing; discretion is advised.)

Broadcast live streaming video on Ustream
This is breaking news; updates will be added.
—
Follow Dave Urbanski (@DaveVUrbanski) on Twitter