Under the Iran nuclear agreement, dozens of companies with links to the country's Revolutionary Guard military force, as well as individuals accused of having links to terrorism, will secure sanctions relief from either the U.N., European Union or U.S., Reuters reported.
Among those is an Iranian bank that the U.S. has accused of transferring money to the terrorist groups Hamas and Hezbollah.
Reuters reviewed annexes of the nuclear deal and tallied about 90 current and former IRGC officials, companies that have worked with the Revolutionary Guard, and the IRGC itself that will be removed from nuclear sanctions lists.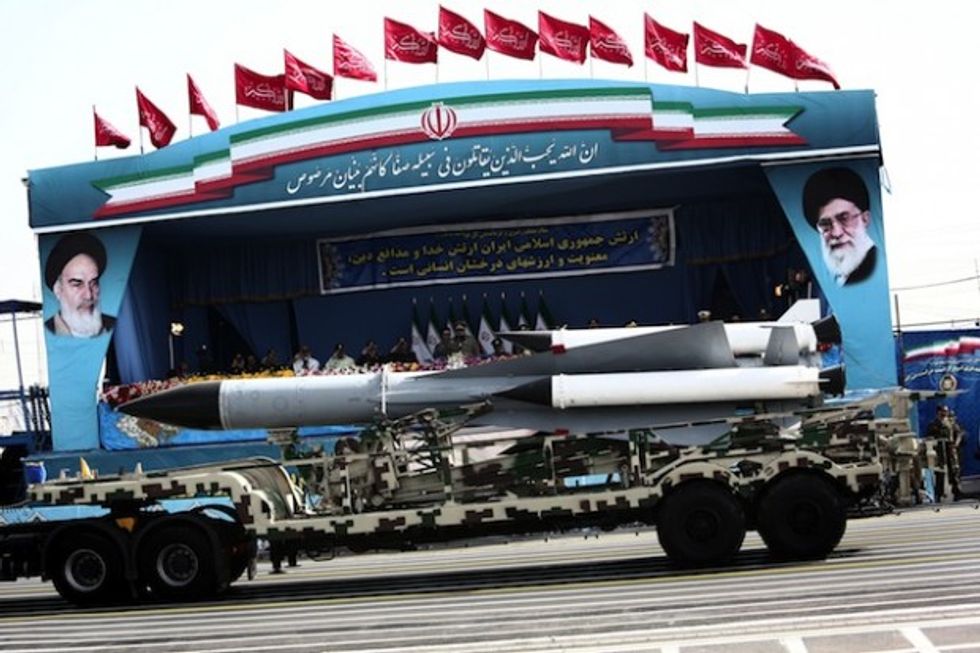 A S-200 surface-to-air missile system is driven past Iranian military commanders during the Army Day parade in Tehran,  April 18, 2015. (Behrouz Mehri/AFP/Getty Images)
One particularly notable entity to win sanctions relief in eight years from the EU is the IRGC's elite Quds force which operates overseas, including working alongside Hezbollah.
However, the Quds force will remain under U.S. sanctions for its terrorism and weapons of mass destruction proliferation activities, Reuters reported.
"The IRGC was behinds hundreds of attacks in Iraq and Afghanistan against American troops. It has also been behind the oppression of the Iranian people domestically, not to mention the support it provides to Hezbollah in Lebanon and the Assad regime in Syria," Jonathan Schanzer, vice president for research at the Washington-based Foundation for Defense of Democracies, told TheBlaze Monday.
"While the de-listing of IRGC entities is unquestionably disturbing, it's important to understand that the IRGC dominates the Iranian economy. Any sanctions relief granted to Iran will flow to the IRGC. This is one reason why the proposed deal is so troubling," said Schanzer, who was previously a terrorism finance analyst at the U.S. Treasury Department.
Besides the Iranian entities, one prominent figure eligible for EU sanctions relief in eight years is Quds commander Qasem Soleimani, according to Reuters:
He has had a high-profile role in advising Shi'ite militia leaders in Iraq as well as the forces of President Bashar al-Assad in Syria.

Also on the list for EU sanctions relief in around eight years is Ahmad Vahidi, a former head of the Guards wanted by Interpol for his alleged role in the 1994 bombing of a Jewish community center in Buenos Aires. Vahidi denies involvement.
Tablet magazine last month described Soleimani as being "responsible for exporting Iranian terrorism and Iranian-sponsored terrorism — like Hezbollah's — abroad."
According to Reuters', Soleimani will be delisted by the EU for nuclear sanctions, but will still face sanctions linked to the issues of Syria and terrorism.
Another prominent figure on the sanctions relief list is Anis Naccache.
In a Wall Street Journal op-ed Sunday, Hooman Bakhtiar, whose great uncle was once once on Naccache's hit-list, urged Congress to debate not only the nuclear agreement but also the "nefarious characters whose names would be removed under the deal from Western sanctions lists":
Consider Anis Naccache, the Lebanese hitman who attempted to assassinate my great uncle Shapour Bakhtiar, Iran's last prime minister under the shah. On a sweltering July day in 1980, a hit squad of five Lebanese, Iranian and Palestinian assassins led by Mr. Naccache approached a building in the Paris suburb of Neuilly. They posed as journalists, ostensibly to interview Bakhtiar, who had arrived in Paris a year earlier to launch a political campaign against the Islamic Republic before Ayatollah Khomeini's nascent regime could entrench itself.
Naccache, who was handed a life sentence for the attack, was also once a lieutenant to the Venezuelan terrorist Carlos the Jackal. Naccache was released after 10 years, apparently as part of a deal to secure the release of French hostages in Lebanon.
Reuters noted that some firms will have to wait eight years for EU sanctions relief but will not get any concessions from the U.S.
For example, Bank Saderat Iran (BSI), which has been accused of moving money to Hamas and Hezbollah, will enjoy EU sanctions relief in eight years, but the U.S. will not lift sanctions against it.
Likewise, the Iran Aircraft Manufacturing Company which builds military aircraft and Marine Industries which purchases hardware for the Iranian navy will enjoy EU sanctions relief in eight years, Reuters reported. The U.S. will keep sanctions in place for those entities.
Sen. Bob Corker (R-Tenn.), chairman of the Senate Foreign Relations Committee and a key opponent of the agreement, said in the Republican's weekly address on Saturday that as Congress evaluates the Iran deal, it must remember that Iran "today remains the leading state sponsor of terrorism in the world."
"It is the same regime that is responsible for the deaths of hundreds of U.S. troops in Iraq. And it is the same regime that is funding terrorist groups like Hamas and Hezbollah and Syria's dictator Bashar al Assad," Corker said.
This story has been updated with comments from the Foundation for Defense of Democracy's Jonathan Schanzer.