Shortly before gunfire erupted during protests marking the anniversary of officer-involved fatal shooting of Michael Brown in Ferguson, Missouri, demonstrators were caught on video chanting that they were "ready for war."
"Ready for what?! We're ready for war!" the protesters chanted.
#Ferguson pic.twitter.com/XPKwgeYcse

— Paul Hampel (@phampel) August 10, 2015
The video was tweeted by St. Louis Post-Dispatch reporter Paul Hampel at 10:47 p.m. central time -- and gunfire rang out just after 11 p.m., police said. Police shot and critically injured one suspect who allegedly opened fire on plainclothes detectives.
Separately, police said a 17-year-old male has been charged with unlawful use of a weapon and one count of resisting arrest after he fired shots near the protesters late Sunday. He is being held on $100,000 bond.
The anniversary of Brown's killing, which cast greater scrutiny on how police interact with black communities, has sparked days of renewed protests, though until Sunday they had been peaceful and without any arrests.
Before the gunfire, protesters were blocking traffic and confronting police. One person threw a glass bottle at officers but missed.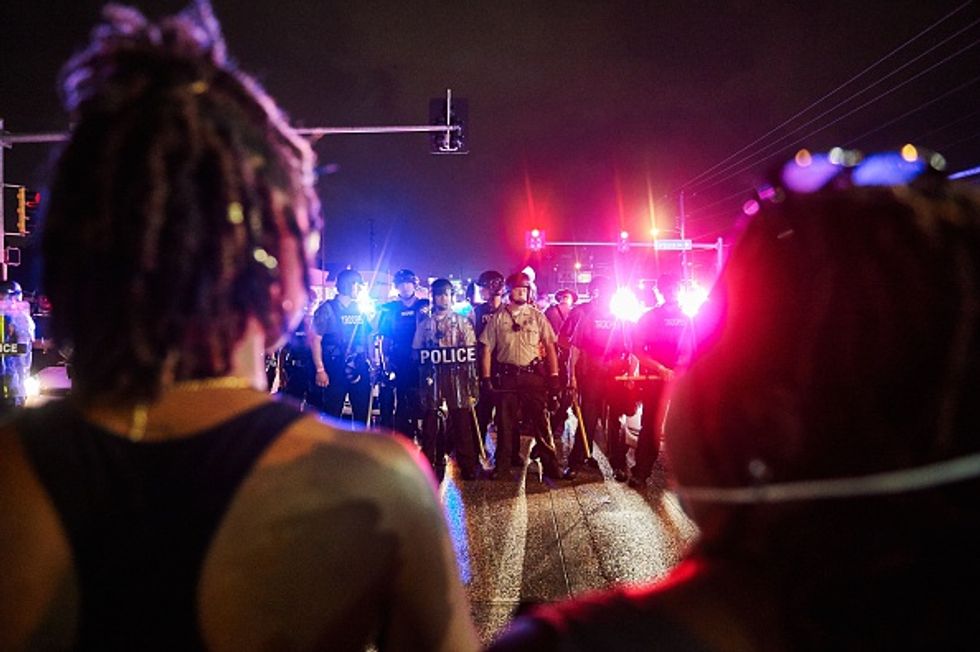 St. Louis County Police and Missouri State Highway Patrol troopers (C) stand guard as protesters (foreground) march on West Florissant Avenue in Ferguson, Missouri on August 9, 2015. A day of peaceful remembrance marking the anniversary of 18-year-old black teen Michael Brown's killing by police in the US city of Ferguson came to a violent end on August 9 as gunfire left at least one protester injured. AFP PHOTO / MICHAEL B. THOMAS (Photo credit should read Michael B. Thomas/AFP/Getty Images)
For the first time in three consecutive nights of demonstrations, some officers were dressed in riot gear, including bullet-proof vests and helmets with shields. Police at one point early Monday shot smoke to disperse the crowd that lingered on West Florissant, Belmar said.
One officer was treated for cuts after a rock was thrown at his face, and two officers were pepper-sprayed by protesters, county police spokesman Officer Shawn McGuire said in an email. Five people were arrested, according to records McGuire released.
The Associated Press contributed to this report.
---