Abby Johnson, a former Planned Parenthood clinic director turned anti-abortion activist, detailed the process of fetal tissue donation from what happens the moment a woman walks in the door to how the body parts are shipped.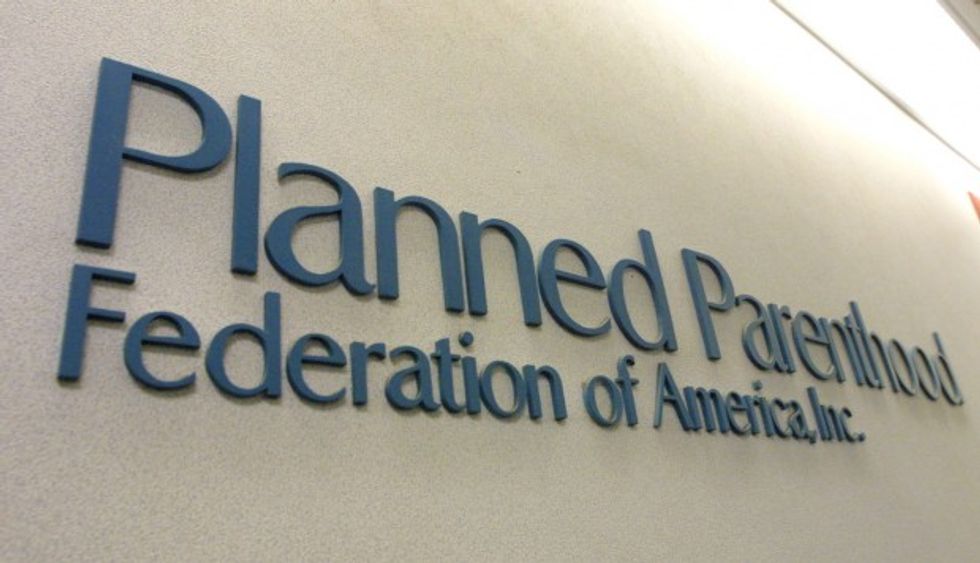 A sign hangs in the offices of the Planned Parenthood Federation of America December 7, 2001 in New York City. (Mario Tama/Getty Images)
Johnson, whose views took a 180 when she watched a 13-week-old fetus struggle on an ultrasound during an abortion procedure, spoke with The Daily Signal, a publication produced by the conservative Heritage Foundation, about what she saw during her eight-year tenure at Planned Parenthood in light of the recent undercover videos regarding the practice of fetal tissue donation. Planned Parenthood has denied that it profits off of donating fetal parts.
Johnson said that staff members at the Texas clinic where she worked until 2009 were "compensated for every patient that we were able to enroll in a study." This, she added, "creates coercive tactics."
"For our fetal tissue study, we got paid about $200 per baby that we sent," Johnson added to the Daily Signal in the Q&A-style article . "If I recall correctly, I think the compensation to the staff was about $20 per enrollment. If it was a minor study … one time we did a study where they were testing different kinds of pap brushes … we got about $5 for each patient.
Johnson revealed that when a woman came to the Planned Parenthood clinic where she worked for an abortion, the topic of donating the tissues removed during the procedure was brought up during counseling.
"After she signs the consent form for the abortion, then we would bring up the study," Johnson told the Daily Signal.
"We would tell the client that we are participating in a study and she has an opportunity today to donate the tissue that's removed from her uterus to a research laboratory where they will be working on life-saving treatments for various diseases such as Alzheimer's, Parkinson's or other types of medical studies," Johnson said. "We would tell her this is an opportunity for her to possibly save the life of someone else by donating this tissue. By creating this altruistic scenario, women would almost always consent and say, 'Yes, absolutely.'"
Unlike the videos where Planned Parenthood employees were filmed detailing body parts for donation, Johnson said they never spoke in terms of specific body parts or organs to the women. She added that they even refrained from saying "fetal tissue research because just calling it tissue sanitizes it — the women don't necessarily think about the body of their baby, they're just thinking about blood and tissue."
Johnson told the Daily Signal they were coached by research teams on how to speak to clients about the studies, but they were not told what exactly the tissues would be used for.
As for the abortion procedure itself, Johnson said that remained essentially the same if the woman agreed to donate fetal tissue. But, she added, the doctor would sometimes use a "manual aspiration technique as opposed to the vacuum aspiration because the vacuum suction that we used was so strong that it would basically just shred the parts of the baby."
From there Johnson said the fetal tissue would be sent to an on-site lab where a technician would separate parts for donation (as seen in the fourth and fifth videos released by the Center for Medical Progress). The parts would be packed in a Styrofoam box with dry ice and shipped for about $20, according to Johnson.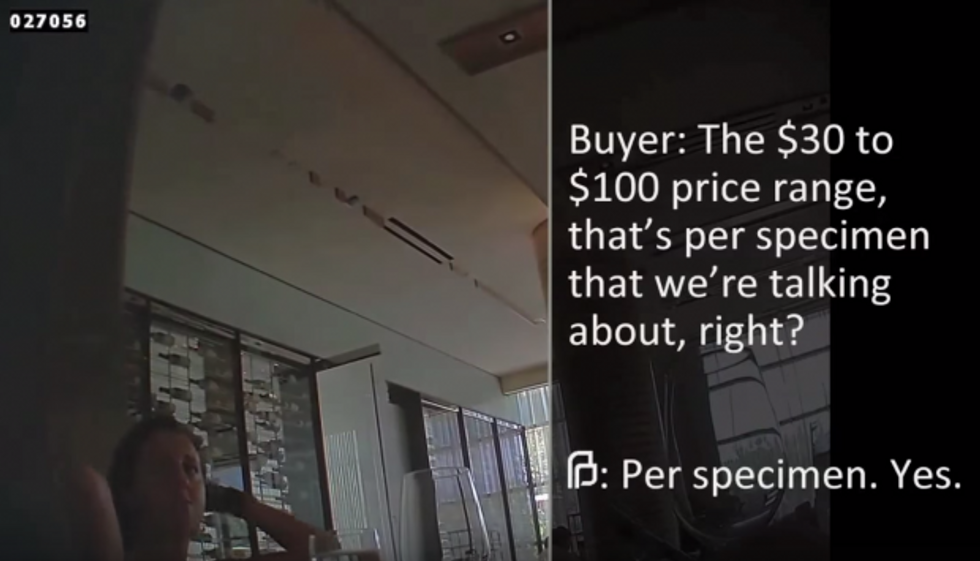 Undercover videos have been released by the Center for Media Progress, spurring outrage in some groups over the process of fetal tissue donation. (Image source: YouTube)
"So Planned Parenthood is getting $200 per specimen, and we're taking all the specimens, putting them in one box and shipping it off for $20. The different fetal body parts are not shipped individually," she explained.
The U.S. government prohibits the sale of fetal tissue for profit. Planned Parenthood has said it doesn't not profit off the practice of fetal tissue donation, saying any money it receives is to cover costs.
After the release of the latest video last week, Dawn Laguens, executive vice president of Planned Parenthood Federation of America, said in a statement that it, like the others "released by this extremist group," was "heavily edited in order to distort what the people on the tapes actually said."
"These videos are intended to shock and deceive the public," Laguens continued. "For example, one video was edited to make it look like a doctor said she would 'sell' fetal tissue for a profit – when in fact she said the exact opposite, 10 separate times, and nearly all instances were edited out of the tape."
Universities and research facilities who purchase fetal tissue defend what they're doing, saying it has played a vital role in lifesaving medical advances and holds great potential for further breakthroughs.
Fetal cells are considered ideal because they divide rapidly, adapt to new environments easily and are less susceptible to rejection than adult cells when transplanted.
"If researchers are unable to work with fetal tissue, there is a huge list of diseases for which researchers would move much more slowly, rather than quickly, to find their cause and how they can be cured," Stanford University spokeswoman Lisa Lapin said in an email to the Associated Press.
Some scientists are looking for alternatives to fetal tissue, such as using adult cells that have been "reprogrammed" to their earlier forms. But those techniques are still being refined, and some fields are likely to remain reliant on fetal tissue, such as the study of fetal development.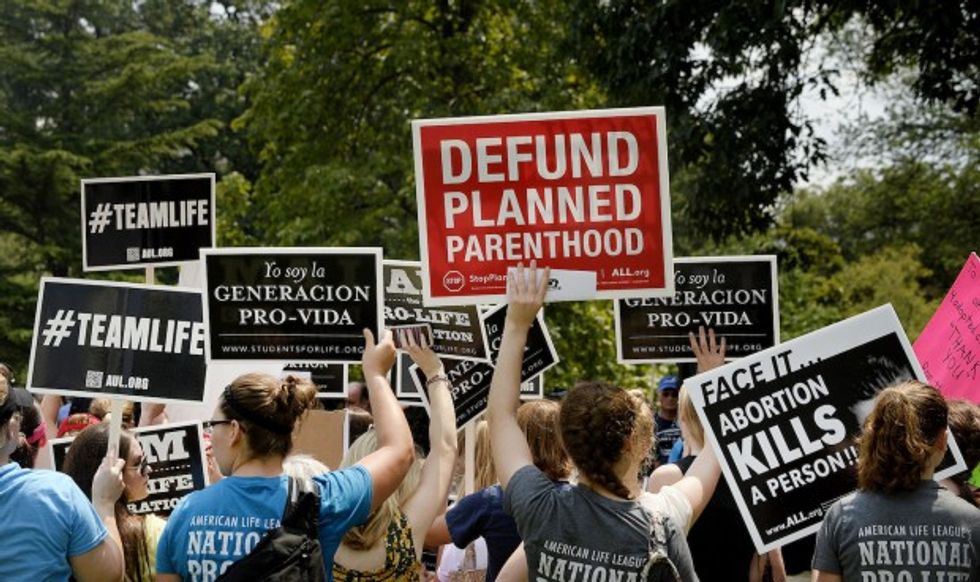 Activists hold a rally opposing federal funding for Planned Parenthood in front of the U.S. Capitol on July 28, 2015 in Washington, D.C. The measure to defund Planned Parenthood in the Senate ultimately failed though. (Olivier Douliery/Getty Images)
Laguens said the latest video "doesn't show Planned Parenthood staff engaged in any wrongdoing or agreeing to violate any legal or medical standards."
And Johnson told the Daily Signal that, based on how the law is currently written, that's true.
"[I]t allows them to charge for these certain items as long as they are coded correctly on a line-item budget. And that's the problem with the law, is that it's so subjective as far as the cost," Johnson said. "As long as they code it as, we need $100 for extra work in collecting the tissue — well, there is no extra work."
The videos lead to a failed attempt by conservative lawmakers to end federal funding of Planned Parenthood.
Read Johnson's full interview with The Daily Signal.
—
The Associated Press contributed to this report.