When CNN's Chris Cuomo pressed Donald Trump to reveal his tax plan on "New Day" Tuesday, the GOP presidential candidate argued Americans aren't interested in complicated plans — they just want to see things get done.
"You know that that's not the way it works," Cuomo said. "You can't get in there not telling people what you are going to do."
Trump wasn't willing to get much more specific.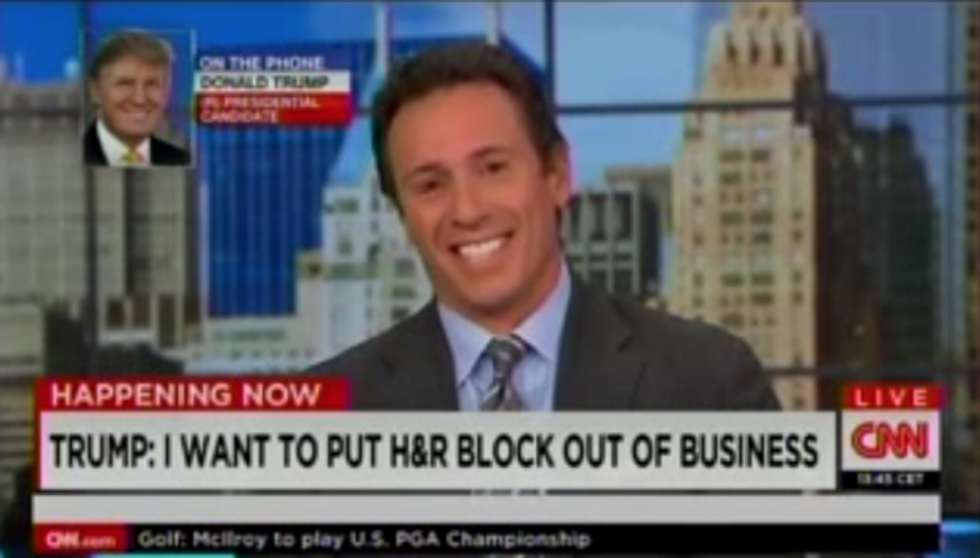 "Our tax code is too complicated, and we can simplify it so easily," Trump said.
Cuomo then asked, "How?"
"By using intelligence, by having common sense," Trump added. "I want to put H&R Block out of business."
Finally, Trump claimed, "I know exactly what I want to do" with the U.S. tax code, but doesn't want to announce it yet.
Watch the segment via CNN's "New Day" below:
Trump also agreed that he is a "whiner."
"I do whine because I want to win and I'm not happy about not winning and I am a whiner and I keep whining and whining until I win," Trump told CNN.
More from CNN:
And Trump also refuted a report that he was considering ruling out a third-party run.

"I'm running as a Republican, I'm leading in every poll...I'm leading all over the place and I want to run as a Republican," Trump said. "If I am treated fairly that's the way it's going to be but I want to keep that door open. I have to keep that door open because if something happens where I'm not treated fairly I may very well use that door."
Watch the full interview here:
ICYMI - My interview with @realDonaldTrump on @NewDay - Thoughts? http://t.co/OscBU8mHM7

— Christopher C. Cuomo (@ChrisCuomo) August 11, 2015
---