If you're going to rob a gas station, which should go without saying is an inadvisable offense, you should take a lesson in what not to do from this guy.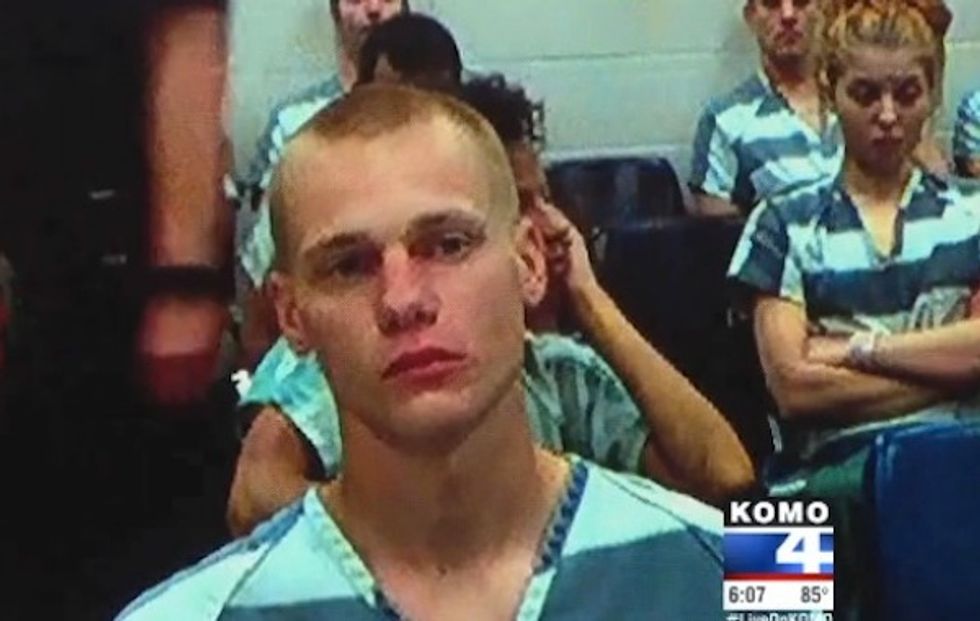 Anthony Domnick went before a judge Tuesday who set his bail at $50,000, citing previous felony convictions. (Image source: KOMO-TV)
1) Don't stand outside the store for an hour before committing the crime.
2) Don't explicitly tell the clerk you're thinking about robbing the place.
3) Don't apply for a job there.
The Snohomish County Sheriff's Office laid it out straight.
"If you are going to rob a gas station on Bothell Everett Highway at 1:00 in the morning you probably shouldn't hang out in front of the store for about an hour before the robbery," the sheriff's office stated on its Facebook page. "It would probably be a good idea to not have applied for a job at this same gas station with the application still on file with the manager. You may want to go somewhere where they don't know your first name and can recognize your very descriptive tattoos."
According to KOMO-TV, 22-year old Anthony Domnick allegedly did all of the above, taking $420 in cash from the gas station clerk.
"The guy's a moron. Simple as that," the clerk Tyler Halvorson told the news station. "I told the cops: 'this guy even applied here this past week.'"
"He's stupid," Halvorson said later in the interview. "Who gives the store that he's about to rob every single [piece] of his information?"
When Halvorson said he saw Domnick outside the store Monday night and he told him, "Oh, I'm thinking about robbing this place."
"I thought he was just joking," Halvorson told the news station.
Surveillance video from inside the store, eventually showed the suspect enter after other customers left. Halvorson said he emptied the register when he was threatened with a gun.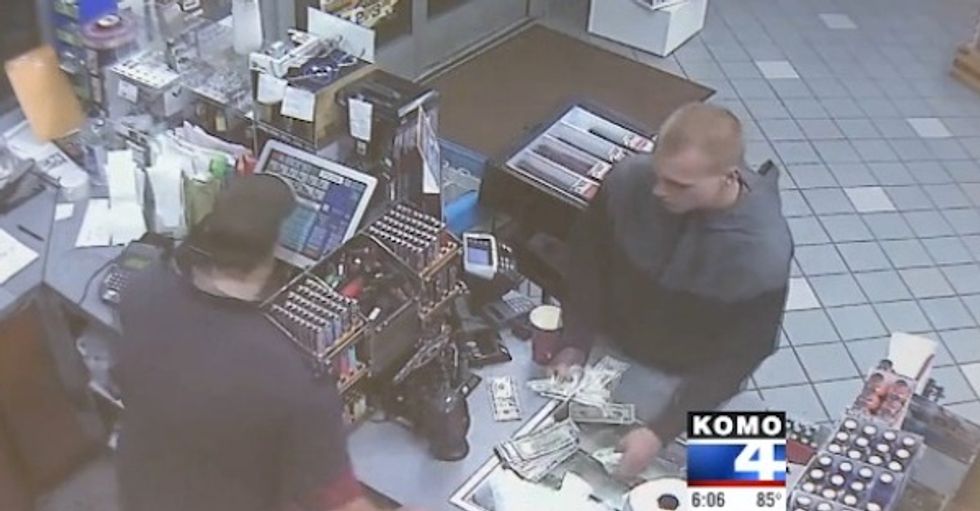 Domnick applied for a job at the same gas station he's accused of robbing. (Image source: KOMO-TV)
According to the sheriff's office, the Mill Creek Police K9 Unit was able to track down the suspect, who took off from the gas station on foot. The trail lead them to a trailer at a mobile home park. When Domnick later left in his car, the sheriff said he was stopped and arrested, the cash later being found his vehicle.
KOMO reported that the police report said Domnick admitted to the theft, but also that he said the clerk was "in on it." It added that based on several previous felonies, a judge set Domnick's bail for second-degree robbery charges at $50,000.
Watch the news station's report: