Glenn Beck said Republican presidential candidate Scott Walker "made news" on his radio program Monday by acknowledging that Senate Majority Leader Mitch McConnell (R-Ky.) is "part of the problem" in Washington.
Beck said Walker could've been "weasely" and tiptoed around the issue, but he had a clear answer when Beck asked: "Will you go so far as saying that there are people in the GOP that are part of the establishment, like Mitch McConnell, that are part of the problem?"
"Yes. I hear it all the time and I share that sentiment," the Wisconsin governor said. "We were told if Republicans got the majority in the United States Senate, there would be a bill on the president's desk to repeal Obamacare. It is August. Where is that bill? Where was that vote?"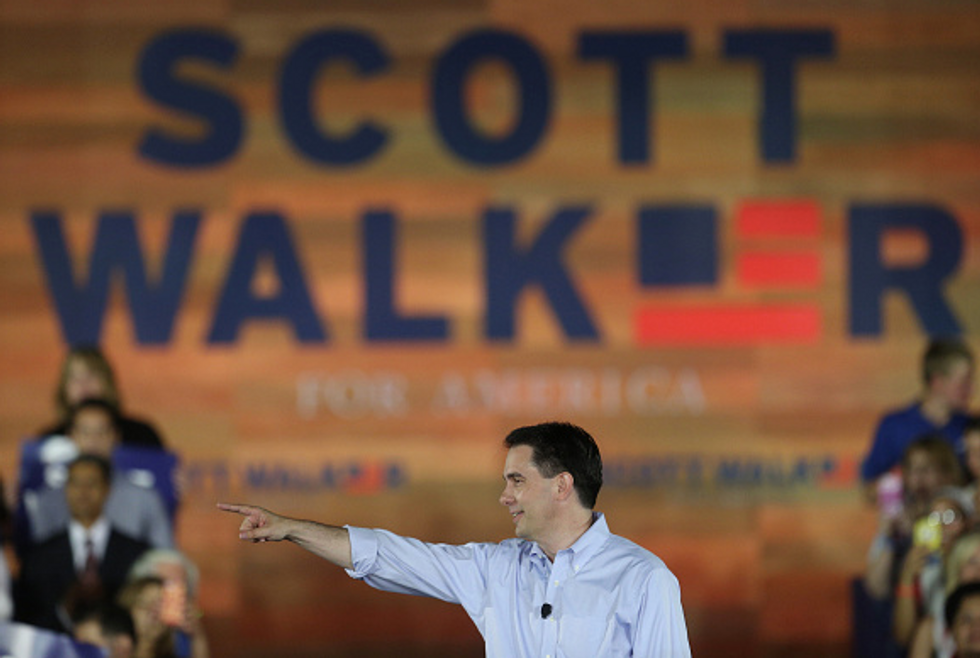 Scott Walker, governor of Wisconsin, takes the stage during his presidential campaign announcement in Waukesha, Wisconsin, U.S., on Monday, July 13, 2015. (Luke Sharrett/Bloomberg via Getty Images)
The American people were also told that Congress would act to prevent illegal immigration, Walker said, but it was actually governors like himself who prevented President Barack Obama's policy deferring the deportation of millions of illegal immigrants.
"It's not because the Congress, a Republican-led Congress, did anything to stop him from doing that," Walker said. "This is where the frustration is. This is why non-elected candidates are surging in the polls."
"People are saying loud and clear, 'Do not dismiss my concerns. Do not dismiss the fact that you told us that Republicans stood for something, and it's not happening in Washington,'" Walker continued. "Now more than ever I think people are yearning; they're crying out."
Walker said he wants to be part of the change to "turn this country around," and he has a record to prove he'll take action.
"The good part of this is, while [people are] angry, they're not walking away," Walker remarked. "I think people are still optimistic that there's enough time left to turn this country around."
The full episode of The Glenn Beck Program, along with many other live-streaming shows and thousands of hours of on-demand content, is available on just about any digital device. Click here to watch every Glenn Beck episode from the past 30 days for just $1!