Donald Trump has said he will deport 11 million illegal immigrants back to their home countries if he is elected president, but exactly how much would a plan like that cost?
Here's the short answer: a lot of money.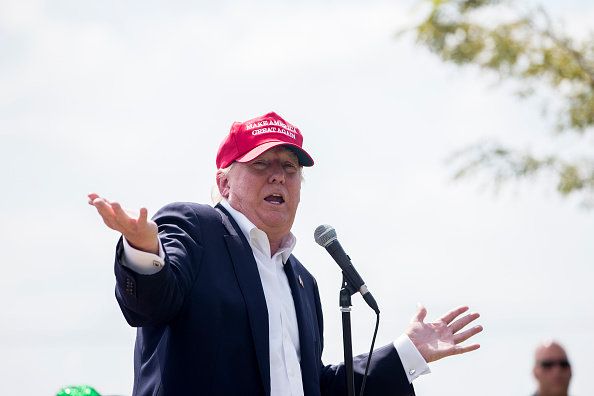 Republican presidential candidate Donald Trump speaks with reporters after arriving at the Iowa State Fair, Aug. 15, 2015 in Des Moines, Iowa. (Aaron P. Bernstein/Getty Images)
Immigration and Customs Enforcement Deputy Director Kumar Kibble said in 2011 that it cost $12,500 to deport a single illegal immigrant, meaning that it would have cost $137.5 billion to deport the estimated 11 million illegal immigrants who were in the U.S.," NBC News reported.
Other estimates about the number of illegal immigrants in the U.S> have been closer to 12 million, bringing that number up to $150 billion — and that's not even considering the possibility that the 2011 cost to deport a single person has gone up over four years.
ICE did not immediately respond to the TheBlaze when asked how much it costs to deport a single illegal immigrant today, four years after Kibble provided her $12,500 estimate.
Similarly, the Center for American Progress, a liberal Washington think tank, pegged the cost around the same. It estimated in 2010 that it would cost $200 billion to arrest, detain, process and transport every person in the U.S. illegally over a five-year period.
But for Trump, the cost of ensuring everyone in the U.S. is either a citizen or residing legally outweighs the perceived risks of letting them stay. Referencing the number of crimes committed by illegal immigrants to the U.S., the 2016 Republican presidential contender doubled down on his hawkish immigration stance.
"They have to go," Trump said on NBC's "Meet the Press" on Sunday.
Pressed by host Chuck Todd on whether he would split up families in the process of deportations, Trump said he would "work with them" to keep families together, "but they have to go."
Watch the exchange below:
More details of Trump's immigration policy proposal are available here.
(H/T: NBC News)
–
Follow Jon Street (@JonStreet) on Twitter