Foo Fighters frontman Dave Grohl was mid-song when he spotted a "crying grown man" in the audience – and singled him out in one "man-to-man" moment.
The band was playing "My Hero" during a concert at Fiddler's Green Amphitheater in Englewood, Colorado, on Sunday as Grohl, with the music still playing in the background, began to segue into a speech, Loudwire reported.
"I have this theory, and it's very spot-on," Grohl said. "There are some cities where we come to play and we do multiple nights in the same venue. It's always the first night –"
It was at that moment that Grohl spotted and singled out a man in the audience with tears rolling down his face.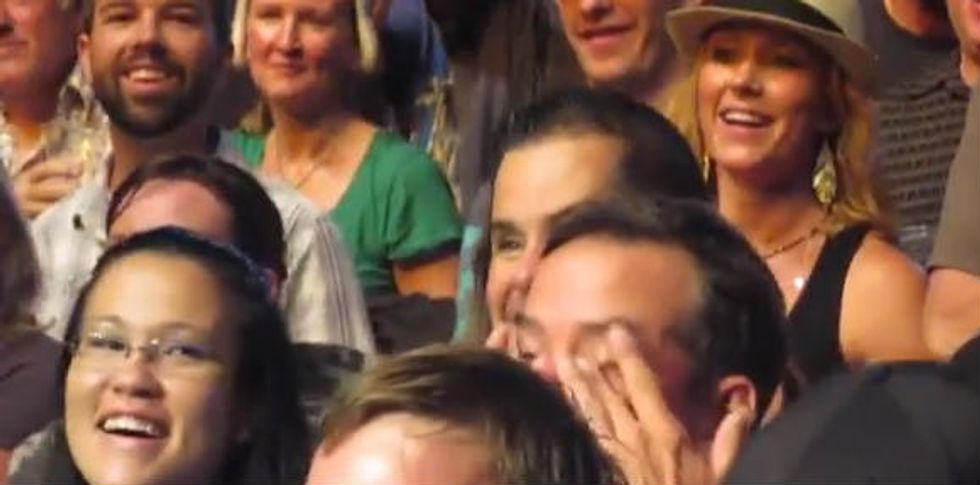 Image source: YouTube
"Don't cry motherf***er, I know you're drunk, don't cry. Are you crying right now? You're f***ing crying, aren't you? I love you man, look at you, holy s***," Grohl said in front of a cheering crowd.
"You know what, f*** that speech I was just going to make, I'm singing this s*** to you right now. I'm gonna sing this f***ing song right in your face, man-to-man, prison-style, I'm going man-to-man. Me and you, I want some real tears, you better sing it with me. Don't make me cry, because I promised I wouldn't do this," Grohl went on.
The man apparently tried to leave after being called out, but was instead forced to play along.
"Get closer, get front row! Where are you going motherf***er? Get back here! No you get here, front row. I'm going to sing this to your crying, grown man ass right now. Front row, against the rail, right here, get in here motherf***er, you drunk emotional mess!" Grohl said as some in the crowd propped him up onto the stage.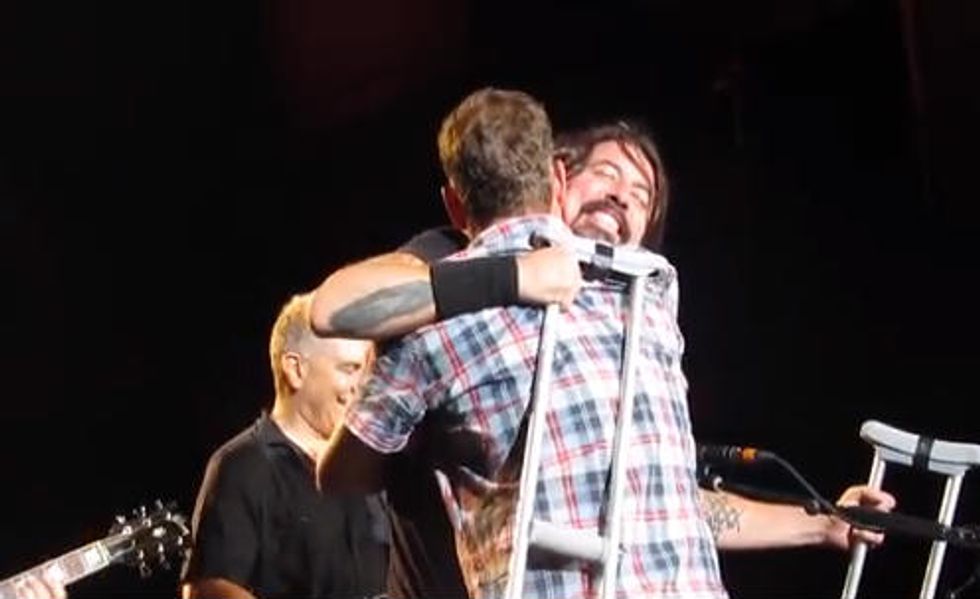 Image source: YouTube
After the man introduced had introduced himself as Anthony, Grohl — who recently broke his leg during a show — stood up with his crutches and had his fan sit down in the seat instead. Moments, later the famed frontman was once again singing "My Hero" – with Anthony at an arm's length away.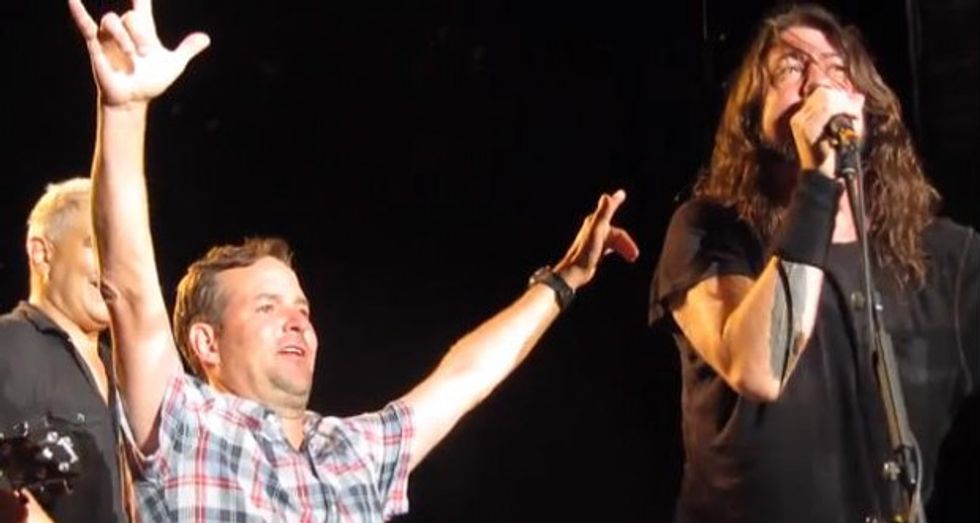 Image source: YouTube
But that was only the beginning of every Foo Fighters fan's dream come true as he also got to sing with Grohl right up close to the mic, for what must have been his most surreal concert-going experience ever.
Watch the incredible moments from the concert for yourself, starting at the 2:16 mark (and as the quotes indicate, plenty of strong language ahead):
–
Follow Jon Street (@JonStreet) on Twitter