The prints of a Confederate flag painting by George Zimmerman are being sold to benefit a Florida gun shop owner who refuses to sell firearms to Muslims.
Zimmerman, who shot and killed Trayvon Martin in 2012, has teamed up with Andy Hallinan, the owner of Florida Gun Supply, who after the deadly shooting in Chattanooga, Tennessee, declared his store a "Muslim-free zone."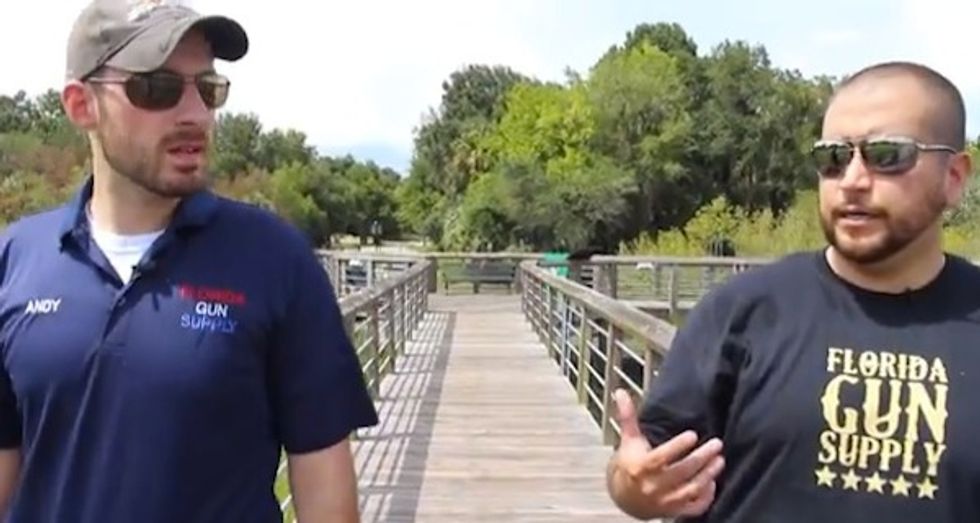 Andy Hallinan, owner of Florida Gun Supply, described how he and George Zimmerman became friends after Zimmerman reached out to support Hallinan. (Image source: YouTube)
"Now I have a moral and legal responsibility to ensure the safety of all patriots in my community, so effective immediately, I'm declaring Florida Gun Supply a Muslim-free zone. I will not arm and train those who wish to do harm to my fellow patriots," Hallinan said in a video he posted last month, also defending the Confederate flag hung behind him. 
The Council on American-Islamic Relations Florida filed a lawsuit against Hallinan on July 29, saying in a news release his policy "policy singled out the followers of an entire religion for the actions of a fringe few" and calling his actions a "violation of Federal law."
"American Muslims have a right to browse and purchase guns, take classes on gun safety and shoot guns at a range without having to be profiled and discriminated," Hassan Shibly, Chief Executive Director of CAIR Florida, said in a statement. "Such discrimination is not only illegal, it is bad for our country and makes us less safe and less free."
It's this lawsuit that brought Zimmerman and Hallinan together, according to Florida Gun Supply's website.
"George started painting an American Flag on this canvas, but heard about Andy getting sued by CAIR (the Counsel for American/Islamic Relations) while he was working on the painting. George decided to scrap the original American Flag painting and repaint it with a Confederate (Battle) Flag," the website stated.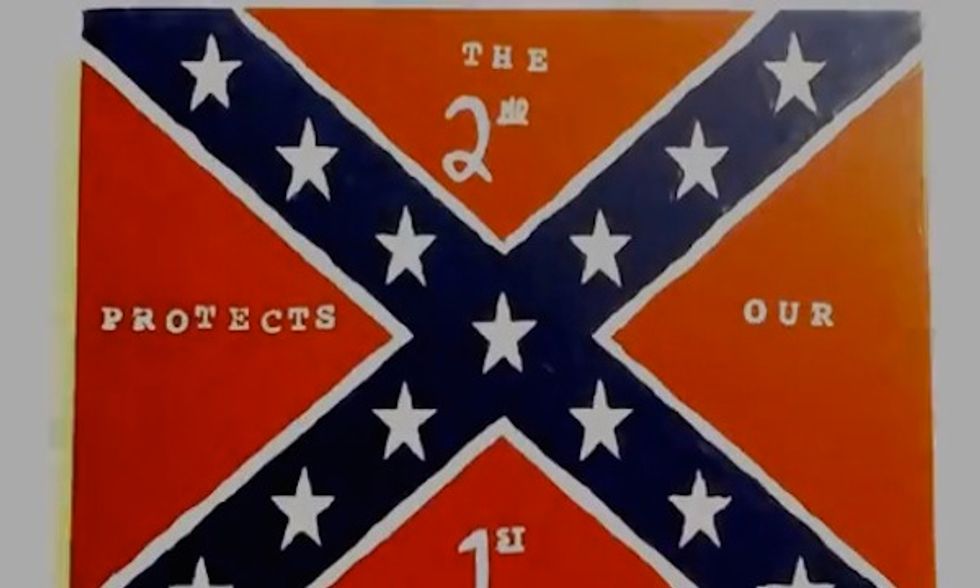 George Zimmerman painted this flag to help raise money for Andy Hallinan's legal defense. (Image source: YouTube)
Zimmerman's painting of the Confederate flag also contains the words "the 2nd protects the 1st," referring to the First and Second Amendments.
Prints of Zimmerman's painting are being sold by the gun store for about $50 and each purchase, the website stated, enters the person into a contest to win the 24"x18" original canvas.
Hallinan also featured Zimmerman in a video posted Monday.
"I was painting the American flag when I heard of you getting sued by CAIR and I decided that I would do for you what the American people did for me," Zimmerman said, referencing people who donated to his own defense fund as he puffed on a cigar at a picnic table with Hallinan. "I didn't want to see you give up the fight simply for financial reasons. I know you're up against CAIR and various organizations ... I just wanted to do my part."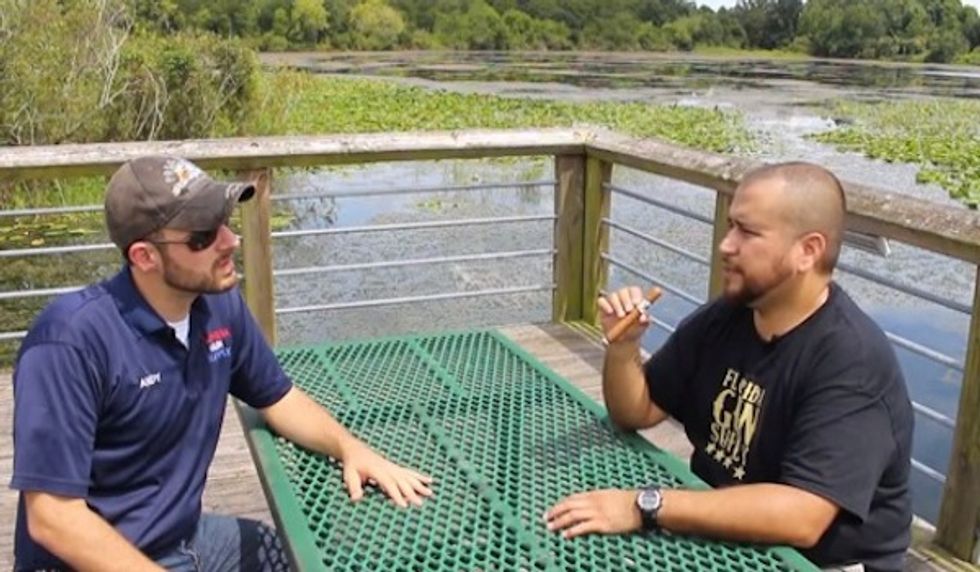 Image source: YouTube
Zimmerman said the proceeds from the sale of prints will be used to support Hallinan's legal defense, his cost of living and "just the cause in general." Hallinan said they would also be donating a portion of the proceeds to the Boys and Girls Clubs of America
Watch Hallinan's video with Zimmerman:
Here's Hallinan's video from last month in which he defended the Confederate flag and said he wouldn't allow Muslims into his store:
Florida Gun Supply did not immediately respond to TheBlaze's request for comment.