The Obama administration is working to allow limited flights to and from Cuba by the end of the year, the Wall Street Journal reported.
Under current law, Americans may only visit Cuba for business trips, family visits or so-called people-to-people cultural exchanges. The United States and Cuba are working toward a deal to allow scheduled commercial air travel, where passengers could book reservations online.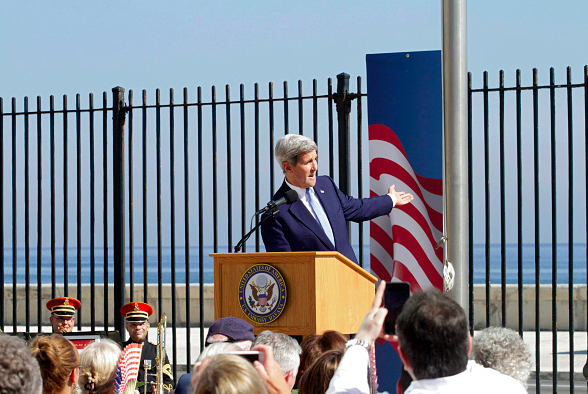 Secretary of State John Kerry speaks during the flag-raising ceremony at the newly reopened U.S. Embassy in Cuba, August 14, 2015, in Havana. (Photo by Sven Creutzmann/Mambo Photo/Getty Images)
Under the new policy, airlines would be able to establish flights between the U.S. and Cuba by December after a five-decade ban, administration officials told the Journal.
While only Congress can formally lift the trade embargo and travel ban, the president can make broad exceptions to the prohibition on travel, similar to how he allowed the use of credit and debit cards last year to make purchases in Cuba. Last week, the United States formally reopened the embassy in Cuba.
Neither the White House nor the State Department immediately responded to TheBlaze Tuesday.
The move by the administration is to make Obama's normalization of relations with Cuba extremely difficult to undo by the next president, administration officials said.