When someone around you yawns, do find yourself struggling to stifle one yourself?
Previous research found that you're more likely to experience the effects of a contagious yawn if you have a closer relationship with that person, but a new study looked into another possibility for why some people might not experience contagious yawns at all.
Researchers from Baylor University published a study in the November 2015 issue of the journal Personality and Individual Differences that suggests people who don't feel the urge to yawn as a reaction after seeing someone else do it could be more likely to have "psychopathic traits."
Study author Brian Rundle with Baylor told the International Business Times that while the study's findings are interesting, "it doesn't mean that if you're not affected by a contagious yawn there's something wrong with you."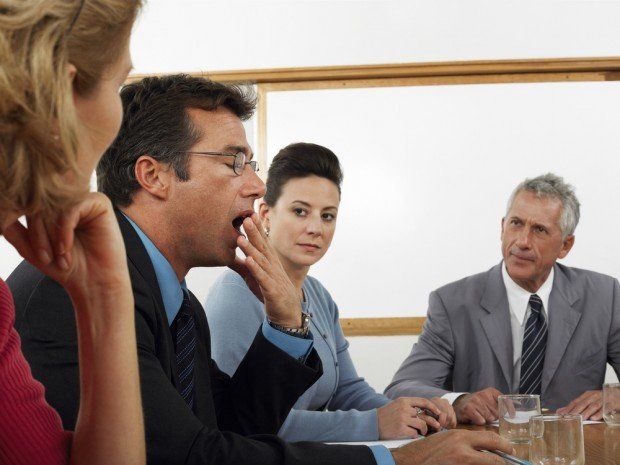 Photo credit: Shutterstock
"Psychopathy is characterized by a general antisocial lifestyle with behaviors including being selfish, manipulative, impulsive, fearless, callous, possibly domineering, and particularly lacking in empathy," the study authors wrote in the abstract.
With contagious yawning known to be linked to empathy, the researchers exposed 135 students, who also completed the Psychopathic Personality Inventory-Revised, to a test that would typically result in a yawn.
"We found that scores on the PPI-R subscale [cold-heartedness] significantly predicted a reduced chance of yawning," the study authors wrote.
The researchers also conducted a startle reflex experiment on the male participants in the study. People considered psychopaths have been found less likely to respond to this startle reflex, they wrote.
For this part of the experiment, the researchers found "emotion-related startle amplitudes were predictive of frequency of contagious yawning." 
The study authors acknowledged that though their data is "pilot in nature," they can at least predict that "startle potentiation to negative stimuli may predict one's susceptibility to contagious yawning."
"In line with theories presented on yawning and startle, it is reasonable to expect that low startle potentiation is related to yawning susceptibility as affect is highly considered in both realms of research," the authors continued.
They also wrote that their findings "fit well into the evolutionary model that contagious yawning in our species is a function of empathy, as we have shown that those who are characteristically lacking in empathy are less susceptible to a contagious yawn."
(H/T: Huffington Post)