Glenn Beck appeared on Sean Hannity's Fox News program Monday night to square off over their differences on presidential candidate Donald Trump.
The discussion was ignited by a Facebook post Beck published Friday asking why so many "big name" conservatives — specifically naming Hannity, Ann Coulter and Rush Limbaugh — seemingly support Trump. Hannity responded Sunday in an open-letter to Beck and invited him on his TV program to also talk about the issue.
"You put a Facebook post up ... you mentioned me and Coulter and Rush and others. And you wanted an answer," Hannity said to open up the segment.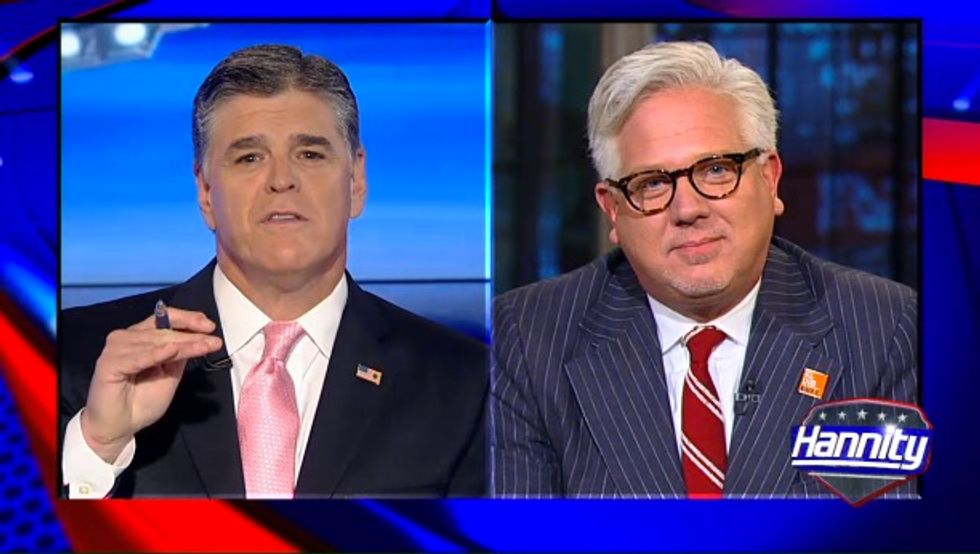 Image source: Fox News / Screen grab
Beck said that he did not want to "throw anybody under the bus" with his initial post and had actually contacted Hannity immediately after publishing it online to tell him that he really was seeking "an answer on this."
"I am really trying to understand how conservatives can look at Donald Trump's record ... and say that's our guy," Beck said. "I just don't understand it because his record is horrendous when it comes to conservative principles."
[sharequote align="center"]"I just don't understand it because his record is horrendous when it comes to conservative principles."[/sharequote]
Hannity replied that he wanted to give Beck a "real thoughtful answer," noting that he remains "currently undecided" on who he will personally vote for.
Beck said that while he too remains undecided, there are candidates in the race he simply wouldn't consider voting for.
"There are others I would not vote for just because I think they are progressive in nature," he told Hannity. "I believe that Donald Trump is progressive in nature. He looks for the the strong government."
Beck noted that he understands that people are attracted to Trump because of his passion and energy, but can't grasp how they can look beyond his previous positions.
Hannity offered his take.
"Here is where the impasse will forever be. I have, at this point, I think I've asked him every question that I wanted answered and I think my audience wanted answered," he said. "And I argue in this paper back to you that I think I can best serve my audience on radio and TV by giving them access to the candidates."
"And many of the specific things you brought up, about abortion for example, I liked his answer. He knew some woman that was about to have an abortion. She didn't have it. He knows the kid. It was profound. It changed his heart," Hannity continued  "On the issue of health care for example. He know supports health care savings account. On issues involving the economy, we got into specific detail. On issues of ISIS, I like the idea of taking Iraq's oil and giving millions to the five-thousand Americans and the Iraqis should pay for their own liberation. They owe that to them."
"That wasn't the deal, Sean. That wasn't the deal," Beck quipped back. "I mean, I agree. I think that should have been the deal on the outset, but that wasn't the deal. And to go in now retroactively and now say we are just taking your oil."
"But this is a different environment because now ISIS controls Ramadi—" Hannity interjected.
"Yeah, but if he wants to make that deal, I have no problem with him making that deal. But that's different than him saying we are just going to go in there and take the oil," Beck replied.
Hannity added that he thinks "there is a reason for [Trump's] success."
"I think the reason is Republicans are weak, and they are timid, in Washington especially ... They have broken so many promises, Americans are fed up, the problems we face are severe," he said.
"I think what he is saying shows strength and conviction," Hannity added. "And I don't really care what he said in the past. Where do you stand today?"
Beck replied, "I do. No, I do. Remember you are a guy who taught me about what [President] Barack Obama said in the past and got me to care what he said in the past. What someone says in the past makes a difference."
Hannity replied that he agreed with that statement.
"This is what I'd recommend to you and maybe we can settle our impasse," Hannity said, before suggesting he invite Trump on his program to ask him questions.
"We've invited him on the radio show and I have no problem interviewing him," Beck said.
Beck noted that he doesn't think Trump's intentions are "bad," but said he just doesn't "agree with his way of getting there."
The segment ended shortly after.
—
Follow the author of this story on Twitter and Facebook: