As Donald Trump's lead in North Carolina continues to grow, a newly released poll shows a freshly declared independent candidate inching past many of the other Republican presidential candidates.
According to the latest Public Policy Polling survey, 9 percent of likely voters in North Carolina said they had a favorable opinion of candidate Deez Nuts. Trump leads Democratic presidential candidate Hillary Clinton 40 percent to 38 percent when Deez Nuts is thrown into the mix, the polling firm said.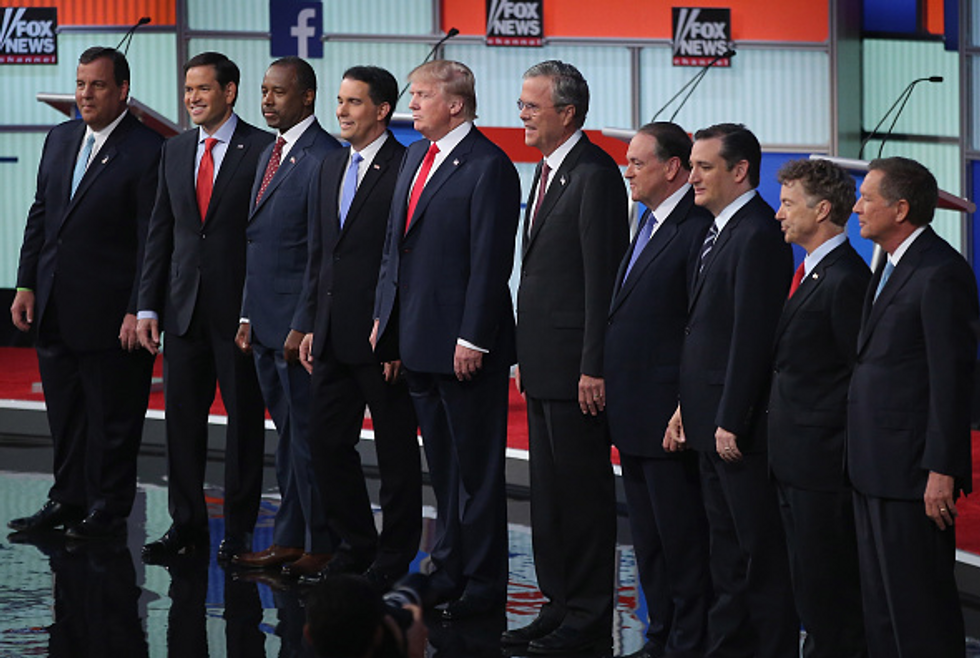 Republican presidential candidates (L-R) New Jersey Gov. Chris Christie, Sen. Marco Rubio (R-FL), Ben Carson, Wisconsin Gov. Scott Walker, Donald Trump, Jeb Bush, Mike Huckabee, Sen. Ted Cruz (R-TX), Sen. Rand Paul (R-KY) and John Kasich take the stage for the first prime-time presidential debate hosted by FOX News and Facebook at the Quicken Loans Arena August 6, 2015 in Cleveland, Ohio. The top-ten GOP candidates were selected to participate in the debate based on their rank in an average of the five most recent national political polls. (Photo by Scott Olson/Getty Images)
Deez Nuts filed with the Federal Election Commission in July as an independent candidate, listing an address in Wallingford, Iowa. The polling firm said "for the sake of entertainment" it tested the candidate against Trump and Clinton. In Minnesota, only 3 percent of those who were "familiar" with Deez Nuts had favorable opinions compared to the 8 percent who had an unfavorable opinion. In Iowa, he polled at 7 percent.
"Anyone can file the FEC Form 2," Christian Hilland, a FEC spokesman, told the Huffington Post. "Whenever a form gets filed, we put it on the website. If it's submitted electronically, once it hits our server, it becomes visible within seconds."

Image via Public Policy Polling
The FEC Form 2 is the first step for those running for office as it's considered an official "statement of candidacy," Hilland said.
"Election experts and analysts believe Nuts' campaign would benefit significantly by naming his vice presidential running mate early. Seymour Butts seems like the most obvious selection," Mike Foss, of USA Today's ForTheWin!, wrote.
The PPP survey, released Wednesday, has Trump out ahead of the Republican pack with 24 percent. Following the grandiose real estate tycoon in the survey are: neurosurgeon Ben Carson at 14 percent, former Florida Gov. Jeb Bush at 13 percent and Sen. Ted Cruz at 9 percent. Carly Fiorina, Mike Huckabee and Scott Walker all have 6 percent each.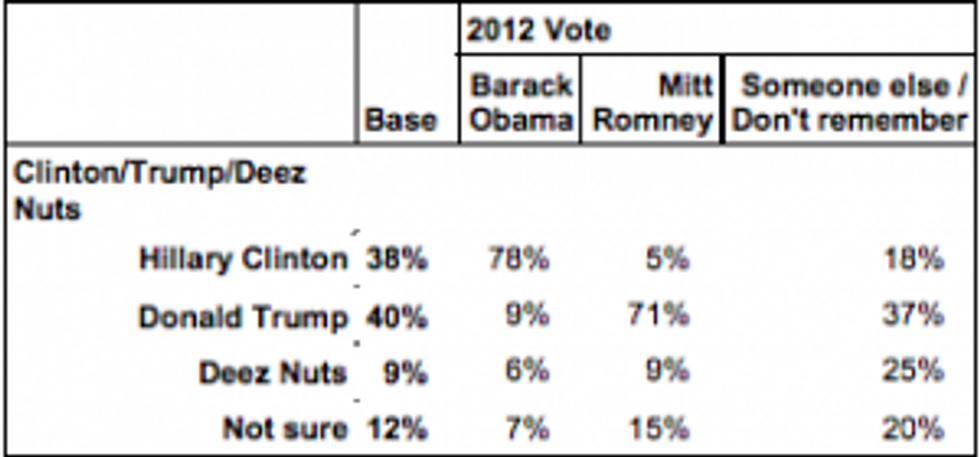 Image via Public Policy Polling
Rounding out the bottom of the Republican base in North Carolina are Sen. Rand Paul at 3 percent, Gov. Chris Christie and former Sen. Rick Santorum both at 2 percent and Gov. John Kasich and former Gov. Rick Perry both at 1 percent. Former Gov. Jim Gilmore, Gov. Bobby Jindal and former Gov. George Pataki all polled at less than 1 percent.
South Carolina Sen. Lindsey Graham had "literally no supporters," according to the polling firm.
As for the Democratic side of the presidential campaign, Clinton is leading with 55 percent. Following Clinton are: Sen. Bernie Sanders at 19 percent, former Sen. Jim Webb at 5 percent, former Gov. Lincoln Chafee and Gov. Martin O'Malley at 2 percent each and Lawrence Lessig with 1 percent.
PPP said the firm's polling was the first to find Trump ahead, and now it has Trump gaining tremendous ground on Clinton.