Israel demanded Thursday that all parts of a secret agreement between Iran and the International Atomic Energy Agency be made public.
Israeli officials issued the call through major Israeli news publications, one day after the Associated Press reported on a side deal that would allow Iran to use its own experts to inspect a suspected nuclear arms site.
"There is just one safe way to verify this report — for the world powers to publicize all appendixes to the nuclear deal with Iran," an unnamed Israeli official told the Times of Israel.
The official said that the more details that emerge about the Iran deal, the more Israeli officials realize their worries were justified.
The AP on Wednesday reported that according to a secret side agreement between Iran and the IAEA, Iran would be able to use its own inspectors to examine its Parchin military facility, a site where suspected nuclear research has occurred according to past reports.
On Wednesday, two Israeli ministers responded with anger and sarcasm to the new revelations about the secret agreement with Iran.
National Infrastructures, Energy and Water Minister Yuval Steinitz said in a statement oozing with sarcasm: "One must welcome this global innovation and outside-the-box thinking."
"One can only wonder if the Iranian inspectors will also have to wait 24 days before being able to visit the site and look for incriminating evidence?" the Likud Party minister asked. He was referring to a provision of the agreement allowing up to a 24-day waiting period before inspecting suspect sites.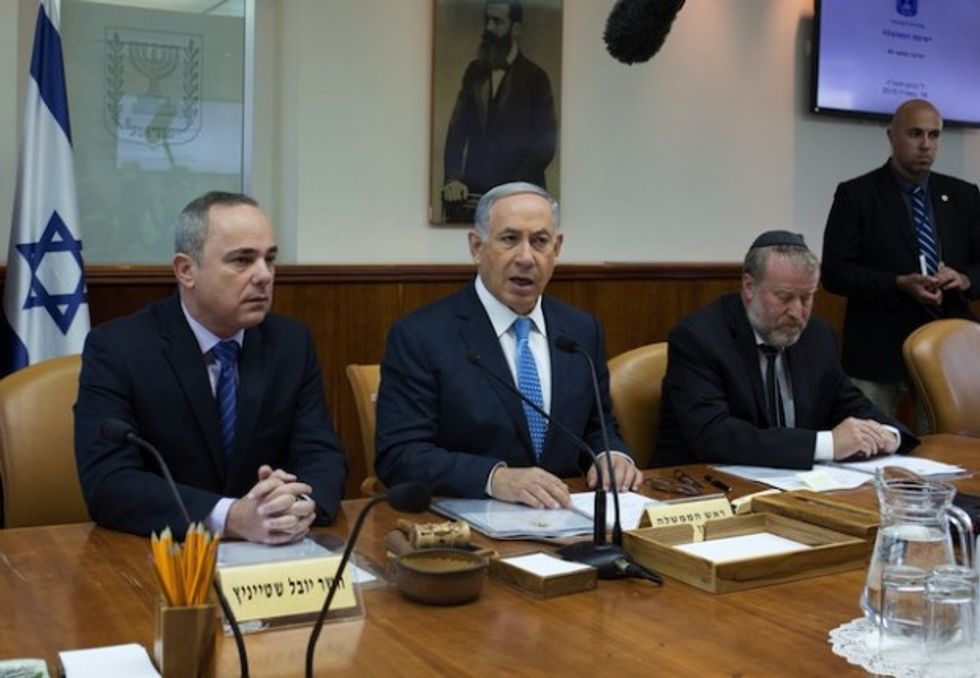 Israeli Prime Minister Benjamin Netanyahu talks to the press during the weekly cabinet meeting, sitting next to National Infrastructures, Energy and Water Minister Yuval Steinitz, left, in his Jerusalem office, April 19, 2015. (Menahem Kahana/AFP/Getty Images)
Education Minister Naftali Bennett posted the first line of the Associated Press's report, in which he highlighted the words "an unusual arrangement."
Bennett tweeted in both Hebrew and English, "Iran will inspect itself. Yup, it's real."
Iran will inspect itself. Yup, it's real. איראן תשלח את מפקחיה לפקח על עצמה. כן, זה אמיתי. pic.twitter.com/kpULz9lLya

— Naftali Bennett (@naftalibennett) August 19, 2015
Prime Minister Benjamin Netanyahu's office declined to comment to TheBlaze about the report Thursday.
The IAEA's chief issued a statement Thursday asserting the report on Parchin had "misrepresented" how Iranian sites would be inspected.
"I am disturbed by statements suggesting that the IAEA has given responsibility for nuclear inspections to Iran. Such statements misrepresent the way in which we will undertake this important verification work," IAEA Director-General Yukiya Amano said in a statement.
On Tuesday, one day before the AP report was published, Netanyahu tweeted that the inspection regime under the Iran deal was "too little, too late" and attached a graphic denouncing elements of the deal, including Iran getting notice of up to 24 days before inspections and allowing the Islamic Republic to provide its own soil samples.
RETWEET THIS: Inspecting Iran's nuclear program: Too little, too late. #IranDeal pic.twitter.com/A9ZqQ1HdkP

— PM of Israel (@IsraeliPM) August 18, 2015
Netanyahu has previously said the 24-day provision was like "the police giving a drug dealer three-and-a-half-weeks' notice before raiding his lab. Believe me, you can flush a lot of nuclear meth down the toilet in 24 days."