Black mother Peggy Hubbard notes on her Facebook page that she's from St. Louis.
And even though she now lives north of the area's racial turmoil, watching and listening to Hubbard's profane-but-precise video takedown of Black Lives Matter protesters is to witness a woman who loves her hometown and hates the choices some people are making there.
First Hubbard contrasted how the Black Lives Matter contingent reacted when a 9-year-old girl was fatally shot doing homework on her mother's bed and the next night when an 18-year-old was fatally shot by police who said he pointed a gun at them.
Then she asked, "Last night, who do you think they protested for? The thug. The criminal."
Then Hubbard let loose.
Content warning: The language in this video is very strong and contains repeated profanities:
"You say black lives matter?" she asked before bringing the little girl back into the argument. "Her life mattered. Her dreams mattered. Her future mattered. Her promises mattered. It mattered."
Noting how she turned in her own son who's now doing time, Hubbard defended police who are a main target of the Black Lives Matter movement.
"Do you think the police are out here for fun?" she asked. 'Do you think they're out here for games? They're not going to tuck you in. They're not going to give you a cookie and sing you a lullabye. No, they're gonna pop a cap in your ass. You shoot at them and they're going to shoot at you ... If you try to kill them, their job is serve and protect, not serve and die."
Hubbard's 6-minute Facebook clip has been viewed over 4.8 million times since it was posted Thursday and has generated over 12,000 comments.
Here are some of them: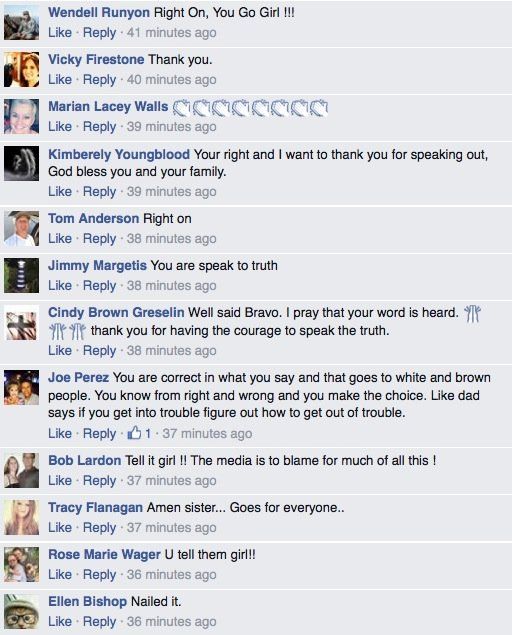 Image source: Facebook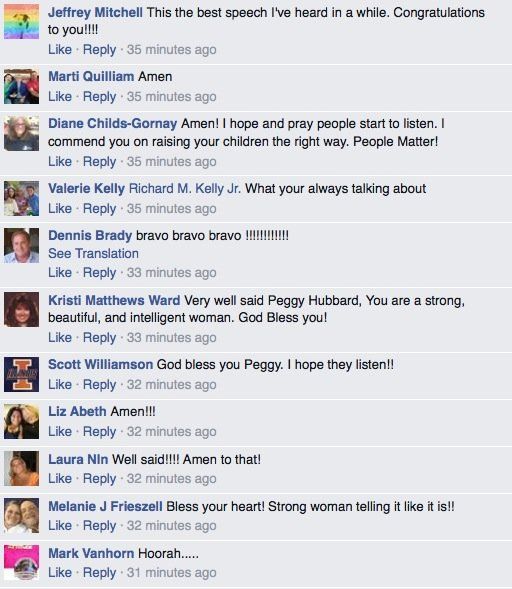 Image source: Facebook
On Saturday morning Hubbard offered a follow-up post, saying she received a lot of positive feedback from blacks — as well as a lot of negative feedback from blacks, "calling me unspeakable things." She added that, "Yes, I lashed out and gave it back. But, the high road is where I need to stay. I will NOT jump on your 'HATE WHITE PEOPLE!' I'm not built that way." She went on to ask, "If YOUR life is in shambles? ... START WITH YOURSELVES! I speak from experience. You want "black lives matter"? Then START WITH YOUR BLACK LIFE! Keep your racism, my heart belongs to LOVE."
A couple of hours later, Hubbard posted a much calmer (and longer) video apologizing for her language in her viral clip but seemingly with just as much resolve. "This is not a race issue," she said. "This is about morals. This is about accountability and responsibility."
This story has been updated.
(H/T: Weasel Zippers; KTVI-TV)
—
Follow Dave Urbanski (@DaveVUrbanski) on Twitter