Fighters for the self-proclaimed Islamic State posted photos Tuesday showing how they blew up the 2,000-year-old Baalshamin Temple in the ancient city of Palmyra, placing explosives inside and on the columns of the structure.
In one photo, men in fatigues and sandals whose heads were cropped out of the photos carry in what are presumably explosives in a large blue barrel.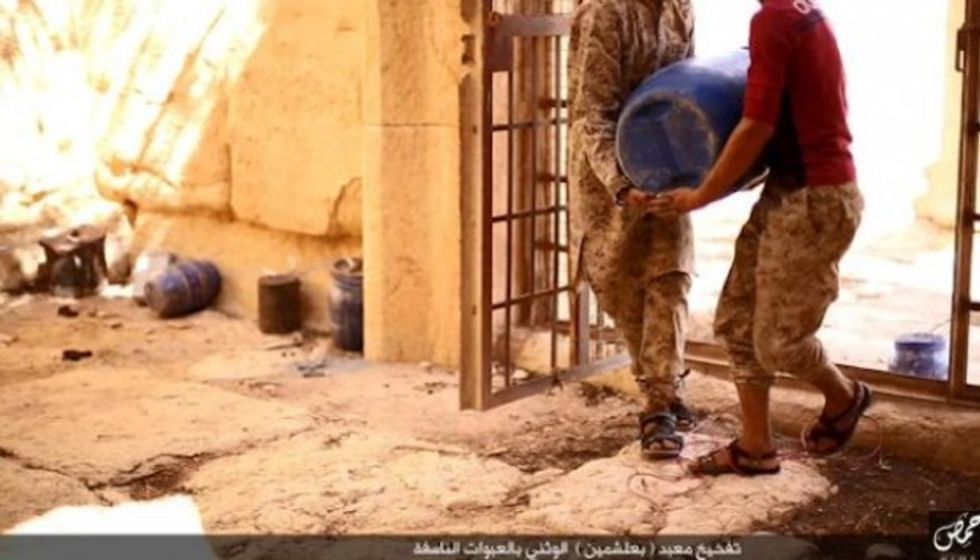 Islamic State photo
A second photo shows the Roman-era columns rigged with explosives and wires.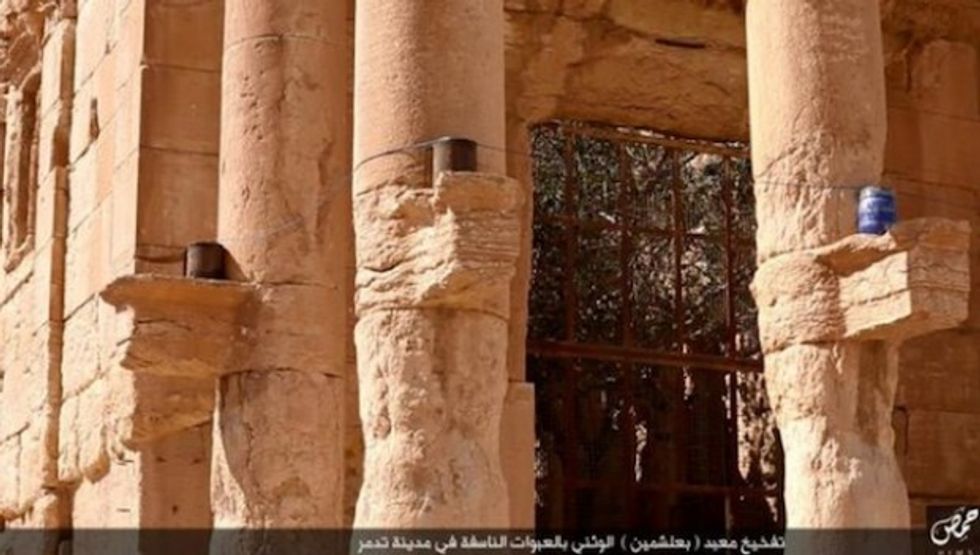 Islamic State photo.
Captured from a distance, another shot shows the United Nations-designated heritage site being blown apart.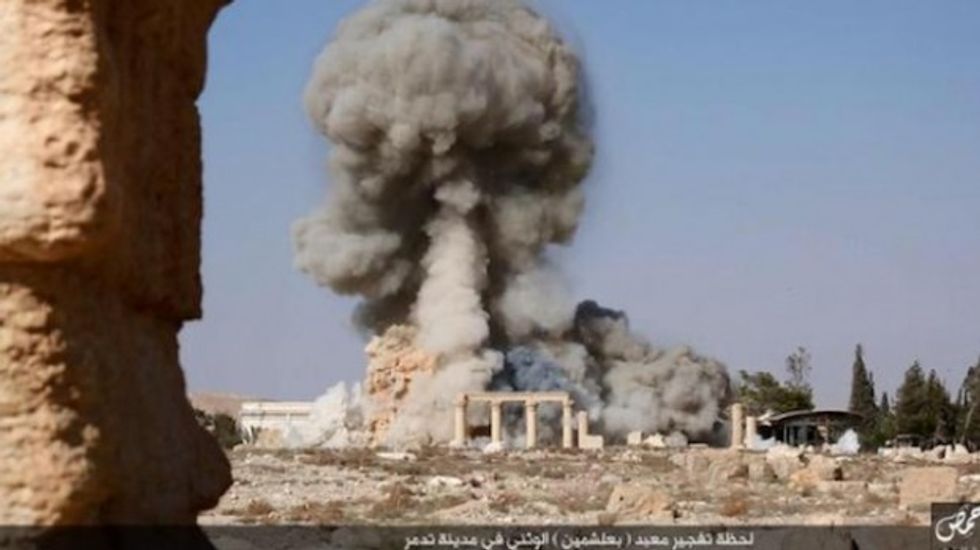 Islamic State photo
Another photo displayed the pile of rubble that remained.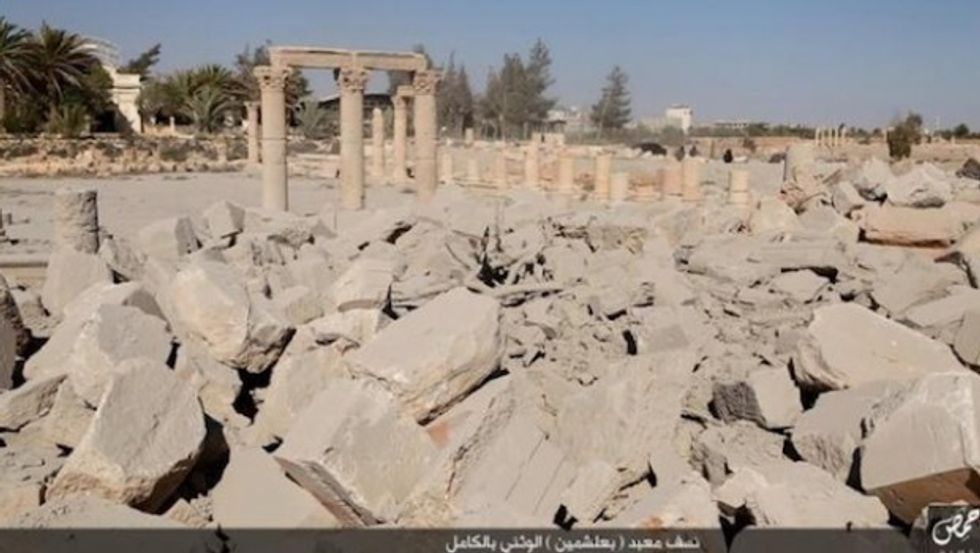 Islamic State photo
The images were shared on social media accounts used by Islamic State group supporters.
The publication of the photos came one day after the U.N.'s cultural agency, UNESCO, strongly condemned the destruction of Baalshamin as a "war crime."
"This destruction is a new war crime and an immense loss for the Syrian people and for humanity," UNESCO Director-General Irina Bokova said in a statement Monday.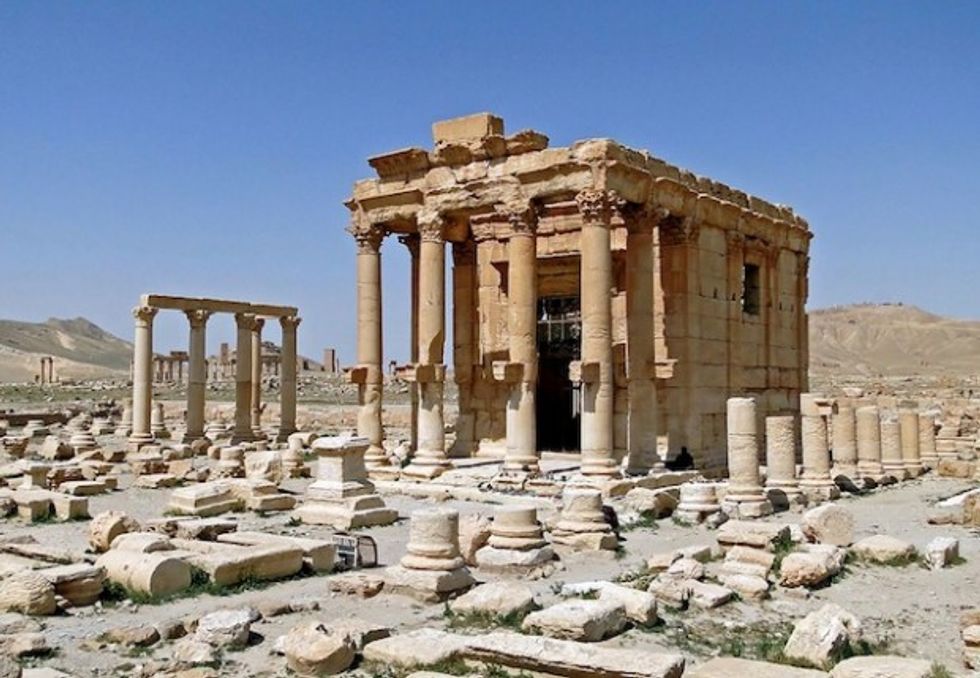 The Baalshamin Temple in Palmyra, Syria, before it was destroyed. (Image source: Wikimedia Commons/Bernard Gagnon, File)
Calling the temple "one of the most important and best preserved buildings" in Palmyra, Bokova said the militant group "is killing people and destroying sites, but cannot silence history and will ultimately fail to erase this great culture from the memory of the world."
"Despite the obstacles and fanaticism, human creativity will prevail, buildings and sites will be rehabilitated, and some will be rebuilt," she said.
Besides its brutal killings, the jihadist group has also demolished dozens of structures in Iraq and Syria that it considers to be un-Islamic, including museums, Christian houses of worship and Shiite mosques.
Last week, Islamic State militants beheaded the antiquities director of Palmyra, an 81-year-old Syrian archaeologist, Khaled Asaad, who reportedly refused to disclose the location of valuable hidden artifacts.
The Baalshamin Temple, dedicated to the Phoenician god of storms and fertilizing rains, is believed to have been built in 17 AD.