Kentucky Sen. Rand Paul, a Republican presidential candidate typically out of step with Republican foreign policy, said his views on intervention are more closely aligned with that of former President Ronald Reagan – one of the GOP's most revered figures.
"I believe in peace through strength. I believe Reagan had it right," Paul said Tuesday in Anchorage, Alaska, the beginning of his Western tour. "But people misinterpret Reagan. They thought Reagan was just this cowboy that wanted to go everywhere."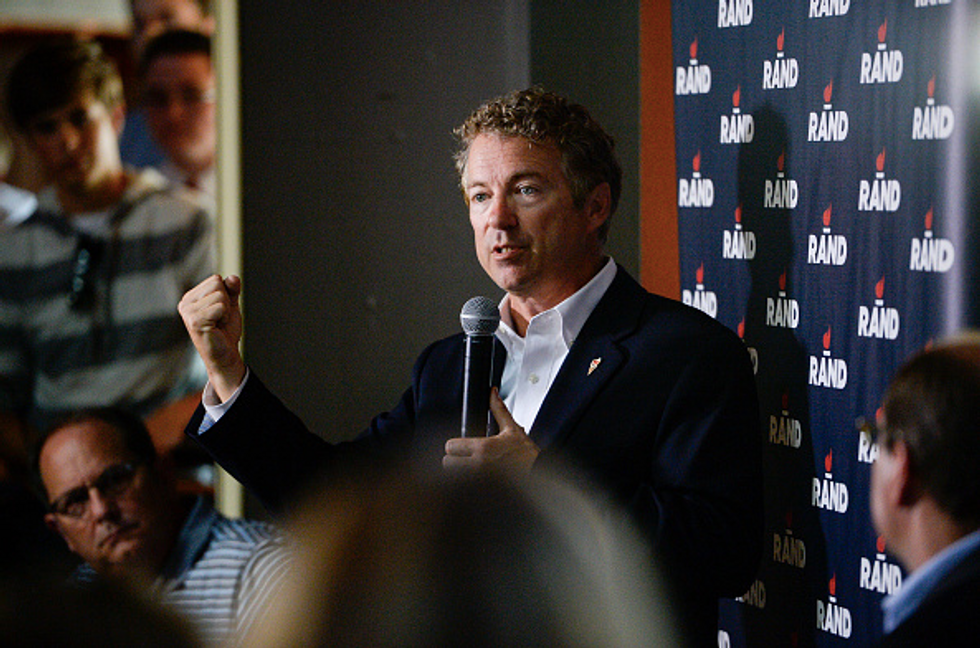 (John Leyba/The Denver Post via Getty Images)
"Reagan was actually very judicious in the interventions he got involved with. Reagan was also willing to negotiate with the Soviets," Paul continued. "Reagan was a more complex character than some people give him credit for. Reagan did believe in a strong national defense. He did believe in stopping our enemies. But he didn't always believe in intervention was the answer."
Declining in polls, Paul seems to be seeking to rally his libertarian base.
"We need to think of this one truth I think is incontrovertible – that every time you topple a secular strongman, we've gotten chaos, the rise of radical Islam, and more problems," Paul continued to an approving Alaska crowd.
He again blamed U.S. interventionist policies for the creation of the Islamic State.
"ISIS rides around in a billion dollars of U.S. Humvees. They commit suicide attacks in our Humvees. They have $1 billion of U.S. cash they pay their soldiers with, our money that was left behind," Paul said. "They have anti-tank weapons that we gave to the Islamic rebels in Syria. I was one of the few Republicans who stood up and said if you arm the Islamic rebels in Syria, the great irony is you will be back in a year fighting against your own weapons. And here we are. ISIS is a menace, but somehow we allowed this to grow stronger and stronger by pushing Assad back."
Paul went on to criticize the foreign policy favored by many Republicans that he said has created more problems for the United States. He was critical of the Iraq war that toppled Saddam Hussein, of the military effort that helped toppled Muammar Gaddafi in Libya, and of the goal of deposing Syrian dictator Bashar Assad.
"We have insane people in our party that want to bomb Assad and ISIS simultaneously. Two sides of the war," Paul said. "Is Assad a dictator, yes. Ask any Syrian Christian, and there are 2 million of them, ask who they would rather run their country, Assad or ISIS."
—