Democratic presidential candidate Hillary Clinton vowed to enact gun laws to "balance Second Amendment rights with preventive measures and control measures," hours after two TV journalists were fatally shot live on the air in Virginia.
"I am so stricken to think that these two young people doing the work that you guys do every single day would be murdered on live television," Clinton told reporters during a campaign stop in Ankeny, Iowa, on Wednesday.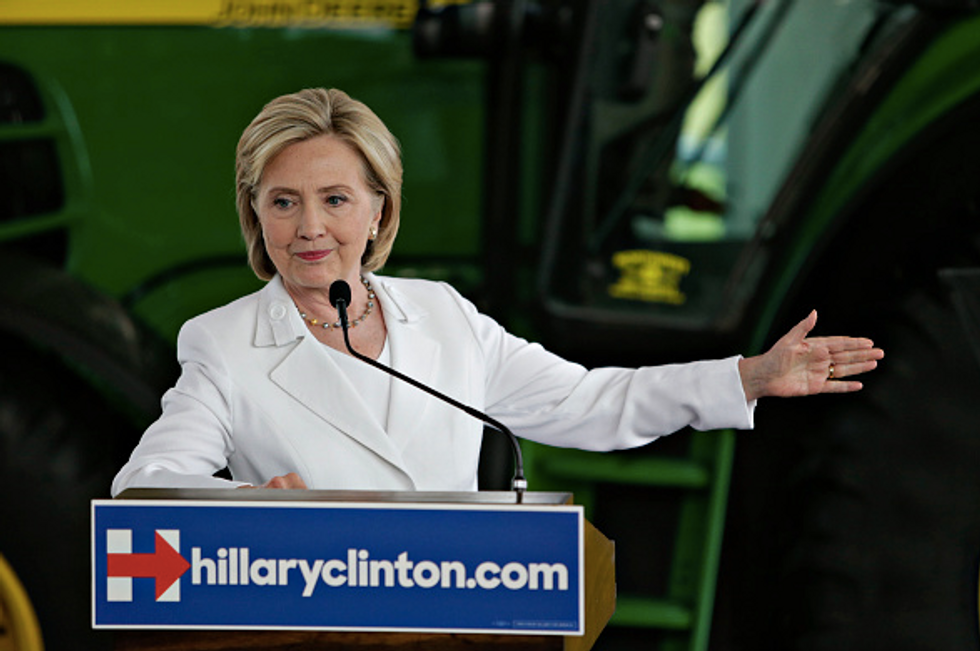 Democratic presidential candidate and former Secretary of State Hillary Clinton speaks during an event in Ankeny, Iowa, Weds., Aug. 26, 2015. (Daniel Acker/Bloomberg via Getty Images)
"We have got to do something about gun violence in America. I will take it on. There are many people who face it and know it but then turn away because it's hard," Clinton said. "It's a very political, difficult issue in America. But I believe we are smart enough, we are compassionate enough, to figure out how to balance the legitimate Second Amendment rights with preventive measures and control measures so that whatever motivated this murderer who eventually took his own life, we will not see more deaths, needless, senseless deaths."
Reporter Alison Parker and photojournalist Adam Ward were gunned down while filming a live segment early Wednesday morning. Authorities said the suspect, former news station employee Vester Lee Flanagan, died of a self-inflicted gunshot wound.
Clinton said this incident shouldn't pass without pushing for action.
"I want to reiterate how important it is not to let another terrible instance go by without trying to do something more to try to prevent this incredible killing that is stalking our country and we've had so many terrible instances of it in the last two years," Clinton said. "It happens every day. There is so much evidence that if guns were not so readily available, if we had universal background checks, if we could just put some time out between the person who is upset because he got fired and the domestic abuse or whatever other motivation may be working on someone who does this, maybe we could prevent this kind of carnage."