During last year's war between between Israel and Hamas, Hamas fired rockets from residential neighborhoods and next to journalists' hotels in order to provoke retaliation from the Israeli military, a Polish reporter who spent a month in Gaza wrote.
Writing in the Israeli newspaper Haaretz Tuesday, Polish Radio foreign correspondent Wojciech Cegielski recounted two harrowing instances when he personally saw terrorists move their rockets to known civilian areas.
A Palestinian man displays his national flag on the rubble of the house of a top Hamas leader in Gaza, Ismail Haniya, after it was hit by an overnight Israeli air strike, July 29, 2014 in Gaza City. (MAHMUD HAMS/AFP/Getty Images)
He said that while Israel bombed Palestinian houses in Gaza, Hamas was "also to blame for its cruel and selfish game against its own people."
Cegielski wrote that "it was obvious that they were breaking international rules of war and worst of all, were not afraid to use their own citizens as living shields."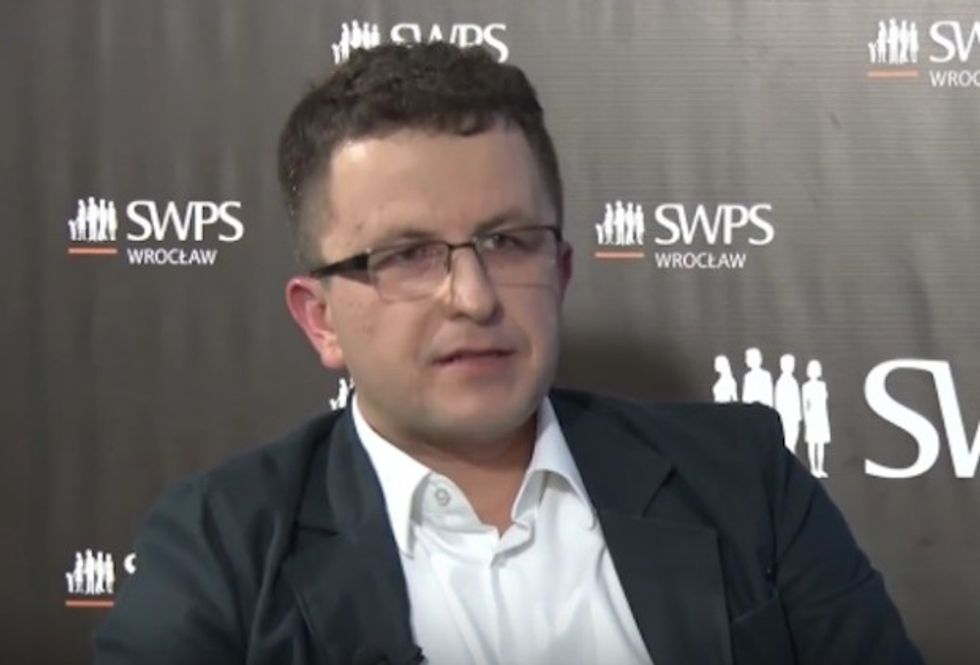 Polish Radio foreign correspondent Wojciech Cegielski wrote one year after the conflict that Gaza militants were "not afraid to use their own citizens as living shields." (Image source: YouTube)
Cegielski cited two incidents, the first being when a militant launched a rocket from outside his window:
I was in the bathroom when I've heard a loud rocket noise and my Spanish colleague, a journalist who was renting a flat with me near the Gaza beach, started to scream. He wanted to light a cigarette and came to one of the open windows. The moment he was using his lighter, he saw a fireball in front of his eyes and lost his hearing.

From what our neighbors told us later, a man drove up in a pickup to our tiny street. He placed a rocket launcher outside and fired. But the rocket failed to go upwards and flew along the street at ground level for a long time before destroying a building. It was a miracle that nobody was hurt or killed.
Cegielski concluded that the militant intended to lure the Israeli military into bombing the civilian houses next to which he had launched.
The second anecdote Cegielski recalled suggested that terrorist groups in Gaza, in the open and during broad daylight, actually tried to lure an Israeli attack on foreign correspondents:
I was sitting with other journalists in a cafe outside one of the hotels near the beach. During wartime, these hotels are occupied by foreign press and some NGOs. Every hotel is full and in its cafes many journalists spend their time discussing, writing, editing stories or just recharging the phones. Suddenly I saw a man firing a rocket from between the hotels. It was obvious that we journalists became a target. If the IDF would strike back, we all would be dead. What would Hamas do? It would not be surprising to hear about the "cruel Zionist regime killing innocent and free press."
Notably, the Polish journalist pointed out that the hotels and cafes during the war were filled with reporters, raising the question as to why the incident never made headlines one year ago.
During the month-long war there emerged only a handful of accounts from other foreign correspondents affirming Cegielski's observations.