BILLINGS, Mont. (TheBlaze/AP) -- The federal government plans to spend more than $200 million over the next three years on programs to protect greater sage grouse in Western states - regardless of whether the bird receives federal protections, U.S. Agriculture Secretary Tom Vilsack said.
Vilsack told The Associated Press that he wants to almost double protected habitat for the chicken-sized bird, to 8 million acres by 2018. He also promised more spending on conservation easements for private landowners, to limit residential development in sage grouse habitat and to restore wetlands used by the birds.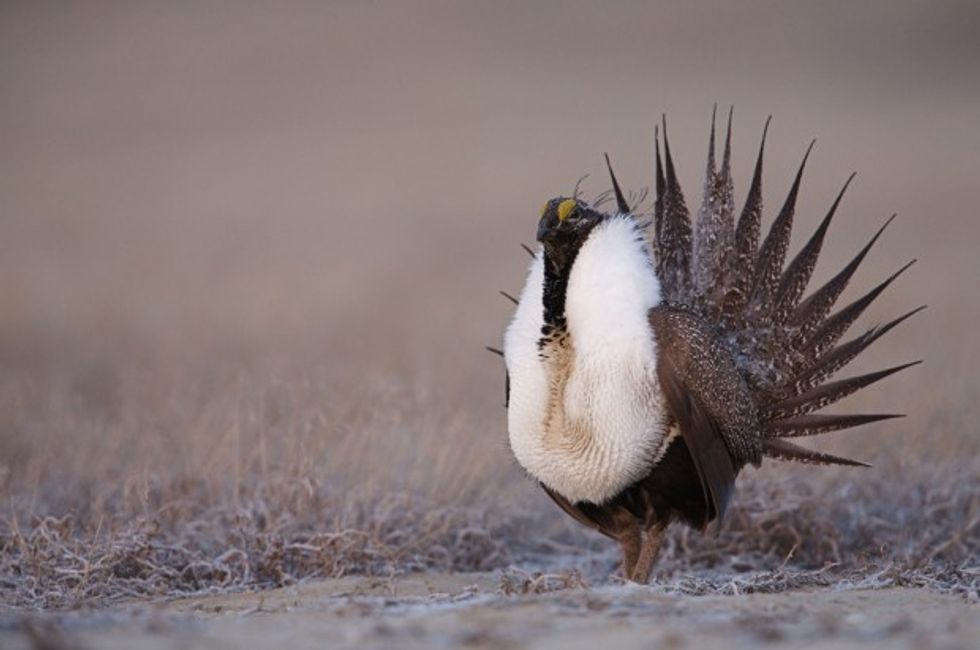 Photo credit: Shutterstock
A formal announcement was planned for Thursday during an event in Portland, Oregon.
It's part of an ongoing campaign by the Obama administration to demonstrate its commitment to staving off further declines in grouse populations.
The bird's fate has become a potential political liability heading into the 2016 election. Federal protections could prompt limits on energy drilling, grazing and other activities across the grouse's 11-state range. Last year, a report from the U.S. Geological Survey recommended a buffer of a 3.1-mile radius no-activity zone in known sage grouse breeding areas, which would equate to about a 30-square-mile circle.
Republicans have seized on the issue as supposed evidence of wildlife protection laws run amuck. They say it underscores the urgent need to scale back the federal Endangered Species Act.
Sage grouse were proposed for protections under the act in 2010, but they were not put in place because of other priorities. The bird is still a candidate to be listed as a threatened or endangered species.
Last week, the Western Association of Fish and Wildlife Agencies announced a significant rebound of the sage grouse populations after a low in 2013.
"This latest report shows sage-grouse populations are still doing well across much of their range," Virgil Moore, director of Idaho's Department of Fish and Game and director liaison of WAFWA's Sage-Grouse Initiative, said in a statement. "While this report is good news to all who treasure this bird, we know that long-term ongoing conservation and management must continue into the future for greater sage-grouse on its current range."
Vilsack said the administration seeks to balance concerns over the bird's future with economic reality.
"Diversity of wildlife is important. Diversity of economy is important as well," he said in an interview. "We want our working lands to be productive, and we also want to make sure we maintain what's unique to the value of that terrain."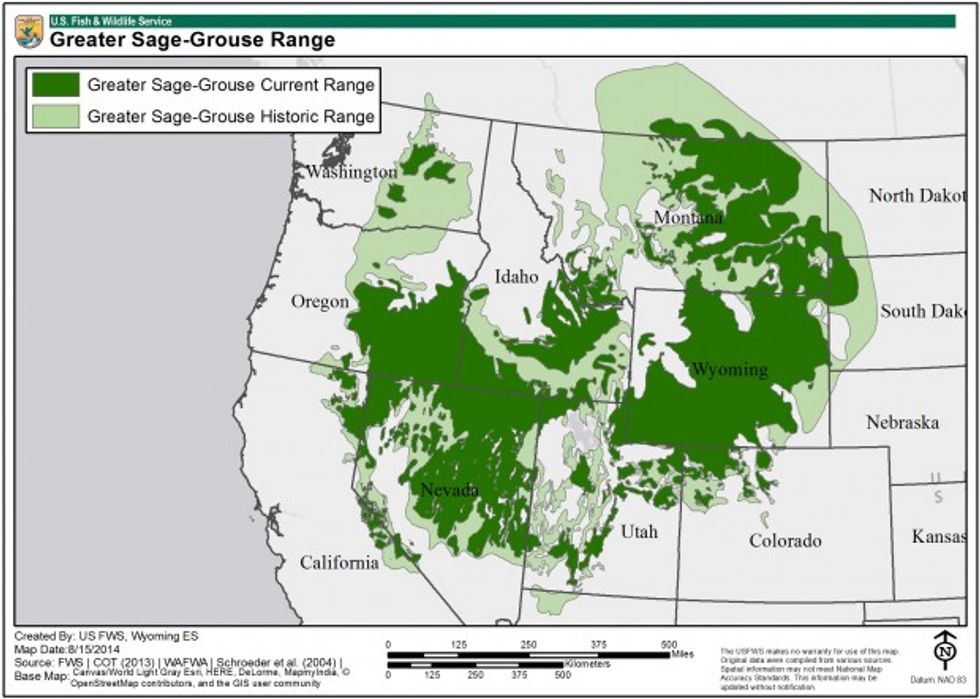 Current and historical distribution of the sage grouse in the United States. (Image source: Department of Fish and Wildlife)
Under a court settlement with environmentalists, the U.S. Fish and Wildlife Service faces a September 30 deadline to decide if protections are needed.
The future spending Vilsack described is in addition to more than $400 million spent on sage grouse conservation since 2010. Future spending pledges - and additional money from states, conservation groups and others - would bump the overall tally to more than $750 million for sage grouse through 2018, according to federal officials.
—
Front page image via Shutterstock.