© 2023 Blaze Media LLC. All rights reserved.
Report Commissioned by Planned Parenthood Finds Graphic Abortion Videos Were Distorted to 'Smear
Center for Medical Progress founder responds: "Planned Parenthood's abortion providers are far more honest about the brutal reality of their work than the paid political consultants at the national office."
LOS ANGELES (AP) -- Planned Parenthood Federation of America defended its practices Thursday in a lengthy letter to Congress and included a report by experts that found undercover videos of officials discussing fetal tissue for research were heavily altered by anti-abortion activists.
Executive Vice President Dawn Laguens said the report supports the organization's claims that the secretly recorded videos were distorted to misrepresent conversations employees had with anti-abortion activists posing as a biomedical company employee interested in buying fetal tissue.
The letter and report were the most detailed defense to date by Planned Parenthood, which has come under fire from conservatives since the California-based Center for Medical Progress began releasing its videos last month.
Four congressional committees have launched investigations into Planned Parenthood's practices, and lawmakers unsuccessfully tried to strip the organization of federal funding.
Image source: YouTube
"These baseless and fraudulent attacks are part of a much bigger political agenda that we believe is harming and will harm women all across this country," Laguens said. "We will not let that happen."
The videos that include graphic images of tissue, organs and even a tiny arm, showed Planned Parenthood officials discussing in a businesslike way how they provide aborted fetal organs for research and what they charge for tissue.
Planned Parenthood's president, Cecile Richards, previously apologized for the "tone and statements." But she defended the organization in her letter to Congress, saying it did nothing illegal and calling the videos a "smear" on its reputation.
YouTube screenshot
At issue is a federal law that prohibits abortion providers from profiting from the sale of fetal tissue, inducing someone to have an abortion to provide the tissue or altering the procedure in any way to harvest fetal tissue.
Only clinics in California and Washington provide the tissue for medical research, and they adhere to the federal laws and collect only $45 to $60 to recoup their costs, which is legal, the letter said.
The Center for Medical Progress claims the videos released so far show Planned Parenthood illegally sells and harvests organs.
Planned Parenthood said forensic experts found more than 40 instances where the video was spliced. They also found conversations were taken out of context to change the meaning of what was said, the organization said. Whole sections of video were missing from the meetings.
Research firm Fusion GPS conducted the analysis for Planned Parenthood.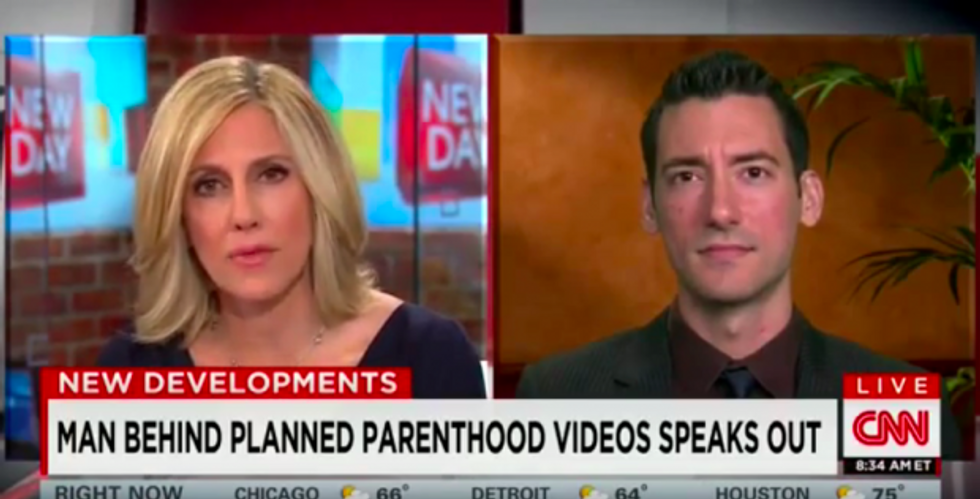 Image source: YouTube

Glenn Simpson of Fusion GPS said the video work was "sloppy at best" and that transcripts provided by the center were frequently inaccurate and erroneous. He said a thorough analysis wasn't possible without the original footage because the videos lost some of their digital information when they were compressed and posted on YouTube.
The activist who secretly recorded the video said in a statement that the absence of bathroom breaks or waiting periods in the video didn't change the meaning of the dialogue with the organization's officials.
"Planned Parenthood's desperate, 11th-hour attempt to pay their hand-picked 'experts' to distract from the crimes documented on video is a complete failure," the center's founder, David Daleiden, said in a statement. "Planned Parenthood's abortion providers are far more honest about the brutal reality of their work than the paid political consultants at the national office."
---
Want to leave a tip?
We answer to you. Help keep our content free of advertisers and big tech censorship by leaving a tip today.
more stories
Sign up for the Blaze newsletter
By signing up, you agree to our
Privacy Policy
and
Terms of Use
, and agree to receive content that may sometimes include advertisements. You may opt out at any time.