More information giving insight into the personality and history of the man who shot and killed a TV news reporter and cameraman during a live interview this week continues to emerge, including a video purporting to show him in a road rage incident and some questionable journalistic ethics when he worked in the industry.
Vester Lee Flanagan, who described himself as a "human powder keg" in a rambling 23-page note faxed to ABC News after police say he murdered 24-year-old Alison Parker and 27-year-old Adam Ward on air with WDBJ-TV Wednesday, clashed with many of his former co-workers and held a volatile career with a couple of news stations.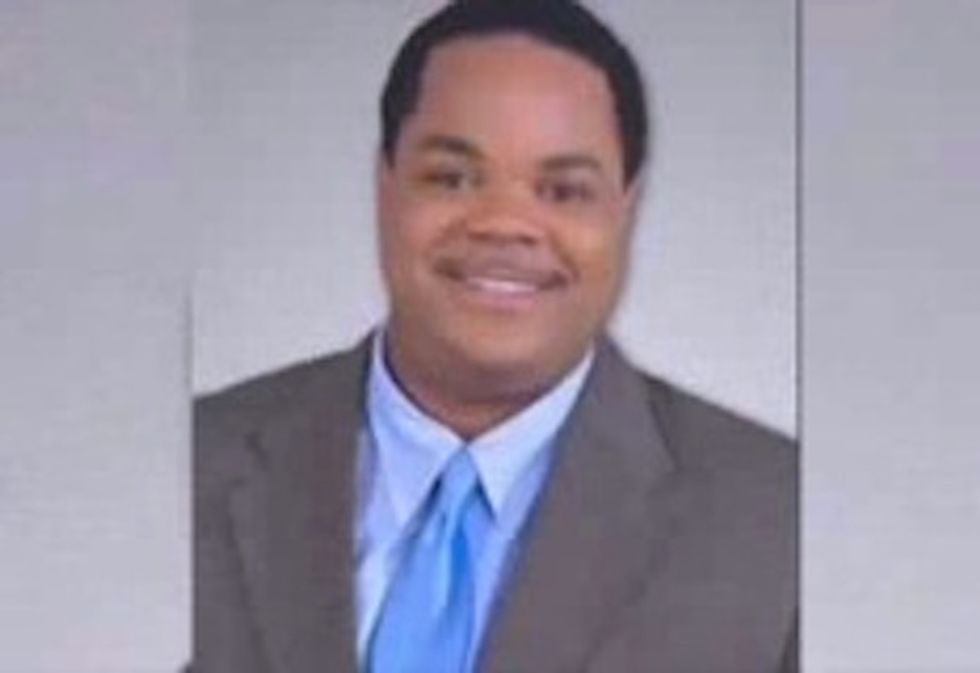 Image source: KHNL-TV
According to court documents seen by the Daily Mail Online, a performance review for Flanagan, who went by the name Bryce Williams when he worked for WDBJ, accused him of wearing a sticker in support of now President Barack Obama during his 2012 reelection campaign.
In a letter of reprimand from station's former news director Dan Dennison, Flanagan was called out for violating company policy and "standard journalistic ethics" for wearing an Obama sticker while standing in line to vote in the election.
"Journalists and particularly reporters who appear on television must abide by a different standard," Dennison's letter read, citing an employee handbook for official company code that prohibits employees from "participating in active partisan politics."
The letter goes on to state that his previous, well-documented "disciplinary actions and performance deficits" were leading him to a point that could mean termination.
Former colleagues of Flanagan who worked with him a WTWC-TV in Tallahassee, Florida, before he was fired for "bizarre behavior," which included threatening to punch people, said there was always something off about him.
Kimberly Moore Wilmoth, who worked with Flanagan at the Florida station, recalled him as "off-kilter" and someone who "never really made himself part of the team."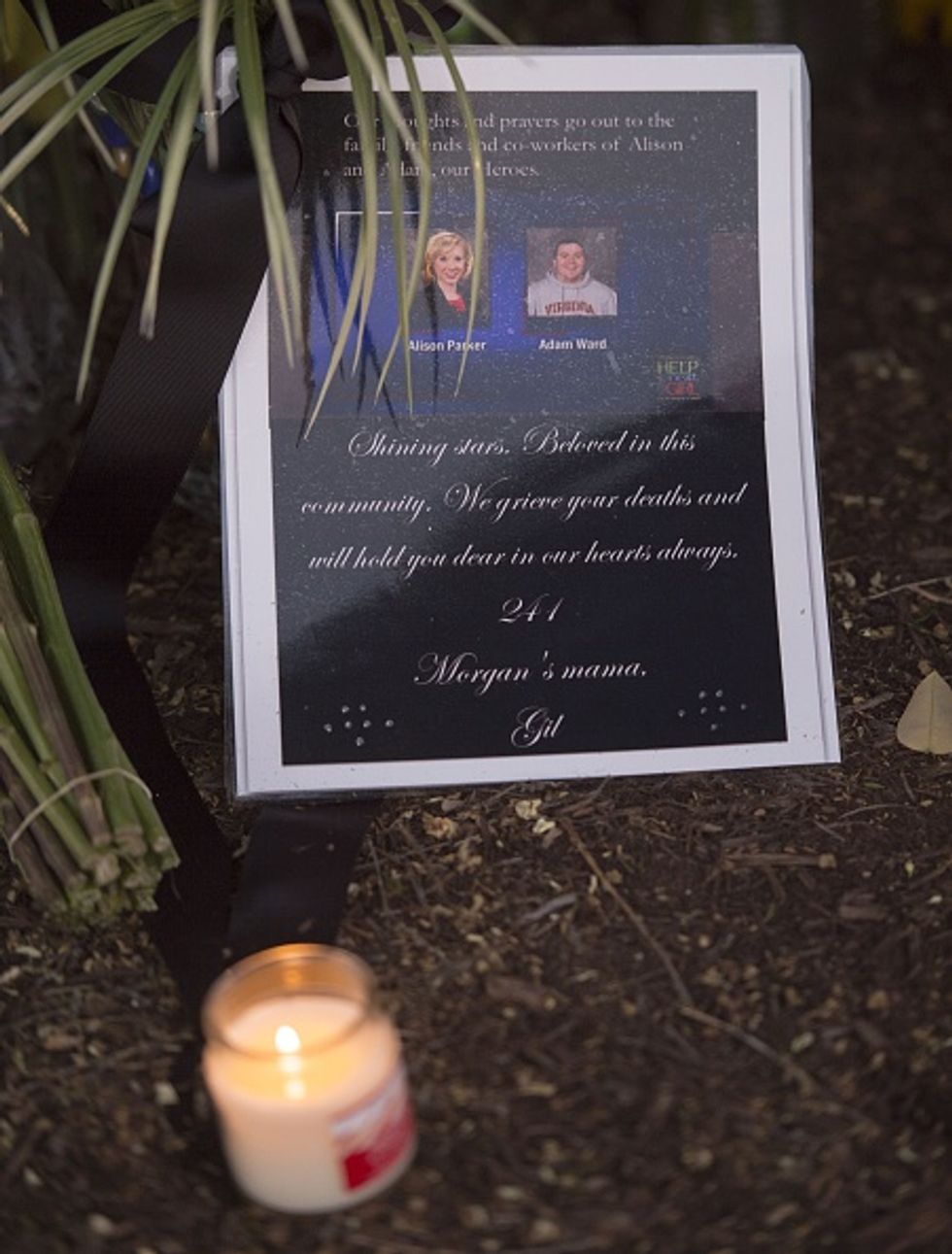 A makeshift memorial for reporter Alison Parker, 24, and cameraman Adam Ward, 27, at the gate of WDBJ television studios on August 26, 2015, in Roanoke, Virginia. Former reporter Vester Lee Flanagan fired by Virginia television station WDBJ shot dead the two journalists during a live broadcast Wednesday and posted chilling footage of the crime online before fatally shooting himself. ( PAUL J. RICHARDS/AFP/Getty Images)
Outside of his professional life, a video appears to show Flanagan as hostile in a private life situation as well.
Video posted by Brandon Foster of a road rage incident on July 6, appears to show Flanagan after he followed Foster for saying he was driving "like a maniac" when they were stopped at a red light.
"He then followed me to my destination driving recklessly, and stopping traffic to continue the argument, the rest is on film," Foster wrote.
The video showed a man near a silver Mustang, which the New York Daily News reported had a license plate that matched that registered to Flanagan, who asked Foster as he got out of his car if he was "finished."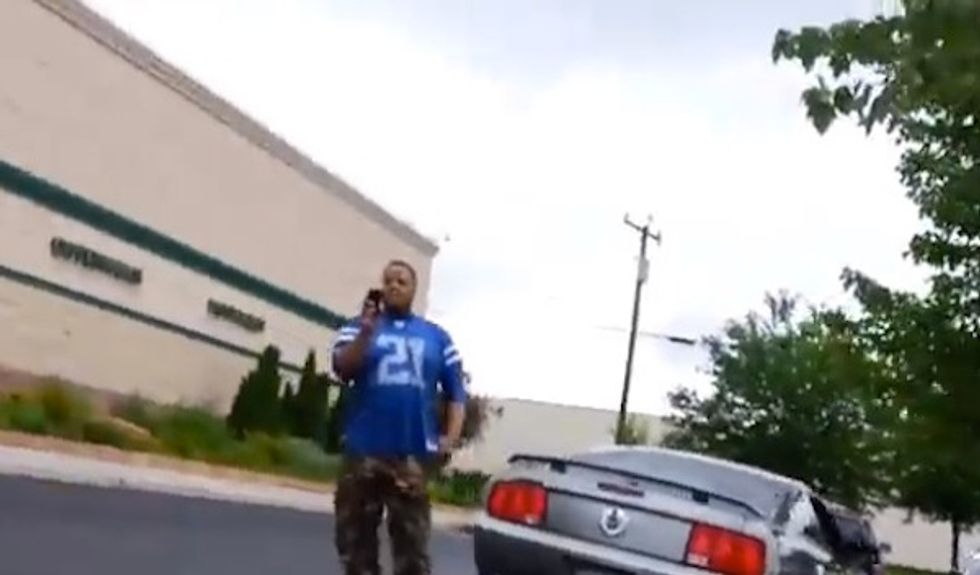 A man, who appeared to be Flanagan, was filmed in a July road rage incident. (Image source: YouTube)
"I've been finished. You followed me here, ass***e," Foster replied.
The man told Foster he needed to "lose some weight, sir."
"Jesus Christ, you call a guy out for driving like a freak and he's going to lose his mind," Foster said later in the video.
Watch the brief incident (Content warning: some strong language):
"He was obviously not in the right mind," Foster told CNN of their encounter, according to the Daily News. "He was driving in excess of 100 mph."
Flanagan, 41, died at a Virginia hospital Wednesday after he crashed a vehicle and shot himself. He grew up in Oakland, California, and graduated from San Francisco State University.
Virgil Barker, who grew up on the same tree-lined street in the Oakland hills, recalled his childhood friend Wednesday with fondness.
"I know you want to hear that he was a monster, but he was the complete opposite," Barker said. "He was very, very loving."
"I don't remember anything bad about him," said Sasha Dansky, a high school classmate, recalling Flanagan's frequent appearance at parties. "He was just a nice, affable guy."
Others who previously worked with Flanagan in the mid 1990s into the early 2000s held similar positive sentiments for him.
A former co-worker at KPIX-TV, Barbara Rodgers, recalled him only vaguely as "a young, eager kid out of journalism school," who "just wanted to be on TV and to do a good job."
Former fellow reporter at WTOC-TV in Savannah, Georgia, Angela Williams-Gebhardt, said he was "tall, good looking and seemed to be really nice, personable and funny." The station's former news director, Michael Sullivan, said Flanagan was relatively inexperienced, but did a decent job, without any apparent problems.
Flanagan, in the note he sent to ABC News after the shooting, said he'd been discriminated against both for being black and gay. He listed grievances dating to the 2007 mass shooting at Virginia Tech and the more recent massacre of worshippers at a historic black church in Charleston, South Carolina.
A spokesperson with the Bureau of Alcohol, Firearms, Tobacco and Explosives told Buzzfeed Flanagan had legally purchased two Glock pistols "weeks ago" after passing a required background check.
—
The Associated Press contributed to this report. This story has been updated to include more information.