LOS ANGELES (AP) -- Planned Parenthood Federation of America is defending its abortion practices and its donation of fetal tissue for medical research.
It sent a letter Thursday to congressional leaders and included a report by experts it hired who found that undercover videos of its officials were heavily altered by anti-abortion activists.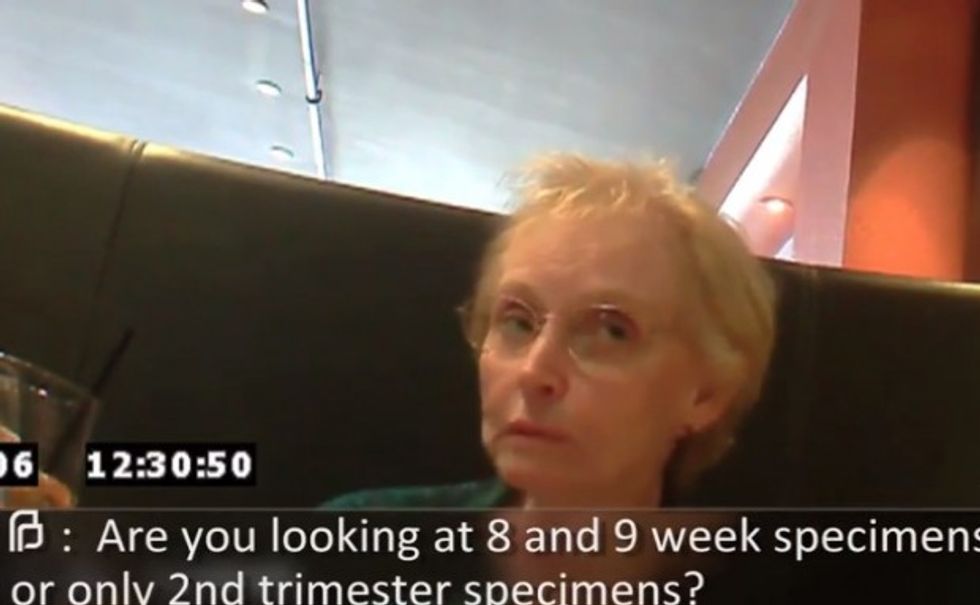 (Image source: Screenshot)
The move was the latest development in a heated dispute that has riled people on both sides of the abortion debate. The videos were produced by a California-based anti-abortion group called the Center for Medical Progress, which began releasing them in July.
Here are answers to some of the questions at the heart of the controversy.
WHAT DOES FEDERAL LAW SAY ABOUT THE TRADE IN FETAL TISSUE?
Federal law prohibits abortion providers from profiting from the sale of fetal tissue, inducing someone to have an abortion to provide the tissue, or altering the procedure in any way to harvest fetal tissue. Medical researchers use the tissue to study a wide array of treatments, therapies and vaccines.
IS PLANNED PARENTHOOD PROFITING ILLEGALLY FROM THE SALE OF FETAL TISSUE?
Planned Parenthood denies the center's claims that it illegally sells and harvests organs.
The undercover videos show Planned Parenthood employees discussing reimbursement costs, which is legal. Planned Parenthood said in its letter to Congress that clinics receive $45 to $60 to recoup costs in California. Some clinics provide the tissue to university researchers for no fee.
IS THERE ANY EVIDENCE THAT PLANNED PARENTHOOD DOCTORS ALTER ABORTION PROCEDURES TO ENSURE THAT FETUSES OR BODY PARTS ARE EXTRACTED IN WHOLE SO THEY ARE MORE VALUABLE TO RESEARCHERS?
Planned Parenthood claims it does everything by the book.
Videos show Planned Parenthood officials discussing different abortion techniques. In one video, Dr. Mary Gatter, one of Planned Parenthood's medical directors, discusses a "less crunchy" technique to increase the chances of recovering intact organs.
One example Planned Parenthood offered of video manipulation involved a Planned Parenthood official in Texas discussing lab protocols intended to maintain tissue. However, the group's experts said the video was manipulated through editing so that it sounded like she was talking about altering abortion methods to help harvest organs.
HOW MANY PLANNED PARENTHOOD CLINICS PROVIDE FETAL TISSUE FOR MEDICAL RESEARCH AND WHERE ARE THEY LOCATED?
Fewer than 1 percent of 700 Planned Parenthood affiliated clinics nationwide offer fetal tissue donation for medical research, the organization said.
It is only available in California and Washington state. An Oregon affiliate provides placental tissue to a university, and clinics in Texas and Colorado have provided similar tissue over the past five years, but not fetal tissue, Planned Parenthood said.
In addition to abortion services, Planned Parenthood also provides birth control and screening for sexually transmitted diseases.
WHAT DID PLANNED PARENTHOOD'S EXPERTS FIND IN REVIEWING THE ANTI-ABORTION GROUP'S VIDEOS AND TRANSCRIPTS?
Research firm Fusion GPS said experts it hired on behalf of Planned Parenthood found it was impossible to determine how much the edits to the video distorted the meaning of what was said during the meetings.
Glenn Simpson of Fusion GPS said the video work was "sloppy at best" and that transcripts provided by the center were inaccurate and erroneous. It said the footage had no evidentiary value in an inquiry unless the original material was provided to investigators.
DOES THE CENTER FOR MEDICAL PROGRESS FACE ANY SCRUTINY?
California's attorney general, a Democrat running for U.S. Senate, is investigating whether the nonprofit behind the videos violated registration or reporting requirements, or broke any other state rules.
The center also faces a lawsuit in Los Angeles County Superior Court that alleges it violated the privacy of StemExpress, a Northern California company that received fetal tissue from Planned Parenthood until it severed ties after the videos began surfacing.
StemExpress lost its bid to block the nonprofit from publicizing the video, but a judge said it will likely prevail in its lawsuit that claims its executives were illegally recorded.
The National Abortion Federation is suing the Center for Medical Progress and its officers in federal court in San Francisco. The lawsuit claims conspiracy, fraud, racketeering, misrepresentation and trespassing over what the federation alleges was an elaborate scheme to discredit and endanger its members, who were secretly recorded during professional conferences.
WHAT HAPPENS NEXT?
In Congress, four committees are investigating Planned Parenthood, and Republicans plan to take another stab at stripping the group's federal funding.
Some conservatives are vowing to reject the budget legislation that funds the federal government this fall unless funding for Planned Parenthood is removed. That raising the possibility of a government shutdown over the issue.