Wisconsin Gov. Scott Walker on Friday laid the entire seven years of Obama administration foreign policy at Hillary Clinton's feet, hitting the Middle East, the attempted reset with Russia and cyberattacks from China.
The Republican presidential candidate vowed a foreign policy of strength and to immediately end the Iran nuclear deal if elected. He also said he would confront the Islamic State and Iran with the same resolve.
"My goals will be to defeat ISIS and roll back Iran's influence in the region," Walker said in what was billed as a major foreign policy address at the Citadel in South Carolina.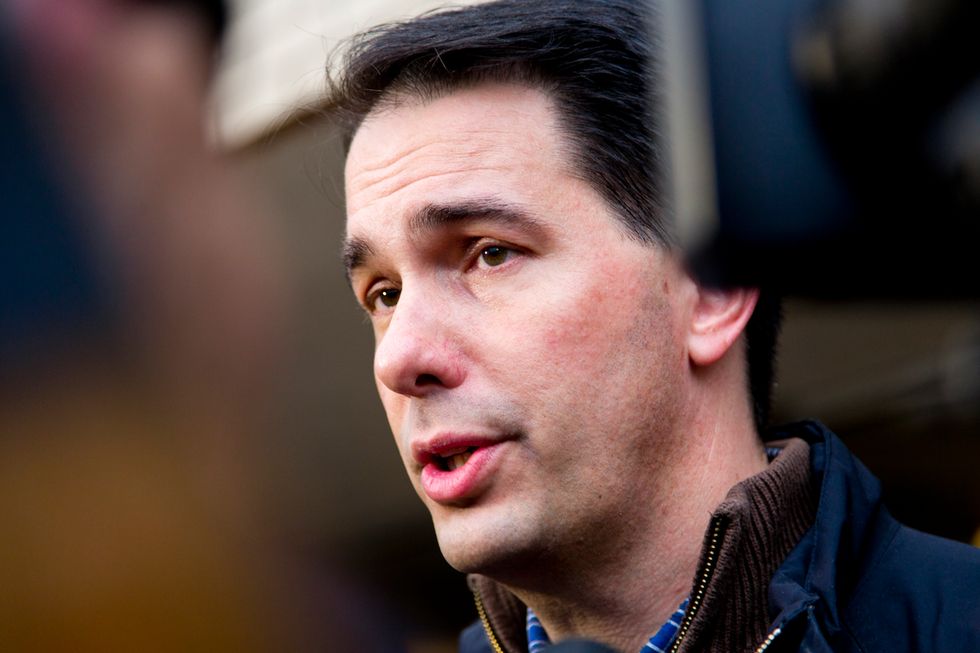 Darren Hauck/Getty Images
He called the Islamic State the "best-armed and best-funded terrorist organization in the world."
"Yes, the world is complex, but some things are simple: there is good and there is evil," Walker said. "America is a force for good in the world. Radical Islamic terrorists are agents of pure evil."
But he added that Iran presents a similar threat through funding various terrorist organizations and imprisoning four Americans.
"Confronted by these two forms of evil, President Obama and Hillary Clinton seem to believe they can sit on the sidelines, hoping Iran will defeat ISIS for them," Walker said. "They fail to realize that, in the prevailing anarchy, the two sides feed off of each other, growing stronger at the expense of our Sunni and Shia allies trapped in the middle."
Foreign policy addresses can be significant for governors, who often lack any foreign policy experience. Walker has not held elected office outside of Wisconsin, while his opponents in the Republican field include four senators.
He noted that the United States must also secure the border in combatting human smugglers and drug cartels with similar fierceness as the country tackles terrorisms. He further added that the FBI is investigating recruitment by the Islamic State in all 50 states.
One of Walker's GOP opponents, Kentucky Sen. Rand Paul, has said the United States cannot oppose both Syrian dictator Bashar Assad and the Islamic State.
In contrast, Walker said part of U.S. policy must "do more to recruit and support fighters in Syria who oppose both ISIS and Assad."
He went on the say that Clinton was instrumental in launching the Iran nuclear deal as secretary of state.
"If this deal goes forward, it will be remembered as one of the greatest foreign policy failures in U.S. history. So let me be clear, if Congress fails to stop the nuclear deal, I will terminate it on day one," Walker said. "Then, I will immediately re-impose sanctions against Iran and work with Congress to impose even more crippling sanctions."
Of Clinton, he said, "Her support for the Iran deal shows she cannot be trusted to support Israel."
He also hit Clinton on a number of other fronts.
"Hillary Clinton tried to appease Vladimir Putin with a 'reset' button," Walker said. "Sensing weakness, Putin today is redrawing the map of Europe with loaded guns."
"She downplayed China's abysmal human rights record," he continued. "This is the result: The Chinese are aggressively expanding their territory, building islands for military bases in the South China Sea. Beijing conducts massive cyber attacks against the United States – stealing classified military data, stealing the personal information of millions of Americans, and stealing billions of dollars in intellectual property."
He also hit what could be among one of Clinton's biggest weaknesses, the 2012 Benghazi terrorist attack.
"Hillary Clinton pushed for the war in Libya," he said. "Then she stood by the caskets of Christopher Stevens, Sean Smith, Tyrone Woods and Glen Doherty … looked into the eyes of their parents and pointed to a YouTube video she knew was not the cause of their deaths in Benghazi. Today, Libya is officially a terrorist safe haven."