A group of good samaritans confronted a man hitting a woman in an Oklahoma parking lot earlier this month, intervening in a domestic abuse incident taking place in broad daylight.
The entire August 6 incident was captured on amateur video and shows the group of men approach 52-year-old Douglas Beckham after seeing him strike the woman in a truck bed with an object.
"Call the cops!" the woman was shouting.
As the bystanders confronted Beckham, he warned them to back off.
(Content warning: strong language and violence):
"Stay out of it guys!" he shouted. "Stay out of it!"
"What are you going to do?" one of the individuals quipped back.
"Stay out of it!" Beckham shouted again.
"What are you going to do?" the bystander pressed.
"Stay the f*** out of it!" the man replied.
"What the f*** are you going to do b****?" the bystander countered. "Huh?!"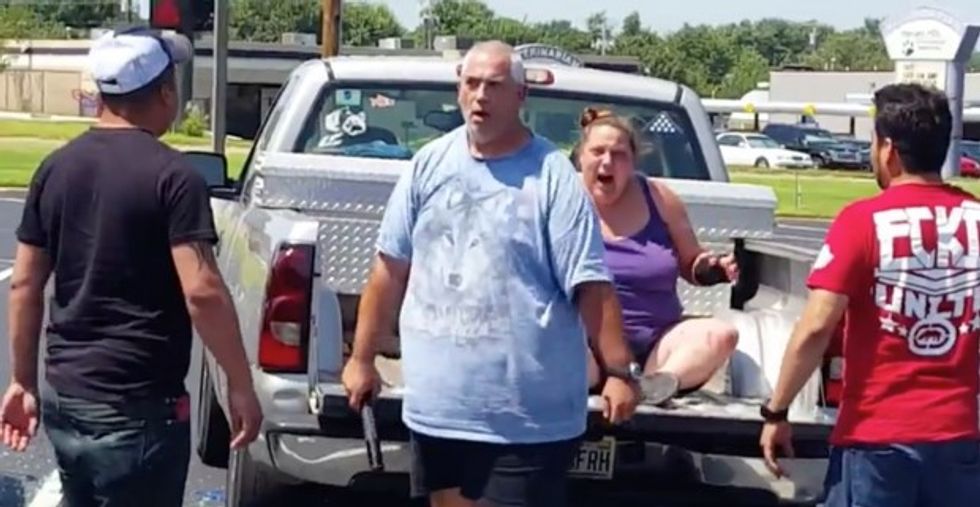 Image source: Screen grab
When the bystander asked another individual to dial 911, Beckham attempted to take off in his vehicle while the woman was injured in the truck's bed. The bystanders went after him, opening the door and physically confronting him in an attempt to prevent him from leaving the scene.
The 52-year-old eventually was able to drive his truck away, parking nearby. He then returned, driving his truck toward the group. One of the bystanders jumped in the bed of the truck and broke a window, causing him to flee.
KFOR-TV reported that the man was arrested later that day and charged by police with two counts of assault with a deadly weapon and one count of domestic battery with a dangerous weapon. The former two charges were because of the threatening manner Beckham drove his car toward witnesses, police said.
"When I first saw the video…I did not know the video was connected to Oklahoma or Oklahoma City," Capt. Paco Balderrama, with Oklahoma City Police, told KFOR. "I was very surprised, it`s very alarming, it`s a very sad video."
He said the men were just good samaritans who happened to be in the area.
"They were actually passing through on their way to El Paso, Texas," Balderrama explained. "I mean luckily they were there."
The police report indicated that the altercation between the man and his wife started when he didn't purchase her food at a drive thru. The woman then cut her leg when she attempted to flee the vehicle out of a broken window. Police told KFOR that the two are homeless living out of their cars.
—
Follow the author of this story on Twitter and Facebook: