MOUNT VERNON, N.Y. (TheBlaze/AP) -- An innocent bystander accidentally shot by a plainclothes officer died early Saturday, hours after being wounded when the officer opened fire on an armed suspect during an undercover gun buy that went bad, New York City police said.
Felix Kumi, 61, of Mount Vernon died shortly before 1 a.m., authorities said. He was shot Friday afternoon after a man pulled a gun on an undercover NYPD officer during a probe into the sale of illegal firearms, officials said.
"During the shooting a bystander who was standing behind the suspect, was also struck by at least two rounds," NYPD Chief of Department James O'Neill said, according to the New York Post.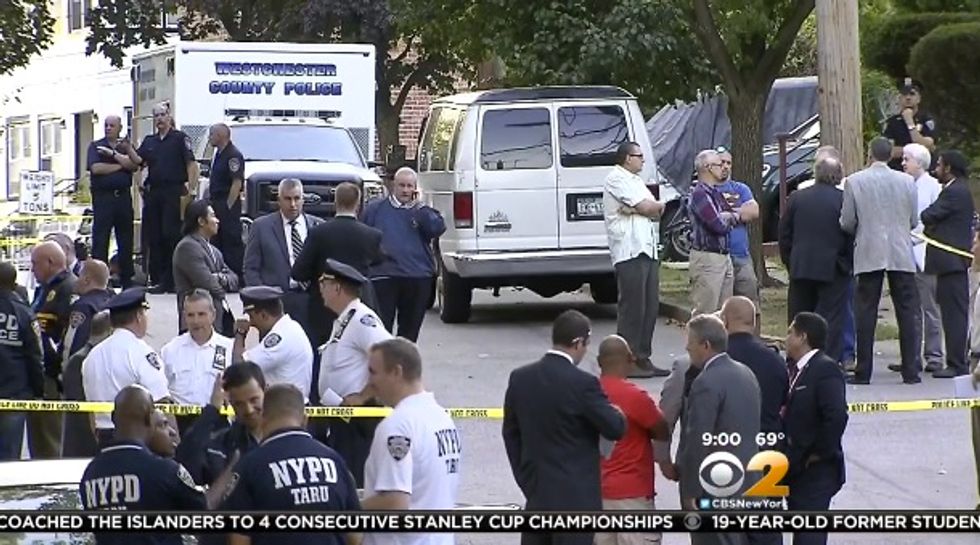 Authorities on the scene of the tragic shooting that involved an innocent bystander. (Image source: WCBS-TV)
A woman who lives in the neighborhood said Kumi was "a nice guy":
The 37-year-old gunman was struck three times in the torso while another bullet struck Kumi, police said. The gunman, whose identity was not immediately released, was taken to a hospital. Charges against him were pending.
Police said a second suspect, 28-year-old Jeffrey Aristy of the Bronx, was arrested on drugs and weapons charges. He was described by police as the target of the undercover probe.
Aristy contacted an officer Friday saying he had guns for sale, authorities said. When an undercover officer met him in the Bronx, Aristy entered the officer's unmarked car and told him to drive to a residential neighborhood in Mount Vernon, police said.
When they arrived there around 4 p.m., the other man hopped in the back seat, pointed a gun at the officer's head and demanded money, police said. The undercover officer handed cash to the second man before signaling for backup and confronting him in the street, where the officer began firing when the man pointed his gun at him, police said.
It was during this gunfire, while the suspects ran away, WCBS-TV reported, that Kumi was hit.
Police said they found a replica of a large-caliber gun and the officer's money on the gunman.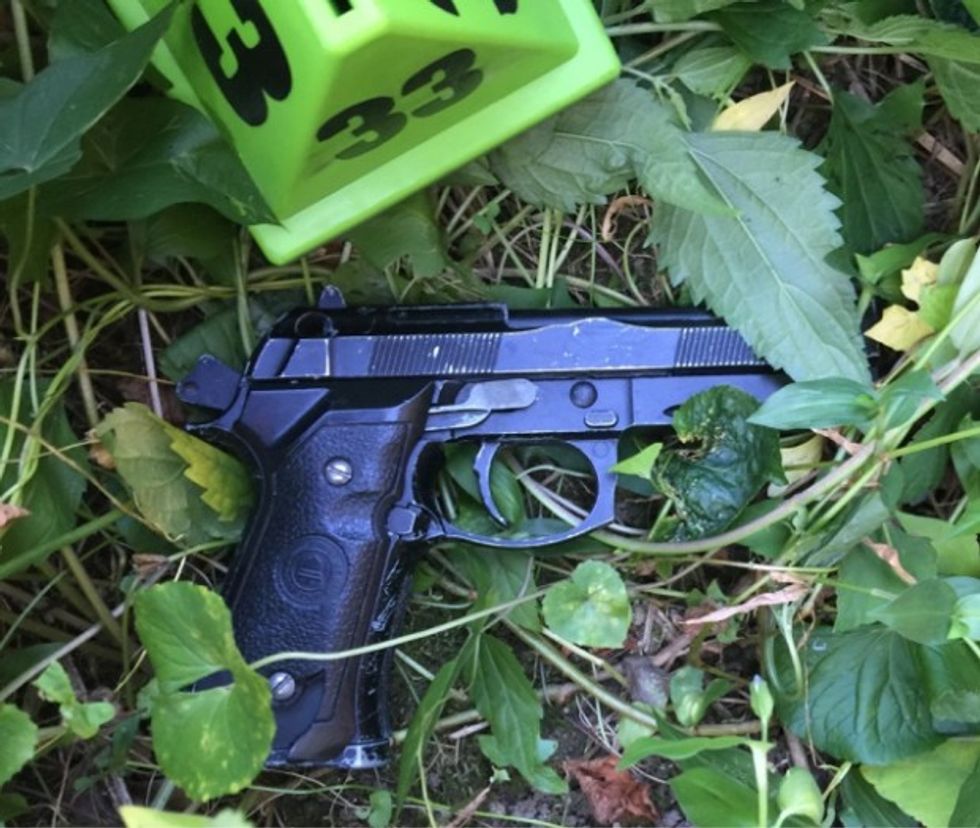 Replica of a large caliber gun recovered from the suspect by police. (Image source: NYPD)
A witness to the scene, Joseph Camara, told the New York Post, he saw "a rapid succession of gunfire, 'Pop pop pop,' and then there was a pause for three or four seconds and then the shots resume again and then another minute or two later and the helicopter was up and there was cars swarming all of this area."