© 2023 Blaze Media LLC. All rights reserved.
"Closely identified with individuals who have committed domestic acts of violence and mass murder."
Franklin County Sheriff's Office released new details from its investigation into Wednesday's shooting on live TV that left a Virginia reporter and cameraman dead and another woman injured.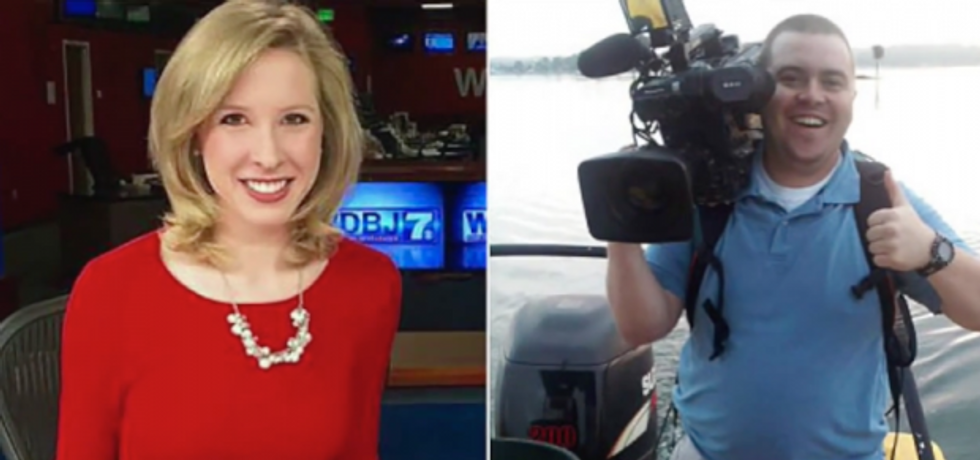 Alison Parker and Adam Ward as seen in a tribute by WDBJ. (Image source: WDBJ-TV)
Though the investigation into the shooting and deaths of Alison Parker, 24, and Adam Ward, 27, is still ongoing, the sheriff's office officially announced that suspect Vester Lee Flanagan, 41, fired 17 rounds from a Glock pistol during the WDBJ-TV on-air interview at Bridgewater Plaza near Smith Mountain Lake Wednesday morning. Vicki Gardner, executive director of the Smith Mountain Lake Chamber of Commerce, was shot in the back by Flanagan but was listed in good condition after surgeries.
Two Glocks, which previous reports have noted were purchased legally with a background check, were found in Flanagan's rental car, which he crashed in I-66 hours after the shooting and proceeded to shoot himself. He later died at a Northern Virginia hospital as a result.
The sheriff's office described the attack as "well-planned and pre-meditated," believing Flanagan, a former and disgruntled WDBJ employee who went by the name Bryce Williams, acted alone.
State Police officers leave the apartment of Vester Lee Flanagan II, in Roanoke, Va., Wednesday, Aug. 26, 2015. Flanagan filmed himself gunning down a WDBJ-TV reporter and cameraman during a live television interview Wednesday and posted the video on social media after fleeing the scene. (AP/Steve Helber)
"Based on careful scrutiny of those writings and evidence seized from his apartment, it is apparent that Flanagan very closely identified with individuals who have committed domestic acts of violence and mass murder, as well as the Sept. 11, 2001, attacks on the U.S.," the sheriff's office stated in a news release.
This undated photo provided by WDBJ-TV, shows Vester Lee Flanagan II, who killed WDBJ reporter Alison Parker and cameraman Adam Ward in Moneta, Va., Wednesday, Aug. 26, 2015. Flanagan was a former employee at WDBJ who appeared on air as Bryce Williams. (WDBJ-TV via AP)
Though Flanagan was not wearing any body armor or protective gear when he shot himself, was apprehended by police and taken to an area hospital where he later died, the sheriff's department is trying to determine if he did wear such gear at the shooting scene.
Roanoke police revealed they had direct contact with Flanagan at least twice after escorting him from the WDBJ-TV station following his firing in February 2013.
Department spokesman Scott Leamon said Friday officers went to Flanagan's apartment about a year later at the request of a friend in Atlanta who feared for his well-being. Flanagan assured the officers he was OK.
Last December, police questioned Flanagan after he asked his bank to refund money he said had been withdrawn from his account through unauthorized ATM transactions. Leamon said police considered Flanagan a person of interest but didn't find enough evidence to charge anyone. The money was refunded.
The police department is conducting a review of its dealings with Flanagan in response to his fatal shooting Wednesday of two WDBJ journalists.
Franklin County Sheriff Bill Overton told reporters from WDBJ Friday that his wife was watching the interview when the shooting occurred, calling him into the bedroom to see what happened.
Overton told the news station, which has been publicly sharing its grief and mourning since the tragedy, he immediately called dispatchers. While driving to the scene, Overton got a call from Chris Hurst, a WDBJ reporter who was Parker's boyfriend but also Overton's friend.
"[...] of course knowing that Alison was at Bridgewater and I had to tell him Chris I can't tell you, I don't know what's happening, I'm en route, I just, I can't tell you anything right now because I don't know and I could just hear the horror in his voice that he know that something drastically horrible had happened," Overtold recalled to the news station.
Hurst said he had recently given his girlfriend a black onyx ring with some diamonds for her birthday and told her they would save up for an engagement ring and be together forever.
He said on the morning she was killed, they exchanged several texts as she arrived at work and went to bed after his night shift.
"'You need to go to bed,'" she texted. "And she sent me some kisses, and emoji, and said, 'Good night, sweet boy' at 3:26 a.m. And that was the last I ever heard from her."
In the wake of Parker's death, her father, Andy Parker, has vowed to make stricter gun control laws his mission.
"I've got to do something going forward that makes her life meaningful and will always be with me. And this is the way to do it," Andy Parker told AP in an interview earlier this week.
Andy Parker gained a strong supporter in Virginia Gov. Terry McAuliffe, a gun-owner himself, who has promised to help fight for stronger background checks for gun buyers.
"There are too many guns in America and there are clearly too many guns in the wrong hands. So we're going to continue to do what we can," McAuliffe said Friday during a condolence visit.
—
The Associated Press contributed to this report.
Want to leave a tip?
We answer to you. Help keep our content free of advertisers and big tech censorship by leaving a tip today.
more stories
Sign up for the Blaze newsletter
By signing up, you agree to our
Privacy Policy
and
Terms of Use
, and agree to receive content that may sometimes include advertisements. You may opt out at any time.