Fox News host Bill O'Reilly clashed with Univision personality Jorge Ramos Wednesday, with the two getting into a heated debate over "Kate's Law" and whether or not reporters should advocate for public policy.
O'Reilly said his goal with the interview was to have his audience learn who Ramos is, regardless of if they end up "horrified" by his political positions.
"The Factor" host first asked Ramos for his position on the border wall which Ramos immediately dismissed as a "complete absurd idea." Ramos contended many people are crossing from the north and argued it would be an expensive, but ineffective, attempt to solve the problem of illegal immigration.
O'Reilly then asked the Univision personality for his thoughts on "Kate's Law," a proposed piece of legislation that mandates a five-year penalty for aggravated felons who re-enter the United Stages illegally after being deported.
"You support that?" O'Reilly asked.
"No, because I don't think you are approaching the problem in a global way," Ramos said
"It's outrageous!" the Fox News host shot back. "It's outrageous!"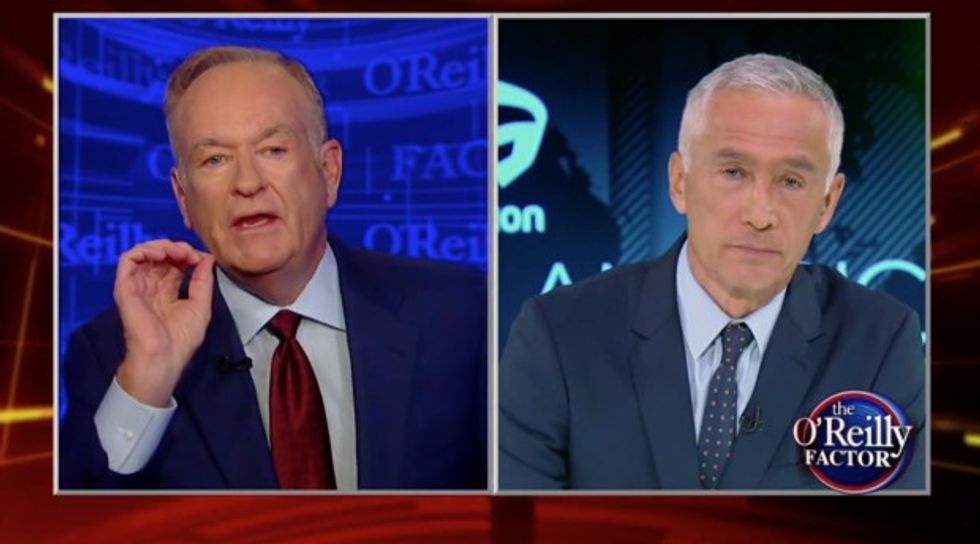 Image source: YouTube
"I'm not here to defend criminals," Ramos insisted.
"You are! You're an enabler! Jorge, you're enabling that guy Sanchez!" O'Reilly shouted back, referring to the illegal immigrant accused of killing Kate Steinle in San Fransisco.
"You not supporting Kate's law means that you don't care!" the Fox News host added.
O'Reilly then asked Ramos about the press conference he was removed from earlier this month.
"You're an anchorman. How can you possibly cover illegal immigration fairly when you're an activist, when you're a proponent of allowing them amnesty. How can you cover the story? You should excuse yourself from it ... or become a guy like me, a commentator!" O'Reilly said.
"I'm just a reporter," Ramos replied.
"You're not! You're an activist!" O'Reilly shot back.
"I don't think you are the right person to lecture me on advocacy in journalism when you spend most of your program—," Ramos said before O'Reilly interjected.
"I'm a commentator!" the Fox News host quipped back. "That's what I do!"
The two went back and forth until the end of the segment with O'Reilly telling Ramos he is in the "wrong job" and should become a commentator.
"Jorge, you're doing exactly what I'm doing, you just don't have the title."
—
Follow the author of this story on Twitter and Facebook: