Traffic on I-205 northbound in Vancouver, Washington, came to a stop Saturday afternoon, but it wasn't for a car accident.
Witnesses told police they saw a man beating a woman inside a car, causing her to pull over and flee into traffic. But the incident didn't end there.
Another woman tried to help this female driver who was now on foot and was also allegedly hit by the man. That's when some other men stepped in.
Joey Thomas and William Byrum were among a group of men who took the suspect, later identified as 26-year-old Darrell Classen, down.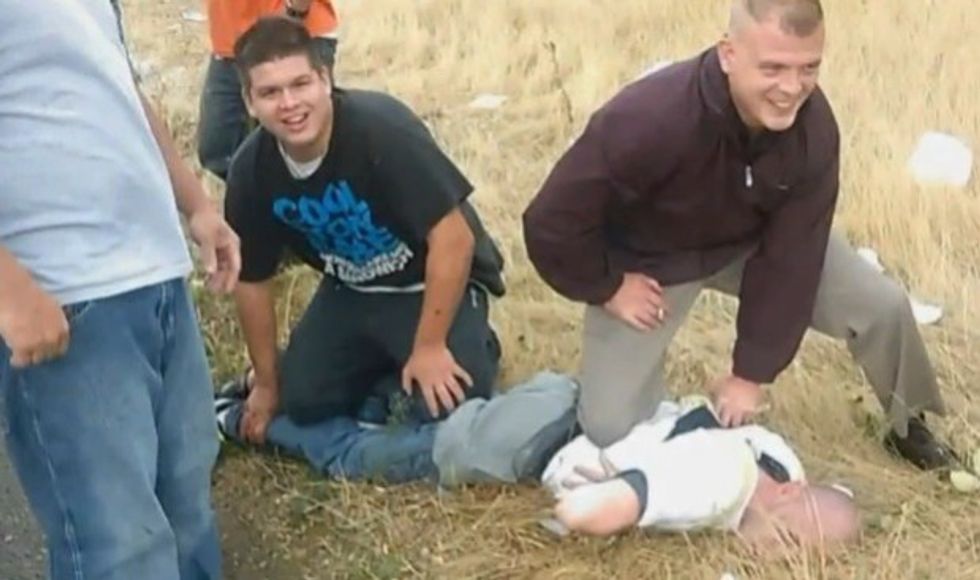 Witnesses sprang into action after they saw the suspect allegedly punch a woman while she was driving and then slap another woman who tried to help this driver after she pulled over and fled. (Image source: KGW-TV)
"I picked him up and just slammed him down on the ground so that we could get on top of him," Thomas told KGW-TV. "The guy's feet were off the ground and he went straight down."
Byrum said "he got what he had coming."
Thomas with a big grin on his face was pictured with his knee on Classen's back as another unidentified fellow held his legs.
"That picture and that smile and that face of triumph over taking this guy down and handling him, that's priceless, man," Byrum told the news station.
"The way I look at it is, is you don't hit women. I would hope that if it was my wife or my mom, somebody else would have taken action if I wasn't there," Thomas said.
Watch KGW's report:
According to the police report, Classen, who has been convicted of other crimes before, was arrested for second-degree and fourth-degree assault and reckless endangerment.
"Often times as police, we don't encourage citizens to get involved," Vancouver police Cpl. Duane Boynton told KOMO-TV. "In this particular case, being that she fled from the vehicle and the male chased her after witnesses had already seen him punch her several times, I believe that had he caught her and nobody intervened, she would have got hurt a lot more than she did."
The news station reported that the female driver was being treated for non-lifethreatening injuries.