Ahead of the start of congressional debate on the Iran nuclear agreement, former Vice President Dick Cheney implored Congress to defeat the deal for the sake of the United States' security.
"It's not, as President Obama claims, the only alternative to war. It is madness," Cheney said Tuesday morning at the American Enterprise Institute in Washington. "Every member of Congress took an oath to defend the Constitution against outside enemies. I took it 10 times. A vote to reject this agreement will do that. A vote to approve this agreement will not."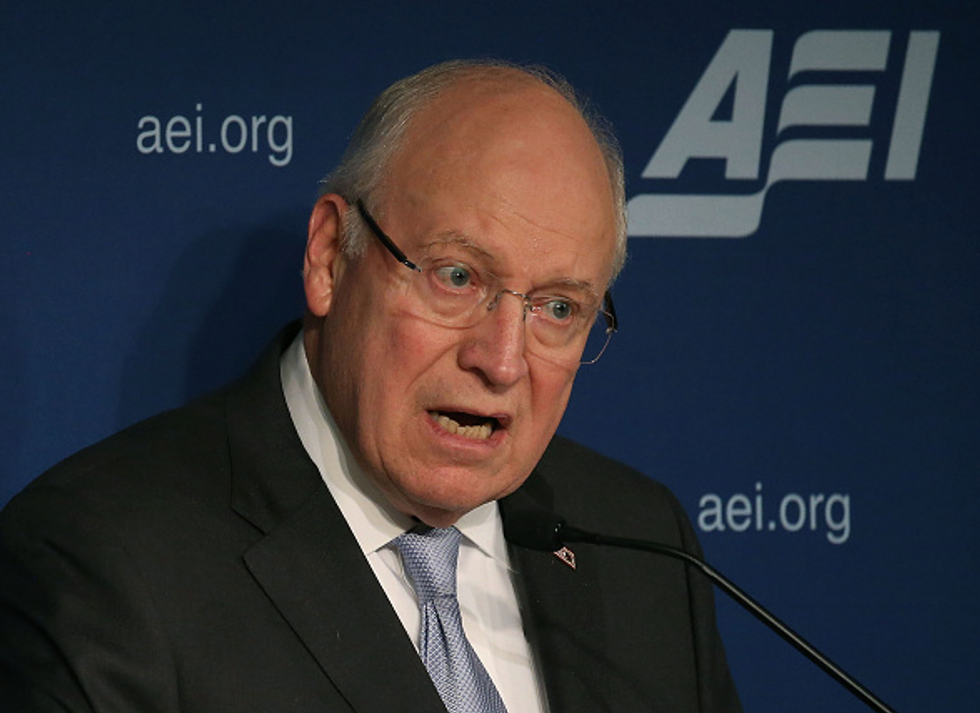 Former Vice President Dick Cheney speaks about Iran at the American Enterprise Institute, Sept. 8, 2015 in Washington. (Photo by Mark Wilson/Getty Images)
Cheney objected, "Iran will be inspecting itself. This is historically misguided," and said the so-called secret side deal between the International Atomic Energy Agency and Iran is off-limits for elected representatives to review.
Cheney, who ran on a ticket in 2004 with President George W. Bush against then-Democratic presidential nominee John Kerry, harkened back to one of the most famous lines from that campaign season to describe the secretary of state's position on Iran inspections.
"Inspectors need to know what Iran has done in the past so they will have a baseline to know whether the country is cheating in the future. Secretary Kerry seemed to understand that in April of 2015 when he said the Iranians would have to disclose past activities … two months later, Secretary Kerry's position changed dramatically. If you're looking for a quick summary of Secretary Kerry's position on the need for Iran to completely disclose all its past nuclear activity, let's just say he was for it before he was against it."
Cheney added that "by legitimizing Iran's nuclear program," it would accelerate a move by Iran's neighbors to also seek the right to have a nuclear program, which will lead to an arms race in the Middle East.
Though congressional debate is set to start this week, as a practical matter, any opposition is likely a moot point as Democrats in Congress have enough votes to sustain an Obama veto of a resolution against the deal.
Cheney said that this agreement should have been handled as a treaty, which would have required a two-thirds vote in the Senate.