WASHINGTON — Glenn Beck implored the American people to "fight for life" and "fight for decency" in the face of the Iran nuclear agreement.
Speaking to a crowd on the grounds of the Capitol for nearly 20 minutes, Beck said the dwindling Christian population in Syria shows "a genocide is already underway," but that the deal will bring about the deaths of untold numbers of others.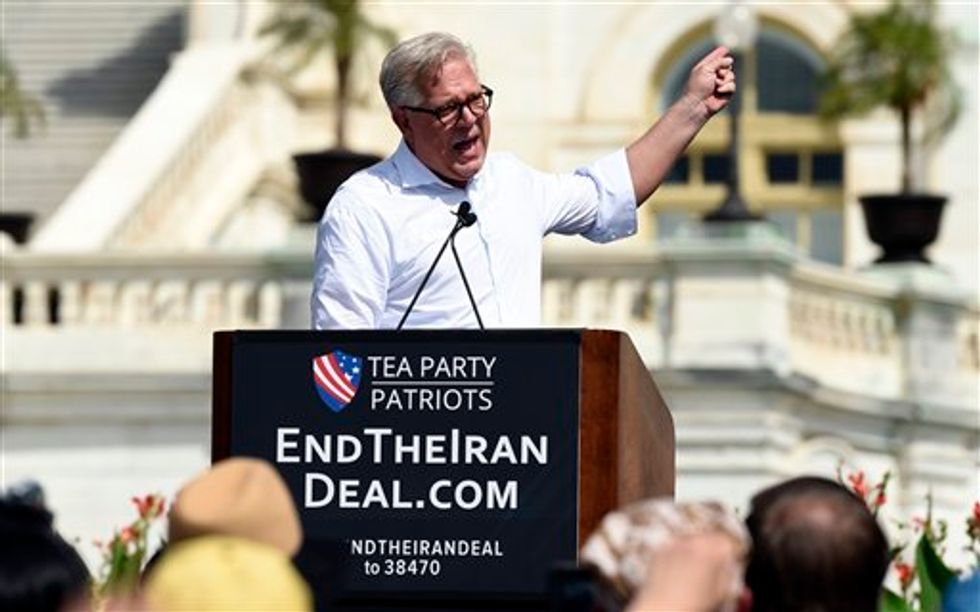 Glenn Beck speaks during a rally opposing the Iran nuclear deal outside the Capitol in Washington, Wednesday, Sept. 9, 2015. (AP Photo/Susan Walsh)
Besides Christians, the deal "will also kill the Muslims that are not Muslim enough; the homosexual who just wants to live his life; the women and children; and evil will get around to the Jew, as it always does."
"In time, in mere minutes, Iran will accomplish more than Hitler did in a decade," Beck said.
"Our own government, our representatives are giving us a false choice: a choice of treaty or war," he said. "This, make no mistake, was exactly what was said before World War II."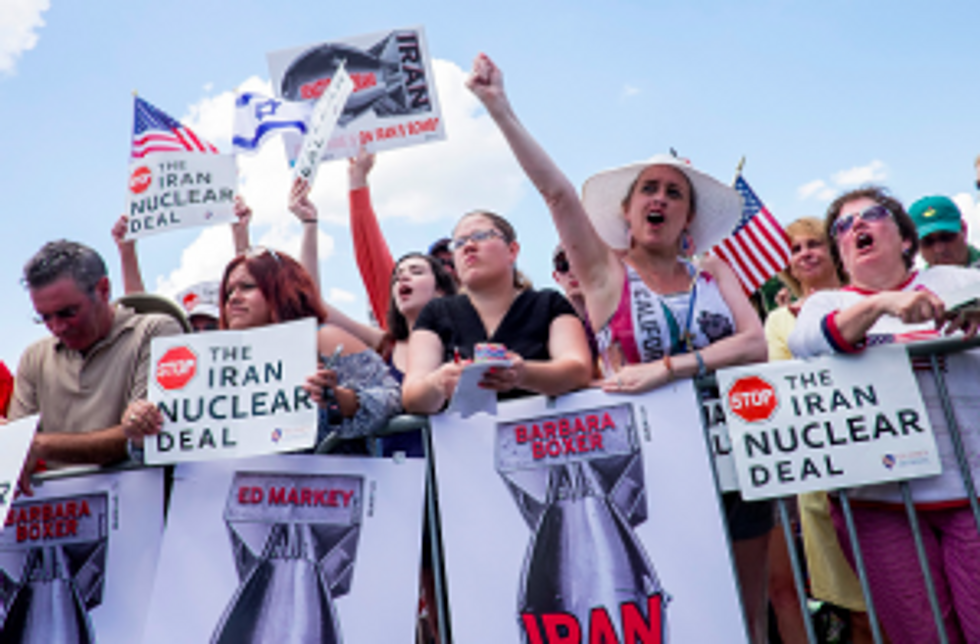 Attendees hold signs and cheer during a Tea Party Patriots rally against the Iran nuclear deal on Capitol Hill in Washington, D.C., U.S., on Wednesday, Sept. 9, 2015.  Photographer: Pete Marovich/Bloomberg via Getty Images
Beck encouraged the crowd to "fight for life, fight for decency, for the women who are devalued, the homosexuals who just want to live, fight for the children who are crucified and who are raped up to 10 times a day, fight for light because the light will conquer the darkness."
Beck said that after World War II, "we made a promise. We said never again. I testify to you today that 'never again' is now."
"'Peace in our day' was a lie Hitler promised the West and it is a lie under the ayatollahs today," Beck said. "Today, our acceptance of this lie is made out of ignorance, and of wishful thinking, out of desperation, out of party politics or worse, of collusion. Frankly, it doesn't matter which it is. What matters is today the world must hear someone say: 'This is a false promise and it is a lie.'"
"There cannot be peace with anyone that chants for death of the Jew," he said. "There can be no peace with people who chant for death of anyone."
Beck was part of a line-up of speakers including presidential candidates Ted Cruz and Donald Trump, who were denouncing the deal the week that Congress is poised to take up debate on it. President Barack Obama has garnered enough support from Senate Democrats to block any congressional action to derail the agreement.
At the rally, Trump blasted not only the deal but those who made it.
"I've been making a lot of wonderful deals, great deals. That's what I do," Trump said. "Never, ever, ever, in my life have I seen any transaction so incompetently negotiated as our deal with Iran, and I mean never, ever."