Pope Francis doesn't arrive in Washington, D.C. for his highly-anticipated first trip to the United States until September 22, but an atheist group is already speaking out about perceived violations of the First Amendment that surround the pontiff's visit.
The Freedom From Religion Foundation, an atheist activist group, penned a letter to the Philadelphia Prison System last week, complaining about a project being undertaken by prisoners that involves the carving and upholstering of a special chair.
Inmates at the Philadelphia Industrial Correctional Center have been working for weeks on the massive chair that the pontiff will sit in when he visits inmates in a city prison later this month, the Philadelphia Inquirer reported.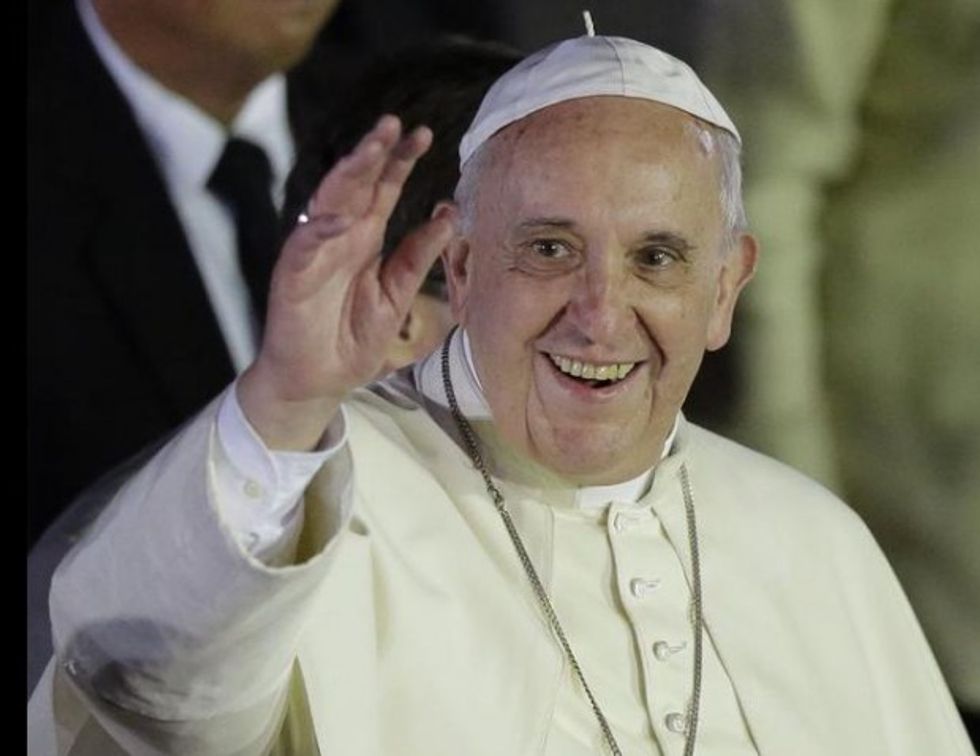 Pope Francis waves to well-wishers upon arrival from Sri Lanka, Thursday, Jan. 15, 2015 at suburban Pasay city, south of Manila, Philippines. (AP/Bullit Marquez)
"This is literally a captive audience, being asked to labor to produce something for a sectarian purpose, a purely devotional event, and that is totally inappropriate," foundation co-president Annie Laurie Gaylor wrote. "It doesn't matter whether the prisons asked for volunteers — prison officials shouldn't have been involved at all."
In her letter, the atheist activist asked that the prison system take steps to "ensure that it does not continue to use inmates to further religion."
The Freedom From Religion Foundation also sent a letter to New York City Mayor Bill de Blasio this week that took aim at his administration's handling of a ticket giveaway contest to a September 25 event that the pope is holding in Central Park.
At the center of atheists' grievance is the fact that New York City hosted a ticket giveaway contest on its official government website.
"Space is limited for the Pope's historic Central Park procession," read a note on the website. "Entrants who have been randomly selected to receive tickets will be notified beginning Thursday, September 10th via email or telephone."
Pope Francis smiles at the end of a meeting with young people entitled 'Throw your nets' in Largo Carlo Felice in Cagliari on September 22, 2013. (AFP/Getty Images)
The New York City ticket giveaway has the Freedom From Religion Foundation claiming that the city is guilty of a violation of the separation of church and state, with the group's leader calling it a religious endorsement.
"By singling out this event for a ticket giveaway, NYC appears to be endorsing Pope Francis' sectarian religious message," Gaylor wrote. "This practice violates the well-established constitutional principle that the government must remain neutral toward religion."
Pope Francis' trip to the United States will involve trips to Washington, D.C., New York City and Philadelphia.
Follow the author of this story on Twitter and Facebook: