Presidential candidate Jeb Bush criticized his brother and former President George W. Bush Tuesday for not bringing the "hammer down" on a Republican Congress that was "spending way too much."
The criticism came on the premiere episode of "The Late Show With Stephen Colbert" when Bush was pressed to name a political difference with his brother.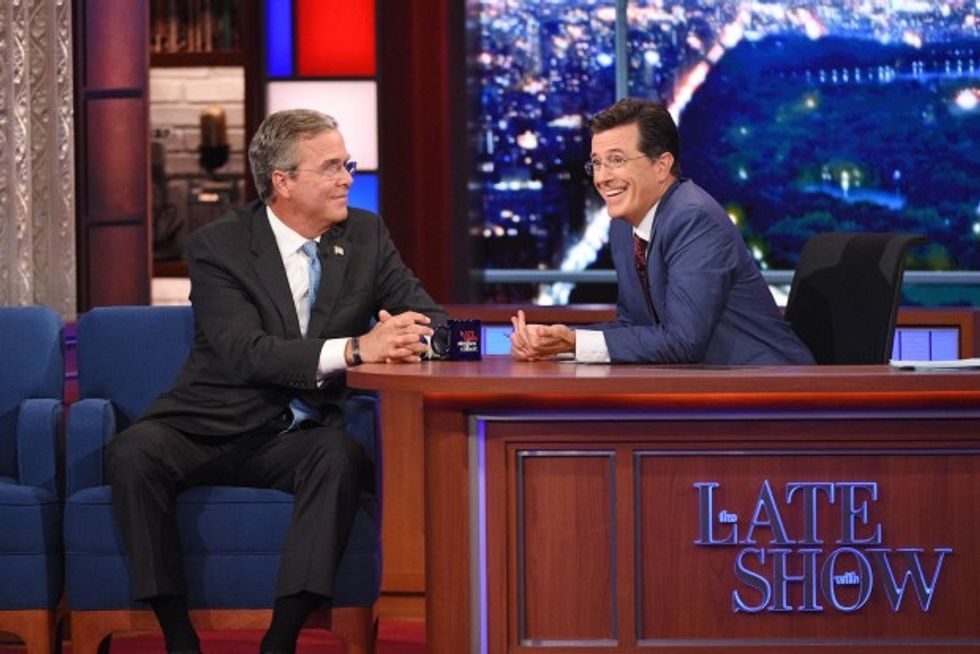 Stephen Colbert, right, talks with Republican presidential candidate Jeb Bush during the premiere episode of "The Late Show," Tuesday Sept. 8, 2015, in New York. (Jeffrey R. Staab/CBS via AP)
Initially, the former Florida governor attempted to dismiss Colbert's question by simply saying he is younger and "much better looking." But, when the newly-installed "Late Show" host pressed him for a policy difference, Bush replied with a serious answer.
"I think my brother didn't control the Republican Congress spending," Bush said. "I think he should have brought the hammer down on the Republicans when they were spending way too much. Because your brand is limited government."
"We shouldn't spend so much money ... and that's what we were doing the last three or four years of my bother's tenure," he continued. "He didn't veto things. He didn't bring order, fiscal restraint."
—
Follow the author of this story on Twitter and Facebook: