The Navy has rejected attempts to punish a chaplain after sailors complained about comments he purportedly made during faith-based counseling sessions on subjects surrounding sexuality and biblical morals, according to his attorney.
Lt. Cmdr. Wes Modder, a decorated military chaplain who was once assigned to serve elite Navy SEALs, came under fire earlier this year after "a few sailors complained that they disagreed with the biblical views [he] expressed during counseling sessions," according to the Liberty Institute, a conservative legal firm.
But after reviewing his case, Navy Personnel Command recently threw out claims against Modder, who has been serving at the Navy Nuclear Power Training Command in Goose Creek, South Carolina, since April 2014, according to attorney Michael Berry.
"We're declaring it a total victory," Berry told TheBlaze. "The Navy ... categorically rejected and denied Modder's former commanding officer's request for punishment."
Berry said that Capt. J.R. Fahs, Modder's former commanding officer at the Navy Nuclear Power Training Command who has since reportedly retired, had recommended that the chaplain be "detached for cause" after a number of soldiers complained — a decision that could have forced Modder before a board of inquiry and could have potentially put his benefits in jeopardy.
"You can loose benefits, etc. He's over 20 years now," Berry said. "He potentially stood to lose significant retirement benefits if that happened."
When the case initially unfolded back in March, Modder was temporarily reassigned by Fahs to work in the chapel, but he has since been restored to full duty.
As TheBlaze previously reported, problems started for Modder when he was accused of speaking out against homosexuality, telling a woman that she was "shaming herself in the eyes of God" for having premarital sex and purportedly berating a pregnant student who was not married, among other claims.
Berry said that these claims emerged after a handful of sailors had approached Modder to ask questions about faith and morality; he said that Modder's answers were consistent with the Bible as well as his endorsing denomination, the Assemblies of God.
"In one instance, an atheist sailor asked him if he believed in God. In another, a young female asked him what the Bible says about the fact that she's living and sleeping with her boyfriend," Berry said. "And then, in another, a young gay sailor asked him about his views on homosexuality and he answered as the Assemblies of God asked him to answer."
The denomination believes that, though homosexual orientation is not necessarily a sin, associated conduct is, Berry explained.
After these conversations, the attorney said that six sailors went to the captain and filed an Equal Opportunity discrimination complaint. As a result, Modder received a "detachment for cause" letter from the Navy on February 17, concluding that the chaplain was not able to "function in the diverse and pluralistic environment" at the training command, the Military Times reported at the time.
"[Modder] failed to show tolerance and respect for the rights of individuals to determine their own religious convictions as required by reference (b)," read the initial letter from Fahs. "On multiple occasions he discriminated against students who were of different faiths and backgrounds."
While that dispute has been settled in Modder's favor, Berry said that the Liberty Institute has filed a complaint against Fahs, who has since retired, and that the grievance is still working its way through the military system; the law firm charges that the initial actions taken against Modder violated the U.S. Constitution, federal law and military regulations.
"We submitted article 138, a military provision for filing a formal grievance or complaint. We've filed this formal complaint ... which is still pending," Berry explained. "The Navy could still rule in our favor. What would come of that? What they could certainly do is issue a statement saying that what he did was inappropriate and that's really what we're seeking here."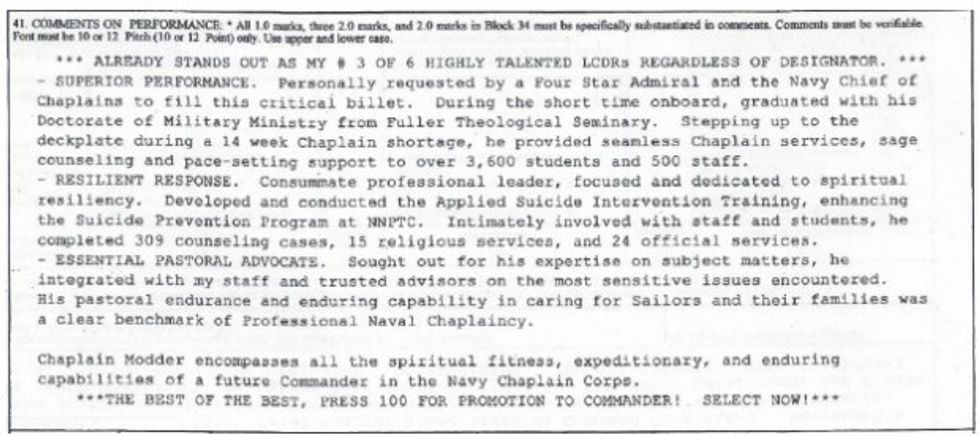 A review that showers praise upon Chaplain Modder, issued just weeks before he learned of complaints against him (Liberty Institute)
Berry had previously told TheBlaze that he found it curious that Modder, who has been working for two decades in the chaplaincy, was praised in a professional review signed on Oct. 31, 2014, as the "best of the best" and a "consummate professional leader" who greatly exceeded standards in the vast majority of categories — but just weeks later, he found himself in the cross-hairs.
"The very first time chaplain Modder learned of these complaints was on December 6," Berry said. "On October 31, he had just received his latest evaluation … on December 6, two equal opportunity officers showed up at his office with complaints in hand."
A request for comment from the Navy has not yet been returned to TheBlaze.
An official who spoke with the Military Times on condition of anonymity last week said that the review from Navy Personnel Command found no evidence of "poor performance" in Modder's record.
"There was no record of counseling," the official said. "There was no letter of instruction given to Chaplain Modder by the command and non-judicial punishment was not conducted."